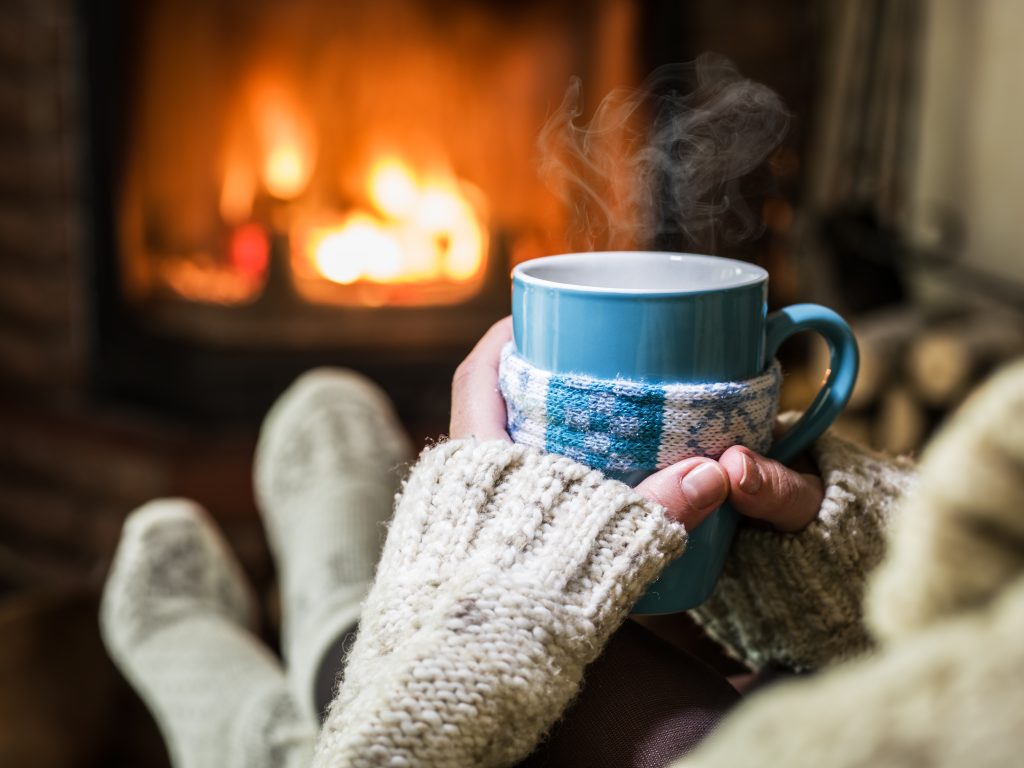 BY SYDNI ELLIS
We don't always get snow flurries or ice storms in Texas, but the bitterly cold winds and early nights are enough to make us want to stay in all winter. Save the glammed-up looks and fancy clothes for spring. Right now, we're content to cuddle under fluffy blankets while sipping delicious hot drinks and binge-watching feel-good movies. It's the ideal time of year to enjoy the Danish hygge trend.
Hygge (pronounced "hoo-gah") is a concept that means "creating a warm atmosphere and enjoying the good things in life with good people," according to Visit Denmark. This means conversations by candlelight, warm food withs friends, and a captivating book by the fireplace. Embrace your own version of hygge by focusing on coziness this February with these items.
Soft Blankets
Fluffy blankets are a must. To stay warm, get the L.L. Bean Wicked Cozy Heated Blanket (llbean.com), which comes in twin, full/queen, or king-sized. This ultra-plush blanket has an insulating middle layer and a bottom layer with thin, heated wires.
Calm your anxiety with a weighted blanket. The Gravity Weighted Blanket (GravityBlankets.com) is one of the most popular on the market, as it is super smooth and weighted at 15-pounds to create a hug-like feeling when you're underneath.
Cozy Candles
Turn the lights down low and set the mood with warm candles. The flickering glow plus the fragrant scent is sure to help you relax. Any candle will do, but Homesick candles (HomesickCandles.com) are designed to find the perfect scent combinations to remind you of a heartfelt memory or moment in time. For a night alone, try Book Club, featuring top notes of orange and nutmeg, mid notes of cinnamon and sandalwood, and base notes of vanilla, balsam, and amber. For a more romantic scent, go with Date Night featuring top notes of fig, cashmere, and red currant, mid notes of sandalwood and lemon, and base notes of lily, patchouli, and musk. Each natural soy wax blend candle is non-toxic and has a burn time of 60 to 80 hours.
Savory Snacks and Warm Drinks
Make popcorn, then top it with one of five savory seasonings in the Urban Accents Movie Night Popcorn Set (amazon.com). This flavorful set comes with three kinds of popcorn kernels as well as white cheddar, sweet & salty kettle corn, chili lime, buttery caramel, and sizzling sriracha seasonings. Or warm things up with TX Bourbon's kicked-up fireside classic TX Smore cocktail recipe at frdistilling.com.
Movies to Stream
There's just one thing left to do — pick a movie to stream. Anything nostalgic, romantic, action-packed, or captivating will do, from the latest rom-com streaming on Netflix to a Lord of the Rings marathon. A few classic movies set in February would be fun to watch as well. Check out 1993's Groundhog Day, Sleepless in Seattle, or 2010's Valentine's Day. If it makes you laugh, remember good times, or keep you entertained, it's the perfect cozy winter movie.