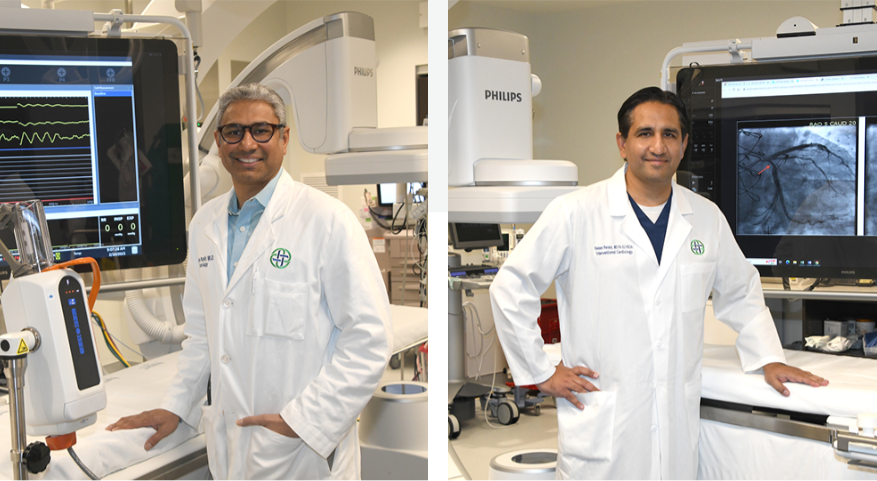 Photo by
Lake Pointe Photography
---
Opened in May 2022, the cardiac catheterization lab at Texas Health Hospital Rockwall is a specialized operating suite for a wide range of diagnostic and interventional procedures. Cardiac catheterization is a life-saving medical procedure used to diagnose and treat blockages in a patient's arteries that can cause a heart attack. Quickly assessing the severity of blockage and providing necessary treatment can improve outcomes, including preservation of heart muscle and quality of life for patients experiencing cardiac events.
The area consists of two rooms, both equipped to provide cardiac and interventional radiology procedures.The multidisciplinary cath lab team completes about 30 cases a month, including cardiac angiograms, angioplasty, stents, pacemakers, transesophageal echocardiograms, cardioversions, stress tests, and many more.
The cath lab is part of the much-anticipated expansion which doubled the size of the facility, including a level 2 Neonatal Intensive Care Unit, a second surgical robot, and additional surgical suites. Additionally, the emergency department and inpatient areas, including the intensive care unit, and the ancillary support areas have been expanded.
The state-of-the-art cath lab will continue to add services to meet the needs of the community. This includes plans for expanding vascular interventions for patients with peripheral vascular disease.
Cutting-edge technology requires highly specialized physicians with extensive training and expertise. Dr. Parin Parikh and Dr. Hassan Pervaiz work daily with patients and cath lab caregivers to ensure positive outcomes for all patients.
Dr. Pervaiz is one of the few cardiologists in the country board certified in eight specialties, including cardiology, interventional cardiology, echocardiography, and vascular medicine. He serves as the director of the cath lab.
Dr. Pervaiz began his training at King Edward Medical University in Lahore, Pakistan. He completed his internal medicine residency and cardiology fellowship at Michigan State University as well as interventional fellowships at Harvard Medical School's Beth Israel Deaconess Medical Center and Henry Ford Hospital.
He came to North Texas from Melbourne, Florida, where he served as medical director of the Structural Heart Disease Program at Holmes Regional Medical Center. Dr. Pervaiz also served as clinical assistant professor of medicine and received a Clinical Faculty of The Year Award in 2016. He currently serves on numerous regional and national committees through his involvement in many membership organizations.
Dr. Pervaiz chose interventional cardiology as a specialty because of its great potential for improving the lives of patients with heart disease. The ability to open blocked heart arteries and repair or replace diseased heart valves with minimally invasive structural heart procedures can improve the health of a very sick patient very quickly.
His goal is to provide patient centered care with an aim to maintain the highest quality and patient satisfaction. His advanced training and access to cutting edge minimally invasive interventional procedures in the cath lab for treatment of heart attack, congestive heart failure, and valvular heart disease set his practice apart.
"My priority is always to give proper time to the patients to be able to tell their story and express their concerns," he says. "Then we use shared decision-making to devise a treatment plan."
Dr. Parin Parikh was born and raised in Texas. After graduating from Yale University with honors, he received his medical education at Johns Hopkins University School of Medicine. He completed his residency at New York Presbyterian Hospital Columbia Campus. He completed a fellowship in cardiovascular disease and a fellowship in interventional cardiology, both at New York University School of Medicine where he also served as chief fellow in interventional cardiology.
Dr. Parikh is one of only a few cardiologists in North Texas to obtain six board certifications, including interventional cardiology, cardiovascular medicine, internal medicine, nuclear cardiology, echocardiography, and registered physician in vascular interpretation. He has practiced almost a decade in the North Texas area, starting with one partner in 2013 and adding another as the need for their expertise grew.
Dr. Parikh, along with other physicians and the entire multidisciplinary team, take great pride in this new facility and the recent growth of cardiac services in Rockwall. He has special training in performing cardiac catheterization procedures from the wrist (radial artery catheterization), which can be safer and more comfortable for patients than the traditional femoral (groin) approach. Currently, less than 5% of the procedures in the United States are being performed using this new, innovative approach.
"If we're going to do something, we want to do it really well," Dr. Parikh says. "This work has been in process for decades and we're seeing the full spectrum of services now for the community."
With this new technology, patients can receive the cardiac care and other procedures they need close to home. Many of the nurses and multidisciplinary team come to the new cath lab with a decade or more of experience, and are excited to utilize this expertise to care for their community. A close relationship with Texas Health Hospital in Dallas makes any needed transfers seamless for the patient. Dr. Parikh expects continued expansion of the service line in Rockwall with even more ways to serve those who need care.
When it comes to his practice philosophy, Dr. Parikh also concentrates on listening. He doesn't find it wise to put too much emphasis on a single lab value or test result. He puts equal emphasis on how the patient feels and functions. One of his favorite things about his work is the change that happens in patients between hospital, where they are often struggling, and the office setting where they are usually much stronger due to the treatment they've received.
Dealing with heart disease can be a frightening and frustrating experience. But everything you need to improve your heart health is available right at home in Rockwall. Highly qualified and compassionate physicians, nurses, and technologists with highly advanced technology in the cardiac and interventional suite at Texas Health Hospital Rockwall can help you reach your best heart health.
---
CONTACT
3150 Horizon Road
Rockwall, Texas 75032
(469) 698-1000
TexasHealth.org