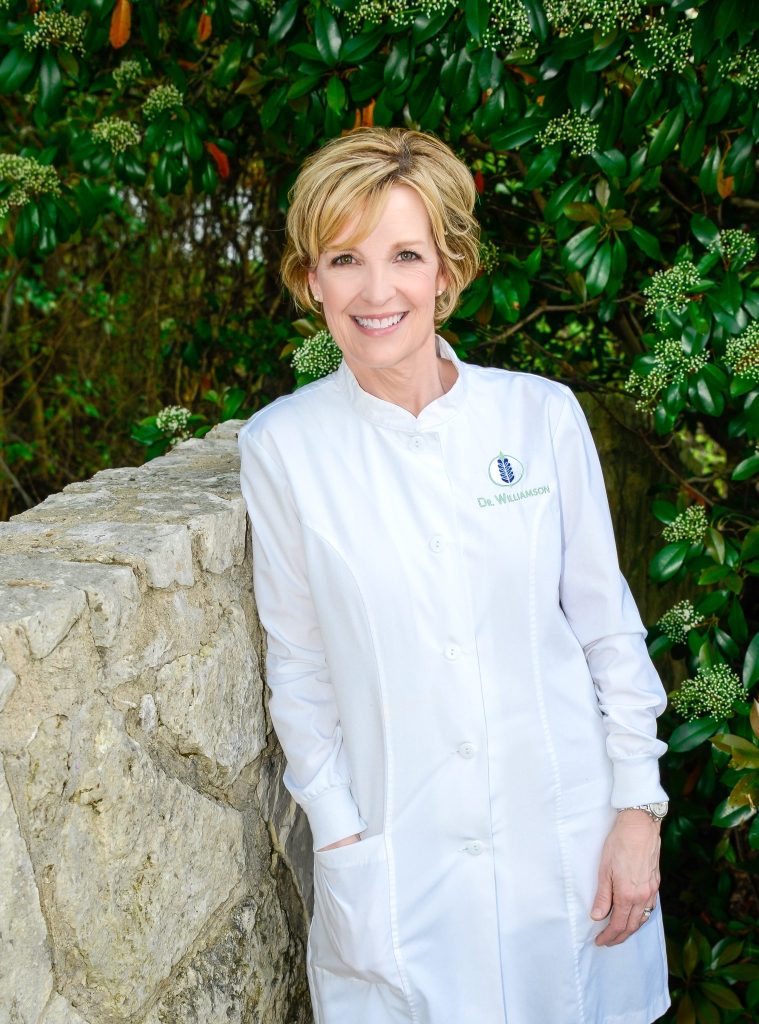 By Meredith Knight
---
Dr. Karen Williamson frequently sees patients who've completed their time in braces but knew they would need additional esthetic treatment. One reason for this can be "peg laterals," teeth that are peg-shaped, leaving openings (known as negative black space) between teeth. "When that's the case, we like to whiten the teeth first," Dr. Williamson said. "Then, we can use bonding to build up the teeth to look like the teeth around it and close up any negative space or gaps in the smile."
It's something Dr. Williamson has been doing for 30 years. But 12 years ago, bonding technology took a giant leap forward for her with the introduction of the Bioclear method of bonding. "One of the biggest benefits of Bioclear is the ability to preserve more of my patients' natural tooth enamel," Dr. Williamson said. "Enamel is one of the hardest substances in the body, and it's always my goal to preserve as much of the natural tooth as I can."
With cosmetic procedures like veneers, Dr. Williamson must remove enamel before placing the porcelain veneer or the teeth can look bulky. "With Bioclear, I work with an additive technique allowing me to take a more conservative approach preserving the most enamel of all the methods available for aesthetically treating a tooth. We're seeing amazing outcomes with Bioclear bonding." Because the material is poured like concrete instead of incrementally layered, there's less chance of chipping.
"The revolutionary Bioclear matrixes allow us to create a mold that fits precisely in the areas of concern," Dr. Williamson said. "Then, we can fill the matrix with composite that's stronger than traditional bonding and less invasive than veneers."
Over the past 30 years, Dr. Williamson has provided general, restorative, and cosmetic dentistry to the families of Rockwall and beyond with an emphasis on the latest and best technology. For her, that's meant well over 200 hours of continuing education each year.
"By offering my patients access to advanced dental technology, I'm able to offer them safer, more comfortable, and more precise treatment," Dr. Williamson said. "With these advanced technologies, results are highly accurate and recovery time is shorter." She offers her patients the latest 3D scanner which can capture precise images over time and document changes to tooth structure or gum recession.
Dr. Williamson's is the only practice in the area with an advanced acoustic diagnostic pharyngometer and rhinometer, which uses acoustic-reflection to accurately map the size, structure, and collapsibility of the oral and nasal airway, allowing her to design the right sleep-apnea appliance from the beginning, rather than through trial and error. She offers CEREC same-day crowns, laser dentistry, orofacial myology, periodontics, tooth extraction, and a full menu of cosmetic dentistry options.
An insatiable learner who's always looking for the next challenge, Dr. Williamson is working toward board certification in dental forensics (also called forensic odontology) and currently working with medical examiners in Collin, Tarrant, and Dallas Counties helping identify crime victims and victims of natural disaster through dental records. Her latest challenge? Joining the bell choir at her home church, First Baptist Rockwall. Find out more at KarenWilliamsonDDS.com.
---
Contact
560 West Ralph Hall Parkway, Suite 104
Rockwall, Texas 75032
(469) 402-0024
KarenWilliamsonDDS.com