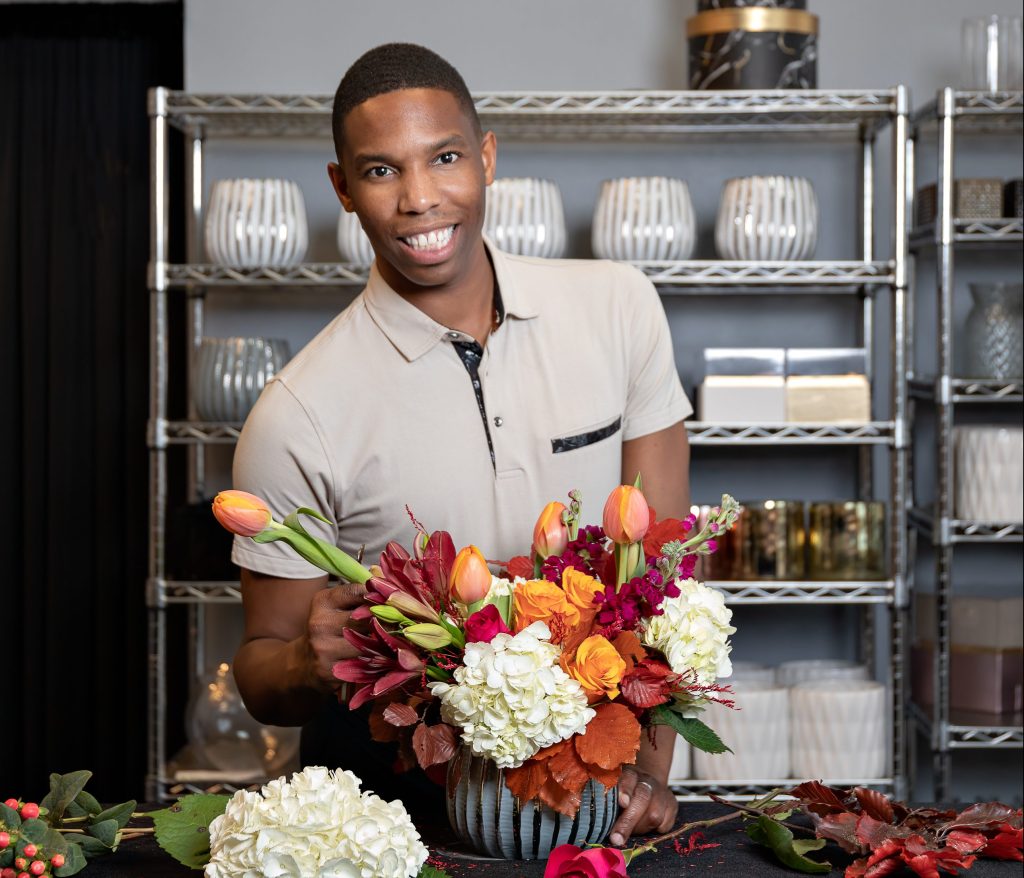 PHOTO BY TRACY ALLARD PHOTOGRAPHY
My name is Jason Sarenito Roberson, and I am the official floral designer for Four Seasons Dallas at Las Colinas. Whether you're looking for wow-worthy floral arrangements for a wedding or corporate event, or you want to send a just-because bouquet to someone special, I can help. I have worked in the floral industry for nearly two decades. I'm proud to oversee the floral program at Four Seasons and to provide my floral services to businesses and private clients. I work with clients both locally and nationally and will travel for your event.
Meet Master Florist, Jason Sarenito
I am a professional, creative floral designer with excellent customer service and communication skills to fully understand my clients' floral design needs. I have earned a reputation as one of the most influential master florists in Dallas-Fort Worth and am honored to have been selected by Living readers as Best Florist in 2020 and 2021.
Born and raised in El Dorado, Arkansas, I moved to Irving, Texas in 2019. I attended the University of Arkansas at Little Rock, graduating with a Bachelor of Science degree in business entrepreneurship and marketing. My dearly departed grandmother taught me how to master the craft of floral design and inspired my love for creating stunning floral arrangements and installations. I also learned about entrepreneurship and how to maintain a business from my beautiful mother, who manages her own chain of boutiques in Arkansas and northern Louisiana.
Specializing in weddings, corporate events, funeral work, private signature events, resident events, and everyday floral arrangements, I find joy in the creative process. I love creating style arrangements that bring a smile to my clients' faces. All you need to do is tell me the occasion, and I'll take it from there. I'll create custom-designed arrangements to suit your specific needs and budget, whether you want something classic or modern and trendy.
As your personal floral consultant, I can travel to your event at your business or home. I also host Wine and Design floral classes at Las Colinas Country Club and Four Seasons or via Zoom. These classes are designed to teach you how to properly plant, maintain, and even design your own personal arrangements you can enjoy anytime at home. I strive to do my best at all times, to be creative, and to treat people with the utmost respect.
I invite you to stop by and enjoy the fresh flowers at the Four Seasons in Las Colinas. I create new floral lobby displays every week and update them according to the season. I'd love to meet you and become your personal floral consultant. Book a consultation and begin your unforgettable floral experience today.
Contact
(501) 554-4961
[email protected]
JSFlowers.com