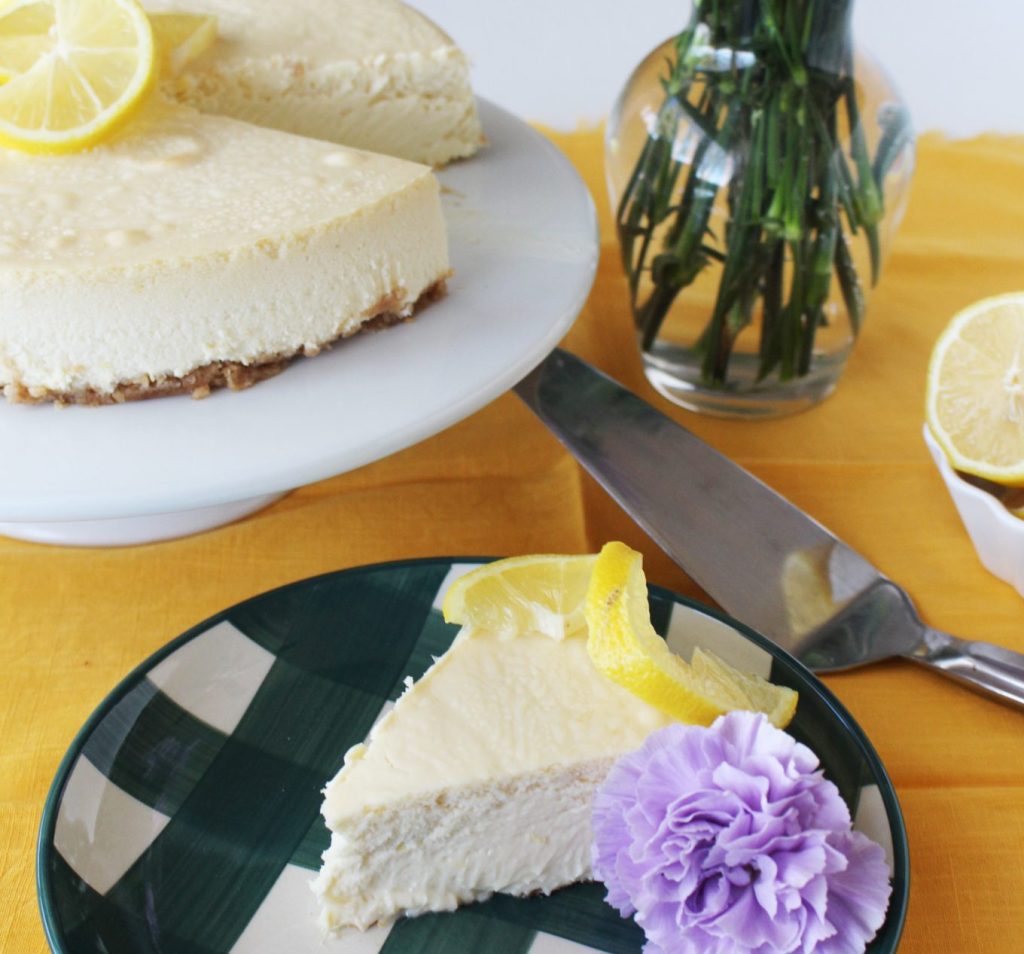 By
Jennifer Bajsel
---
Lavender Lemon Cheesecake

Serves: 12 | Prep: 20 min. | Cook: 1 hr. 15 min. | Total: 3 hr. 35 min., includes cooling
Ingredients: Crust: 1 pkg. Nilla wafers | ¼ cup light brown sugar | ½ cup unsalted butter, melted
Cheesecake Filling: 1 cup heavy cream | 2 Tbsp. Lavender | 4 8 oz. packages of cream cheese, softened | 2 cup sugar, divided | 1/3 cup cornstarch | 2 Tbsp. vanilla | 2 lemons, zest & juice | 3 eggs
Directions: Preheat oven to 350°. CRUMB Nilla wafers in a food processor. Combine crumbs, brown sugar, and melted butter. Line bottom of springform pan with parchment paper. Press crumb mixture into bottom of pan. Bake for 10 minutes until lightly browned. Heat heavy cream and lavender in saucepan for 15 minutes on low, stirring frequently. Set aside and let steep. Beat cream cheese, cornstarch, and ½ the sugar until well blended and creamy. Increase the speed and beat in remaining sugar, vanilla, lemon zest, and lemon juice until blended. Add eggs one at a time. Strain heavy cream and beat in until just blended. Do not overmix. Place filling into the baked crust. Wrap bottom of springform pan with foil and place into a large shallow pan containing hot water that comes up about 1 inch. Bake for 1 hour and 15 minutes, until edges are light golden brown and center barely jiggles. Remove cheesecake from water bath and place it on a wire rack to cool for about 2 hours. Keep the cheesecake in the pan and loosely cover it with plastic wrap. Refrigerate overnight or until completely cold before serving.
---

Spring Vegetable Frittata

Serves: 12 | Prep: 20 min. | Cook: 20 min. | Total: 40 min.
Ingredients: 1 leek, white parts only, sliced | 8 oz. white mushrooms, rinsed and sliced | 1 bunch asparagus, cut into ½ inch pieces | 2 Tbsp. extra virgin olive oil | 1 cup spinach, chopped | 2 Tbsp. butter, divided | 8 large eggs | ½ tsp. kosher salt | ¼ tsp. black pepper | 4 oz. feta, divided | 1 bunch chives, minced
Directions: Preheat oven to 375°. Remove the green top of the leek and discard, clean and slice the white part. Rinse and slice the mushrooms. Cut asparagus into ½ inch pieces, discarding the tough ends. Sauté the leeks, mushrooms, and asparagus in medium-heat olive oil until tender and moisture is evaporated. Stir in chopped spinach. Remove from pan and set aside. Whisk eggs in a separate bowl. Add the leeks, mushrooms, and asparagus to the eggs. Mince chives and add ½ to the egg mixture and 2 oz feta. Season with salt and pepper. Add the remaining butter using the same sauté pan. Cook over med-low heat, stirring around the edges to allow uncooked eggs to flow underneath, for 2 minutes. Top with remaining feta and chives. Bake in the oven for 15 to 20 minutes until golden. Serve warm.
Tips & Tricks: Buy pre-sliced mushrooms and frozen chopped spinach to save time. Remove as much moisture before adding to eggs.
---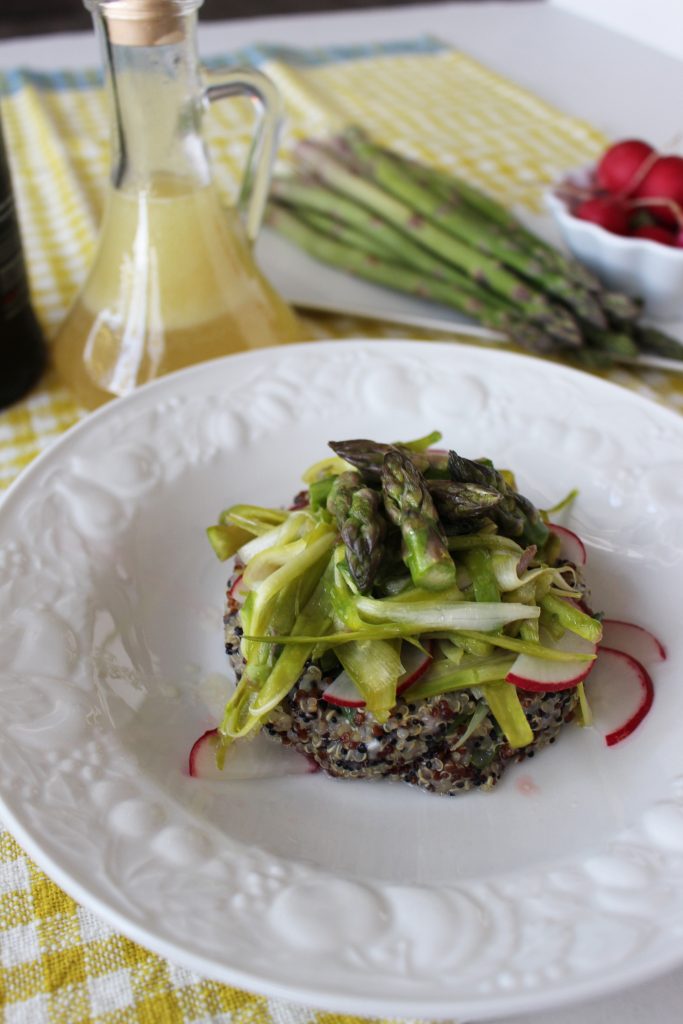 Quinoa & Asparagus Salad with Champagne Vinaigrette

Serves: 4 | Prep: 25 min. | Cook: 20 min. | Total: 45 min.
Ingredients: Salad: 1 Tbsp. butter, unsalted | 1 cup tri-color quinoa | 2 cups water | 1 Tbsp. salt, kosher | ½ shallot, minced | 2 bunches asparagus, peeled, tips set aside | 7 oz. green onion, sliced thin on bias | 4 red radishes, sliced thin
Champagne Vinaigrette: 1 cup Champagne | 1 lemon, zest & juice | 2 Tbsp. honey | ½ cup extra virgin olive oil | Pinch of salt | Pinch of white pepper
Directions: Rinse quinoa with cold water in a fine-meshed strainer. Melt butter in a saucepan. Add quinoa, water, and salt. Bring to a boil uncovered. Reduce heat to low, cover, and cook for 15 to 20 minutes or until water is absorbed. Fluff gently with a fork and set aside to cool. Make vinaigrette while the quinoa is cooking. Zest 1 lemon and juice. Blend Champagne, lemon zest, lemon juice, honey, olive oil, salt & pepper. Whisk or shake until well blended. Add 2 Tbsp. of vinaigrette to cooked quinoa. Mince shallots and slice green onion on a bias. Add shallots and onion to marinated quinoa. Peel asparagus into ribbons, keeping the tips aside. Slice radishes thin. Layer, in a serving bowl, quinoa, ribboned asparagus, asparagus tips, and radishes. Drizzle with more vinaigrette and serve.
Tips & Tricks: Use a ramekin or small bowl to mold the quinoa before layering it with vegetables. Invert the ramekin onto a serving bowl and then layer quinoa with the vegetables.
---
About Our Chef