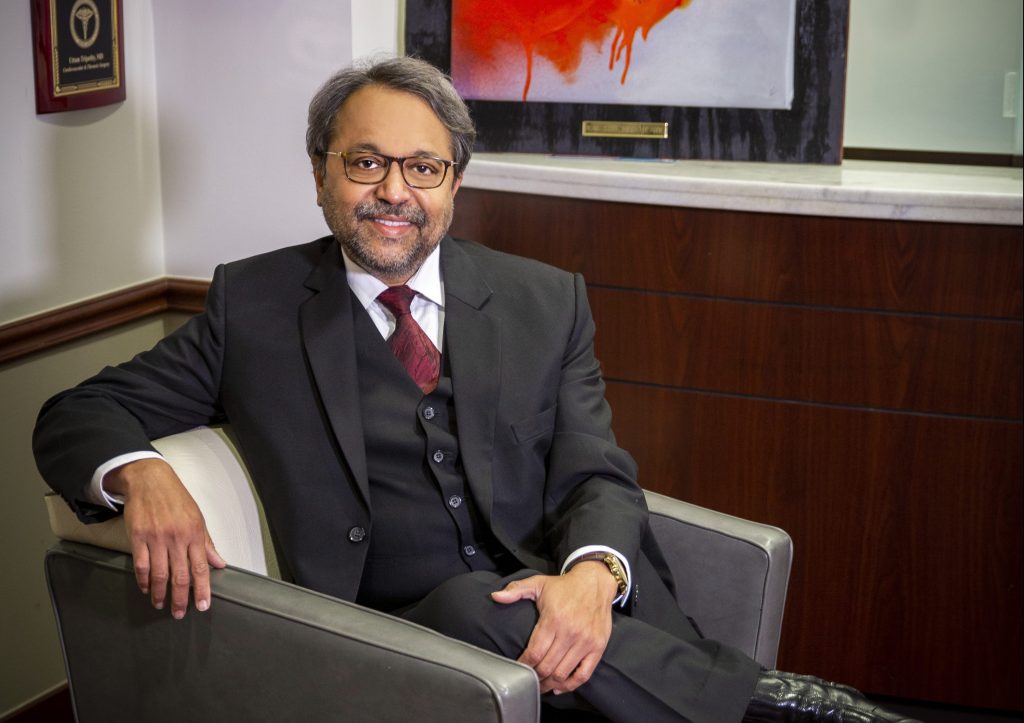 BY CHERYL ALEXANDER PHOTO BY KELLEY SWEET PHOTOGRAPHY
Dr. Uttam Tripathy, board-certified cardiovascular surgeon and member of the prestigious Houston Methodist DeBakey Heart Institute, has been instrumental in the monumental growth of cardiovascular surgery in Fort Bend County since 2005.
"The driving forces of my work," says Dr. Tripathy, "are the satisfaction that comes from accomplishing my career goals through saving lives and limbs every day and providing compassionate care that allows my patients to get superior care closer to home."
Dr. Tripathy always knew he would be a surgeon, and his life has been dedicated to achievement in his field. He has accomplished many milestones, including being on the team that completed the first open heart surgery in Fort Bend County at the Houston Methodist Sugar Land Hospital. He also performed the first openheart surgery at Oak Bend Medical Center and the first abdominal aortic aneurysm repair in Fort Bend County.
"I pride myself in navigating complex medical cardiovascular problems," says Dr. Tripathy, "and handling them with the utmost care and sensitivity."
Other notable "first" accomplishments include:
Minimally invasive hybrid coronary arterial revascularization resulting in a shorter hospital stay
Laser atherectomy for peripheral vascular disease in Fort Bend County
Carotid stent in Fort Bend County
Transcarotid arterial revascularization in Fort Bend County
Minimally invasive treatment for clots in legs (deep vein thrombosis) and in lungs (pulmonary embolism)
Although a solid resume is an important cornerstone for any surgeon's practice, Dr. Tripathy works from the deep seated belief that clinical excellence comes from a passion of doing what is best for each individual patient, combined with the focus of developing a superior cardiovascular service line that comes with a large hospital like the Methodist system. "I value each patient," says Dr. Tripathy, "who trusts their life and well being in my care. Nothing is more rewarding than knowing I have helped save someone's life."
As a testament, Tripathy has received multiple awards, including the following:
U.S. News Best Surgeons for the last 10 years (peer review process).
Castle Connolly Top Doctor since 2009 (an entirely merit based selection process).
Houston Methodist "Compassionate Doctor" and "Patient's Choice" (multiple years).
Current technology sets Cardiovascular & Thoracic Surgery apart. Dr. Tripathy has received the "Most Technologically Innovative Surgeon" award and is currently a principal investigator for three national trials and one international trial.
Community service and a desire to lead define Dr. Tripathy's approach. He currently teaches high school and medical school students and delivers lectures and teaches innovative techniques to colleagues. Dr. Tripathy is the former president and current board member of the Indian Doctors Association. The group offers free community clinics and provides mentoring, teaching, and scholarships to the next generation of doctors. During the COVID crisis, Dr. Tripathy generated funds and delivered lifesaving equipment and PPE to India and locally in Houston. His goal is to provide superior and compassionate leading edge care integrated with hospital systems in a team approach. In his spare time, Dr. Tripathy enjoys oil painting, photography, traveling, and spending time with his family.
Contact
16605 Southwest Freeway, Suite 575 Medical Office Building Three
Sugar Land, Texas 77479
(281) 232-1908
HoustonMethodist.org/Doctor/Uttam-Tripathy