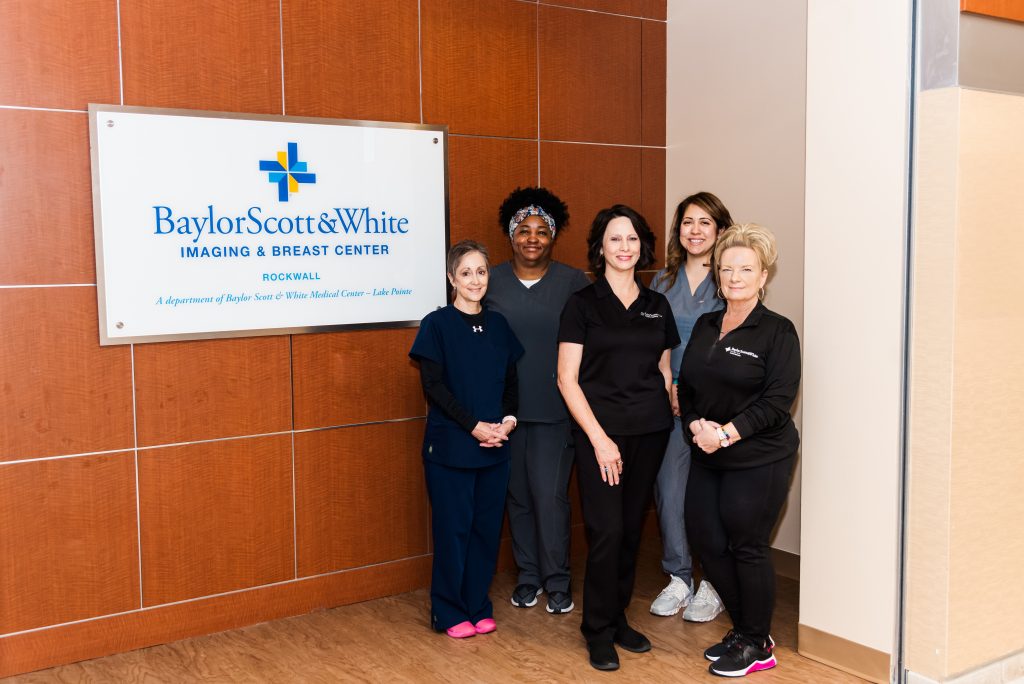 By
Steve Gamel
| Photos by
The Teal Album
---
As a breast patient nurse navigator at Baylor Scott & White Medical Center — Lake Pointe, Vicki Johnson doesn't have to imagine what it's like for women with breast cancer. Johnson is an 8-year breast cancer survivor and knows all too well the emotional toll of the diagnosis, which is magnified by the stress and unfamiliarity of their impending healthcare journey and fears of the outcome. But one thing she never worried about was being alone. And now, it's her job to give other women the same compassionate support.
"When I went through chemotherapy, a nurse would go to all the patients and say, 'I had the same doctors as you. I did great, and you will, too,'" Johnson said. "She was an incredible cheerleader. I could not take my eyes off her. I believed that if she could do it, so could I. That is why I switched gears in my nursing career to breast navigation.
"The patients I work with can never say 'You don't understand' because I do. It's important to be there for them however I can."
Johnson and her counterpart, Alex Waddle, are more than just cheerleaders. Waddle is a breast patient nurse navigator who represents the High-Risk Breast Program at Baylor Scott & White — Lake Pointe. This comprehensive program helps patients reduce their risk factors and keep a watchful eye on their situation to enable the earliest diagnosis. This is achieved through a blend of state-of-the-art breast screening and diagnostic services with coordinated education, health resources, doctor recommendations, and in-the-moment, hands-on care from the time a woman schedules her mammogram through the next steps, which can include biopsies, breast cancer diagnosis, and next-step treatment options. Johnson and Waddle are committed to preventing, detecting, and diagnosing breast conditions, including breast cancer.
Waddle added, "Talking about breast cancer is scary, whether they have an abnormal mammogram, high-risk biopsy lesion, or they've been diagnosed. I love this program because there is someone for each stage of care."
It's Time for Your Mammogram
Breast cancer is one of the most common cancers in women in the United States. While it mainly occurs in middle-aged and older women, a small number of women diagnosed with breast cancer are younger than 45. This makes early detection so critical, and mammograms and other breast screenings play a huge role. Baylor Scott & White — Lake Pointe offers state-of-the-art mammography at all five of their breast imaging facilities. This allows doctors to examine breast tissue with the finest imaging possible.
"Once a patient comes in for a mammogram screening, it's my job to contact those women who meet the program's criteria and may be considered high-risk, whether it is because they have a strong family history or something else," Waddle said. "If they are high-risk, we educate them about their risks, offer a personalized monitoring plan, and provide them with tools, resources, and support to feel more confident about the journey ahead. If someone is diagnosed, that's when Vicki comes in."
Baylor Scott & White — Lake Pointe's Breast Health Nurse Navigators:
Provide emotional support to patients and their families

Answer questions regarding breast health and treatment plans

Discuss facts regarding breast cancer, the cancer care team, and its treatment plans

Help patients understand the "why" behind the many steps of breast cancer treatment

Provide resources for support groups, cancer recovery boutiques that offer wigs, mastectomy bras and prosthetics, and financial assistance
"We offer a personalized experience," Johnson said. "Patients are contacted pre-biopsy for questions regarding the procedure and post-biopsy for follow-up. If the patient requires surgery, I arrange an appointment with the breast surgeon. From there, I discuss next steps, including what to expect during their visit and the reason behind the diagnostic testing. If possible, I'm with the patients during their breast biopsy and surgery, and I follow them through the breast cancer treatment process."
Their Specialty Is You
As previously mentioned, the advantage of going to Baylor Scott & White Medical Center — Lake Pointe is having a breast health nurse navigator to answer questions and provide valuable resources that help you make informed decisions. Rather than work with a navigator by phone, patients have an advocate walking alongside them.
"There's nothing better than having access to someone in person," Johnson said. "We want our patients to know how important they are, so I'm there as much as possible on surgery and biopsy days. Our process works. We have excellent communication with the radiologist, and they have great communication with our surgeons. I have direct access to our surgeons and the patients, and that's a great feeling. We often have patients who have negative breast biopsies but are concerned because of family history. That is when we refer them to Alex, and she continues to follow up with them. It's a continuous circle that keeps patients in the loop with their health."
In an industry where everyone's goal is to provide the highest level of care, it can be difficult to differentiate yourself. That's why the Baylor Scott & White — Lake Pointe team goes to such great lengths to ensure patients and their families have the best experience possible regarding any breast cancer screening need.
"I can't stress enough the importance of what we do," Waddle said.
---
CONTACT
Baylor Scott & White Medical Center's Breast Imaging Locations
Baylor Scott & White Medical Center — Lake Pointe
6800 Scenic Drive
Rowlett, Texas 75088
(972) 535-2710
Baylor Scott & White Imaging Center — Rockwall
1005 West Ralph Hall Parkway
Rockwall, Texas 75032
(972) 535-2710
Baylor Scott & White Imaging Center — Wylie
2300 West FM 544, Suite 110
Wylie, Texas 75098
(972) 535-2710
Baylor Scott & White Imaging Center — Forney
763 East State Highway 80, Suite 120
Forney, Texas 75126
(972) 535-2710
Baylor Scott & White Imaging Center — Greenville
4400 Interstate 30 West, Suite 200
Greenville, Texas 75032
(972) 535-2710