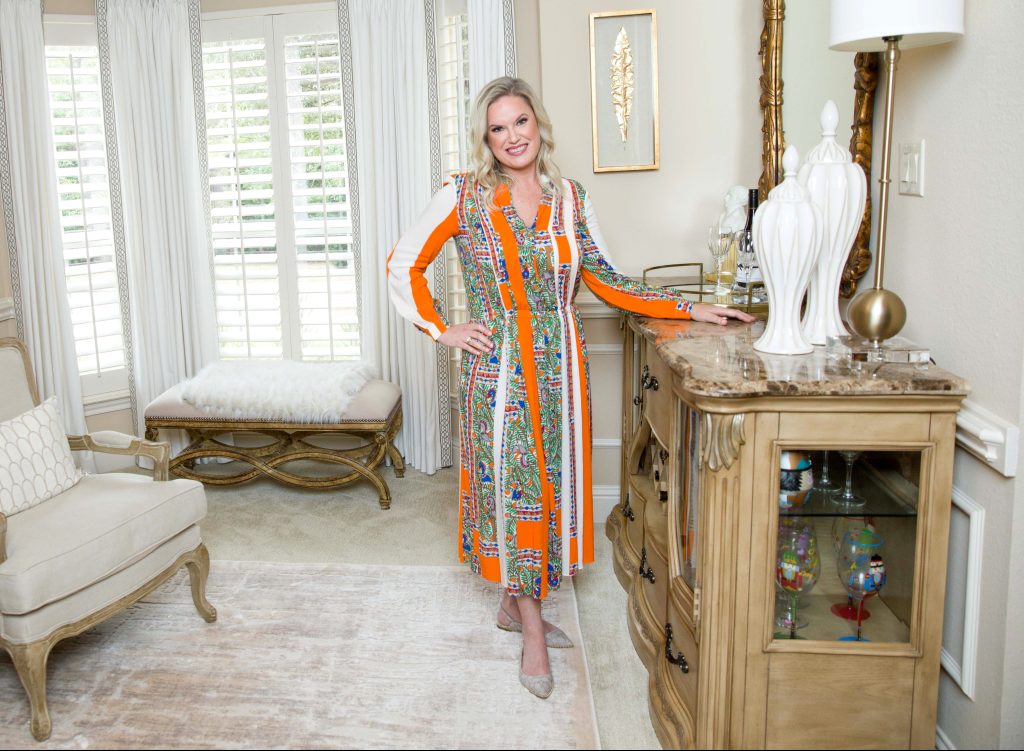 "When I'm asked what's trending today, my answer is everything. Many clients are blending design elements, choosing pops of color versus monochromatic tones, and opting for eye-catching artwork and accessories that enhance their living space."
By Annette Brooks | Photos by April Sanchez of Taylor Morgan Photography
---
Paula gasped out load when she stepped through the front door of her home. Local interior designer Niki Johnson had decided to reveal Paula's redecorated home in a single event instead of in drips and drabs. "I was completely wowed. Niki created a masterpiece," Paula shares.
Niki enjoyed the reveal as much as Paula. "The best day is installation day. I love seeing the look on my clients' faces when they walk in," she says. "Everything is sent to a warehouse then I coordinate with the movers once all items have arrived. I ask clients to meet me at their home before the installation begins, then they go get coffee or lunch and return once the design is complete."
After searching for interior designers, Paula chose Niki and couldn't have made a better decision. "Niki impressed me from the start. She was punctual and responsive, which is important to me because I have a busy schedule, and her level of professionalism, communication, and creativity was outstanding from beginning to end. She goes above and beyond and collaborates with you every step of the way."
Paula describes the design process with Niki as interactive and rewarding. "My project wasn't straightforward. I had lots of inspiration images from Pinterest and magazines and wanted to meld two different design styles together. I also had a collection of existing pieces to incorporate into the design. She pulled it all together, and the result is nothing short of breathtaking."
"I highly recommend hiring Niki," says Paula, adding, "Working with her instead of trying to decorate on my own was worth it. I saved time and money from trial-and-error mistakes like finding pieces that fit to the scale of the room. And she found furniture very similar to what I had picked out on my own that was more cost-effective yet high-quality and very comfortable."
Designs that Fit Your Taste and Lifestyle
Niki's clients fall in love with the place they call home after she works her magic, creating designs that are as functional and livable as they are beautiful.
"I love meeting new clients, hearing their story, and learning about their preferences, lifestyle, and decorating goals. A good design tells a client's story, visually telling you who they are, what they like, and how they live," says Niki.
Projects that involve eclectic elements, like Paula's, highlight Niki's innate talent. She has a gift for incorporating clients' existing pieces into a complete and flowing design.
"When I'm asked what's trending today, my answer is everything," Niki says. "Many clients are blending design elements, choosing pops of color versus monochromatic tones, and opting for eye-catching artwork and accessories that enhance their living space."
Niki notes that being affiliated with Decorating Den Interiors enables her to offer her clients one of the area's largest selections of luxury furnishings at reasonable costs while working within their budget.
Beauty Lies in the Details
Niki covers more than your style preferences during consults. She'll ask about your lifestyle and learn about kids, pets, and hobbies.
Around a week after your in-home consult, Niki will present different designs featuring various products and options using 3D software. Instead of using a laptop screen for viewing, she brings a large monitor with her to give you an enhanced view of the proposed designs. She also brings lots of fabric samples.
"There are so many different textures and color combinations available. Looking at fabrics on a computer screen doesn't compare to seeing the real thing," Niki explains.
"Creating a solid foundation for the design is essential, but it's the art, accessories, and decor that make a difference. An analogy I like to use involves fashion. You can wear a beautiful outfit, but your hairstyle, jewelry, and accessories pull it together and define the look. It's similar with interior design."
Entrepreneur, Mother, Artist
Building businesses, providing personalized service, and delighting clients are part of Niki's DNA, as well as artistry and creativity. Hailing from a family of generational female entrepreneurs that includes her grandmother and mother, Niki decided to pursue her passion for interior decorating after selling her first business, which she owned with her mother.
Becoming a Decorating Den franchisee was a decision born out of love and desire. Niki had been creating beautiful spaces for years and designed vignettes professionally for Interiors Gallery Furniture. Embracing her artistic side she incorporated an art studio into her home, and loves going to High Point Market in North Carolina, the largest home furnishings industry trade show in the world, to see what's new and trending.
In addition to all this, Niki is a proud mother of two who is actively involved with her children. Her 13-year-old son and nine-year-old daughter are a chip off the familial block. They've embraced the family's legacy entrepreneurial and business-minded spirit and are already interested in working in the family business and often help with small projects. Two rescue dogs round out the Johnson family.
Niki Johnson helps people throughout the Memorial area update their homes with looks they love. Whether you want to decorate a room, an area of your house, your entire home, a business office, or a vacation home, call today to schedule a complimentary consultation with Niki.
Now through December 2022, get a $500 design credit on a full room order. Call Designs by Niki for more details. Restrictions may apply.