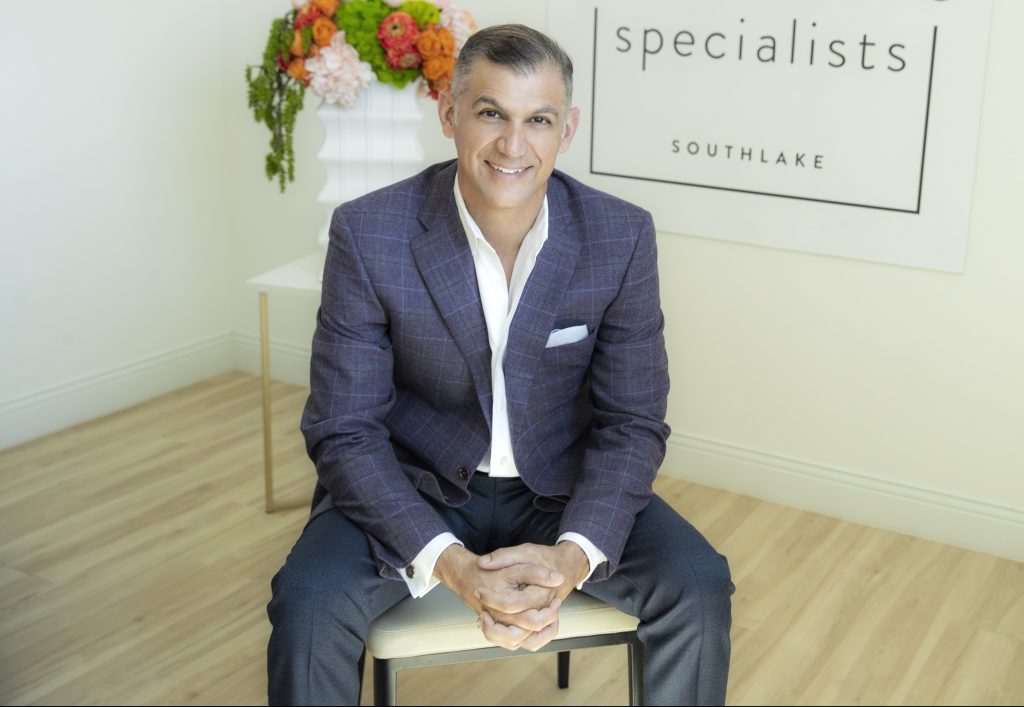 "We work closely with our award-winning medical spa in Southlake, Aesthetic Specialists, to provide a truly comprehensive approach to cosmetic services. It's common for us to combine non-invasive and surgical solutions to create optimal results. At the same time, it allows us to give our patients options, so we can tailor a plan that they are comfortable with, allowing them to choose what's right for them."
By Meredith Knight | Photo by Landon Day
---
Those of us who consult with a plastic surgeon have our own goals and dreams, but we all share one thing in common. We want to select the right plastic surgeon who can safely give us beautiful, natural looking results. Someone we can trust, who has impeccable credentials, with a great reputation, who stays up to date on the latest advances, and is board-certified in plastic surgery. We also want to find a caring surgeon who truly listens, presents different options, comparing benefits and disadvantages, and who doesn't try to talk us into doing unwanted or unnecessary procedures. Dr. Jason K. Potter exemplifies this and much more.
Credentials, Experience, Results
Voted Best Plastic Surgeon in Northeast Tarrant County in 2021 and 2022, Dr. Potter's impeccable reputation continues to spread. He has been in practice in the Dallas area for 16 years and has been named a D Magazine "best doctor" eight times. Double board-certified, by both the American Board of Plastic Surgery and the American Board of Oral and Maxillofacial Surgery, his unique training and skills make him not only an expert in facial rejuvenation and reconstruction, but additionally in procedures that restore, contour and perfect the entire body. As a leader in breast reconstruction, he is one of the first plastic surgeons in North Texas to perform the Resensation technique for nerve repair during breast reconstruction, which restores some degree of sensation to the breast after mastectomy.
Being The Best — Beyond Surgical Skill and Artistry
Known for his genuine compassion, down to earth personality and caring bedside manner, Dr. Potter has a gift for connecting with his patients at a personal level. He develops a rapport with them built on honesty and trust. Patients immediately notice his warmth and kindness. His depth of knowledge and expertise shine as he spends time listening and understanding what his patients hope to achieve. He addresses their questions and concerns and then discusses the available options, so patients are capable of making confident and informed decisions. In fact, not limiting time for consultations or follow-up appointments is just one of the reasons patients receive a top-tier experience and the highest quality of care with Dr. Potter and his team. Accessible and personable, he and his team pride themselves on their availability to patients during their pre- and post-operative recovery phases. "What brings me the most satisfaction is hearing patients tell how these procedures have impacted their lives. The highest compliment we can receive is the referral of a patient's friends, colleagues, or family to us. We couldn't ask for anything more," Dr. Potter says. Dr. Potter offers exceptional care in addition to amazing results. Call today to schedule a consultation. Visit StayAgeless. com/jasonkpottermd for more information and to read Dr. Potter's impressive biography.
---
Contact
245 West State Highway 114, Suite 100
Southlake, Texas 76092
(817) 912-1200
StayAgeless.com/JasonKPotterMD
---