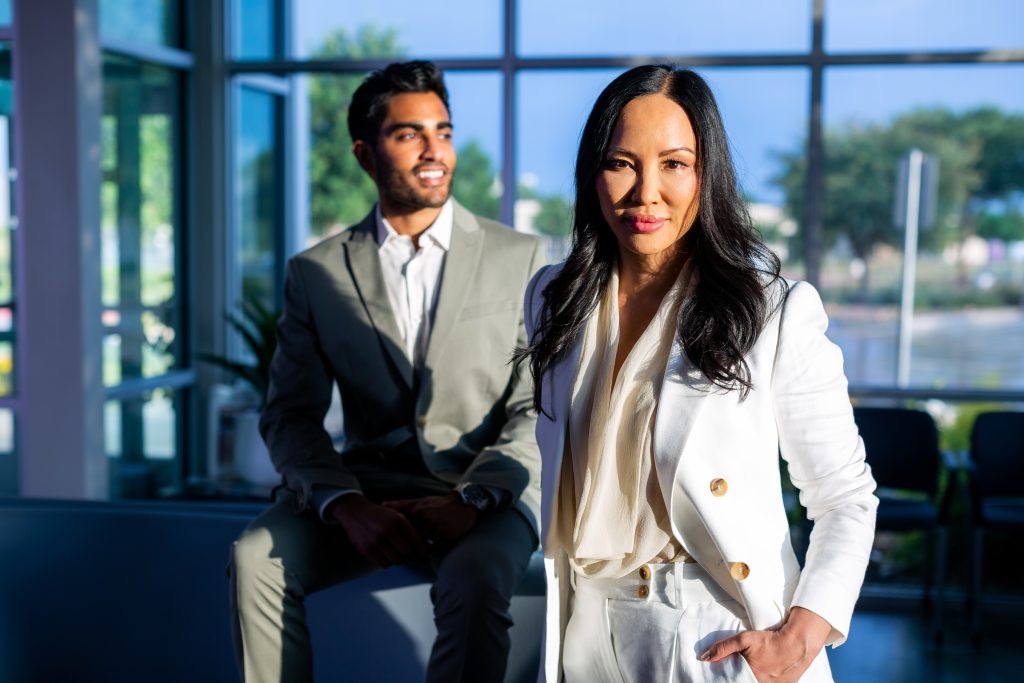 ---
Advanced medical aesthetic care in a spa environment may sound luxurious … but you can skip the trip to Hollywood for the best in these rejuvenating treatments. United Dermatology Associates (UDA) brings the star treatment to North Texas with an elevated spa experience featuring popular treatments and procedures – all in a beautiful, comfortable setting with the expertise of medical and aesthetic professionals.
Dr. Jeannine Hoang and Dr. Ashish Arshanapalli have created the Spa at UDA to practice the latest aesthetic treatments. For example, United Dermatology Associates now brings Mansfield a revolution in hair restoration:
SmartGraft, a new paradigm in treatment for anyone experiencing hair loss.
Dr. Arshanapalli shared this brief Q&A to give us his insights on this exciting approach to hair restoration.
What Is Hair Restoration, And What Techniques Are Offered At Uda?
Hair restoration is the process of stopping hair loss and attempting to re-grow hair to restore one's natural hairline. Hair restoration generally involves medications, procedures, or both.
UDA offers the full spectrum of treatments available including medical therapy, platelet rich plasma (PRP) injections, laser treatments, low level light therapy (LLLT), and hair transplantation
Can You Tell Me About Hair Transplantation?
Hair transplantation moves hairs from an area where the patient has good hair density to an area with lower hair density. The goal is to increase the density of hair in the recipient site without any noticeable change in the appearance of the donor site. At UDA, we use the follicular unit extraction (FUE) method of hair transplantation using the SmartGraft device. This allows us to move hairs without leaving any appreciable scarring in the donor area. The older method of follicular unit transplantation (FUT) leaves a large linear scar on the scalp.
Are The Results Permanent?
Yes, but it's not that simple. The hairs that are transplanted will be there permanently, but without any additional treatments (such as medical therapy) the surrounding hair can continue to thin. That's why it's really important to see a hair loss expert for the best, most natural results.
What is the recovery like after a hair transplant procedure?
Unlike prior techniques, SmartGraft's FUE method does not use scalpels or sutures, so recovery is much easier. You need about a week of down time after the procedure, and then you can go back to all your normal activities. There is little to no pain during or after the procedure, and your scalp will looks totally normal by the end of that first week.
Do you have to shave your head for the SmartGraft procedure?
No. For males, the hair can be cut into a short fade in the donor area and the hair can be left at normal length in the recipient area. For females, a thin strip on the back of the head can be shaved while leaving the rest of the hair at normal length. This way, the donor site can be completely hidden with the rest of the hair.
Does The Hair Transplant Look Like 'Hair Plugs' When It Is Healed?
No. Older methods of hair transplantation involved movement of multiple hair follicles all at once. This made the transplanted hair look artificial and unnatural. The process has been refined greatly, and now only individual hair follicles are moved. Once everything is healed, it has a completely natural look.
What Areas Can Be Treated By Hair Transplantation?
We can transplant hairs to increase density on the scalp, eyebrows, and even beard area.
Who Is A Good Candidate For Hair Transplantation?
Anyone who suffers from androgenetic alopecia (what is commonly referred to as male pattern and female pattern hair loss). There are considerations that can affect the quality of results of a hair transplantation procedure, but anyone who is unhappy with their hair loss could benefit greatly from a consultation with us.
Restoring lost hair can bring some people life-changing benefits in confidence, and emotional well-being, and we are excited to offer this service at United Dermatology Associates!
Is SmartGraft right for you or a loved one? To inquire, call UDA's Hair Restoration Specialists at
682-214-HAIR.
The Spa at UDA's Other Advanced Aesthetic Treatments
The Spa is located at UDA's Mansfield location and offers a full menu of services delivered by medically trained professionals in a luxury setting, including:
Hydrafacials

EmSculpt – builds muscle and burns fat

CoolSculpting

Ultherapy

Radiofrequency

Vampire Facials (microneedling with PRP)

PDO Thread Lifts

Premier Chemical Peels

Laser hair removal

Derma V

Ultra Laser

Keralase treatment for hair loss

Genius RF microneedling

Swift Wart treatment
Noninvasive Injectable Treatments
Botox® and Dysport® injectables are powerful tools to improve the look of wrinkles. The procedures are FDA approved to treat frown lines between the brow (glabella), and are also effective on forehead lines, crow's feet, lip lines and neck lines. These quick and painless treatments can help prevent the early signs of aging, and are also effective for deeper wrinkles. Results are apparent within just a few days, and last an average of 3-4 months.
Experts with a Passion for Skin Health
The greatest benefit offered by the Spa at UDA is its staff of licensed aestheticians, laser technicians and medical assistants who are passionate about providing the highest quality care available. All are certified in best-in-class technologies that achieve the most beneficial results.
The Spa at UDA is ready to help you transform your skin – or simply enjoy some pampering and relaxation. If you're ready for a spa day or have skin health care needs, please visit UDA at unitedderm.com to learn more about the practice or request a consultation.
New! Patients can now communicate with staff via Klara! Simply text (817) 402-1619 to get the conversation started.
---
LOCATIONS
Mansfield
130 Regency Parkway
Mansfield, Texas 76063
(817) 539-0959
Arlington – Fielder
723 North Fielder Road Suite C
Arlington, Texas 76012
(817) 261-1122
Arlington – Matlock
3132 Matlock Road
Suite 307
Arlington, Texas 76015
(817) 468-3131
Burleson
780 NE Alsbury Boulevard
Suite B
Burleson, Texas 76028
(817) 529-1753
Flower Mound
4335 Windsor Centre Trail
Suite 110
Flower Mound, Texas 75028
(469) 635-5990