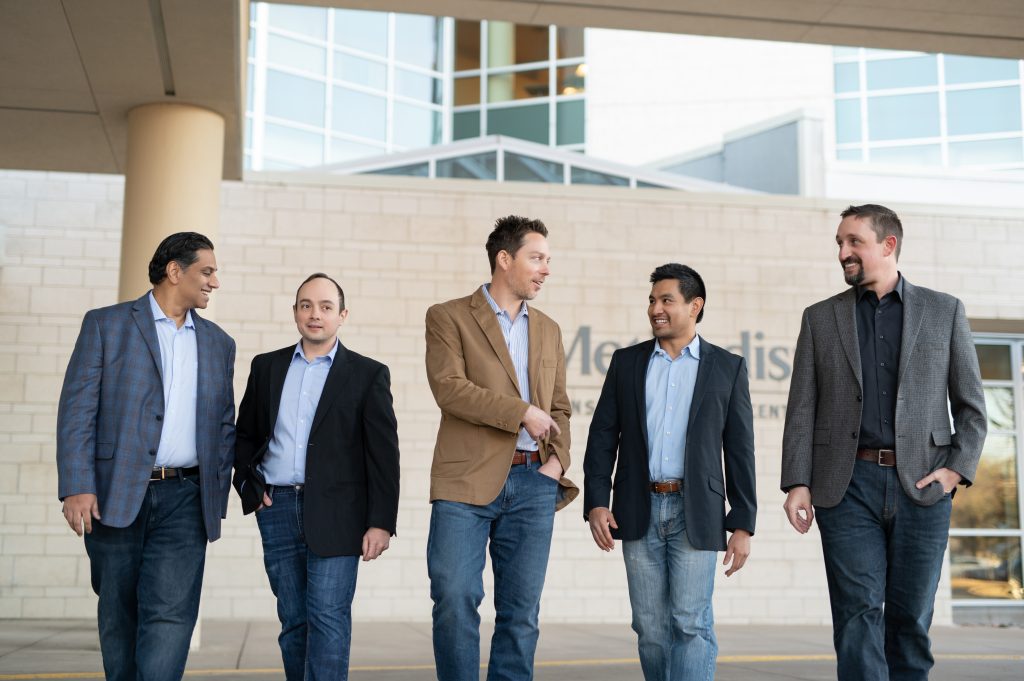 By
Meredith Knight

|

Photos by Daydream Photography
---
Greater Mansfield residents have five reasons to know they're in the best of hands when it comes to surgical and nonsurgical intervention. The five highly experienced and highly trained surgeons at Surgical Associates of Mansfield are committed to treating people, not test results. Together, they're dedicated to improving the lives of those they serve and embracing a commitment to excellence in everything that they do – for every patient, every time.
Repeatedly voted Best General Surgeons and Best Bariatric Surgeons by the readers of Living Magazine and Best Doctors by D Magazine, this patient centered surgical practice performs surgery at Methodist Mansfield Medical Center. The hospital is a level-three trauma center that was named a Comprehensive Bariatric Surgery Center of Excellence and is consistently the busiest robotic operating room in North Texas.
Conservative Care
They also give back to the community and serve as Texas Christian University medical school professors earning a reputation for taking their time and really connecting with each patient. And each surgeon explores noninvasive treatments options with patients before recommending surgery. It's no wonder patients travel from Arlington, Grand Prairie, Midlothian, Cedar Hill, Fort Worth, and farther to be treated by the team at Surgical Associates of Mansfield.
Patient and Provider Approved
Many patients find their way to Surgical Associates of Mansfield upon the recommendation of their primary care physician for help with hernias, gastroesophageal reflux disease (GERD), and acid reflux, diverticulitis, gallbladder disease, or weight-loss surgical options. Once there, they find a compassionate ear with a warm, welcoming environment. Each of the surgeons at Surgical Associates of Mansfield is trained and experienced in the robotic da Vinci Surgical System, which offers their patients a less invasive surgery through smaller incisions, less scarring, and less risk of infection, resulting in shorter recovery times for patients.
Advanced Robotic Surgery
The da Vinci Robotic Surgical System assists surgeons in performing complex and delicate procedures less invasively by utilizing smaller surgical incisions, lower risk of infections, less scarring, and quicker return to normal activities.
Meet the Dynamic Surgery Team
The mission of Surgical Associates of Mansfield is simple — to improve the lives of those they serve. Drs. Alexander, Parcells, Trussell, Standerwick, and Cruz have performed thousands of successful surgeries, restoring quality of life to many of your DFW neighbors. They're committed to using evidence-based practices and advances in medical technology to provide high-quality care for their patients. Excellence is their standard in everything they do.
Dr. Alexander
Practice founder Dr. Gary Alexander is a board-certified general surgeon specializing in surgery of the gastrointestinal tract, including heartburn/reflux surgery, gallbladder surgery, and colon surgery. Since 2007, he's performed thousands of procedures including colonoscopy for diagnostic and cancer screening, thyroid surgery, breast surgery, vascular access surgery, and skin and soft tissue surgery. "If there's a viable noninvasive option, we do everything we can to point the patient in the most conservative direction only recommending surgery after we've exhausted nonsurgical options," he said.
Dr. Parcells
Dr. Jeremy Parcells performs a wide range of procedures including hernia, gallbladder, anti-reflux, colorectal, bariatric surgery, and a full range of complex laparoscopic and robotic surgeries. "Robotic surgery represents the next stage of growth and innovation, allowing us to perform operations we're already performing laparoscopically — only better," he said. "Every year we're finding exciting new ways to advance the technology."
Dr. Trussell
As a broad-based general surgeon, Dr. Joshua Trussell performs common procedures for conditions such as gallbladder disease, appendicitis, small bowel disorders, and soft tissue infections and masses. He repairs all types of hernias, including advanced abdominal wall reconstruction and repair for large loss of domain incisional hernias. He specializes in surgeries for colon cancer and skin malignancies, including melanoma, and has experience in bariatric procedures, including laparoscopic sleeve gastrectomy. "It's an exciting time to be involved in the advancement of minimally invasive surgery with easier recovery for our patients and more precision for us," he said. "Our goal is always the least invasive option."
Dr. Standerwick
Dr. Andrew Standerwick performs a wide variety of procedures, focusing on those involving the abdomen and related organs. He has a special interest in hiatal hernias, inguinal hernias, and anti-reflux surgery, and he has been trained in minimally invasive techniques that reduce recovery time. Dr. Standerwick specializes in weight-loss surgeries, including Roux-en-Y gastric bypass, laparoscopic sleeve gastrectomy, and revision surgery. "Obesity is the number one health concern in the U.S. today, impacting self-esteem, relationships, quality of life, and many obesity-related illnesses," he said. "For many, it's the beginning of a whole new healthier, happier, and longer life."
Dr. Ivan Cruz Jr.
Ivan Cruz, Jr., MD, FACS is a board-certified general surgeon who has been serving patients since 2014. With a special interest in treating colon cancer, he also enjoys treating gallbladder issues, acute appendicitis, umbilical hernias, inguinal hernias, hernias of the abdominal wall, and complications of peptic ulcer disease. He performs screening colonoscopies, upper GI endoscopies, and cyst and lipoma removals.
Surgical Associates of Mansfield offers excellence in minimally invasive surgery for:
Hernia Repair

Reflux/Heartburn

Appendicitis

Bariatric/Weight Loss

Colon Cancer

Gallbladder Disease

Surgery for Skin & Soft Tissue Disease

Vascular Access Surgery
The board-certified surgeons at Surgical Associates of Mansfield specialize in the da Vinci surgical system, one of the first and most advanced forms of robotic-assisted surgery for use in hernia, gallbladder, bariatric, reflux, and diverticulitis.
Visit MansfieldSurgery.com to find out more.
---
Contact
2975 East Broad Street, Suite 200
Mansfield, Texas 76063
(682) 518-8619
MansfieldSurgery.com