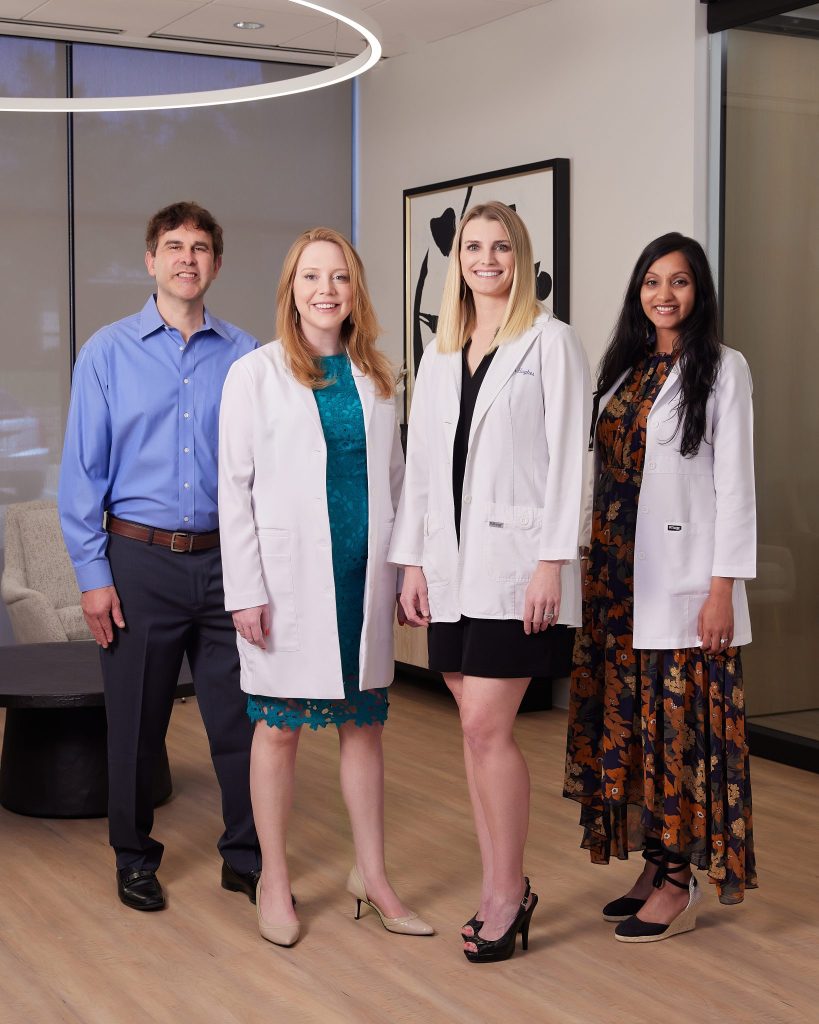 By
Steve Gamel |
Photos by
Scott Peek Photography
---
There's something to be said for finding a dermatology practice that reminds you of the good old days of family healthcare — where the atmosphere is warm and friendly, and patient-centered care is the name of the game. Then there are the providers who treat skin conditions for patients of any age, love building personal relationships, and can be found out and about in the communities they serve. That's the environment Signature Dermatology and Aesthetics has developed at each of its six locations throughout Dallas-Fort Worth, including a local office right here in Flower Mound.
Simply put, there's no better team of compassionate professionals teaming up to cover all their patients' needs, including the likes of board certified dermatologists Caitlin Farmer, Bryan Selkin, Ramya Kollipara, David Meyer, and long-time physician assistant, Lauren Hughes.
"I have the honor of working with some of the best doctors around, but what really stands out about us are our patient care values," Hughes said. "It's about caring for people and entire families."
Dr. Farmer added, "That's one thing we pride ourselves on: We want our patients to have the ultimate patient experience. We care about our patients, and we're compassionate about their needs."
Everything Under One Roof
Signature Dermatology and Aesthetics is a full-service dermatology practice that specializes in all aspects of medical, surgical, and cosmetic dermatology. That means they treat all forms of simple to complex skin conditions and disorders, from eczema and psoriasis to acne, leg veins, and skin cancer, without having to refer their patients to outside providers. For some types and locations of skin cancer, options such as Mohs surgery, which offers the highest cure rates, can be done in house. They also offer non-surgical treatments of skin cancer, including superficial radiation therapy that delivers a precise, calibrated dose of radiation that destroys non-melanoma skin cancer cells without damaging healthy surrounding tissue. There is no pain, cutting or stitching, scars, or need for plastic surgery.
The practice is one of the centers in DFW that offers light treatments, which avoid the side effects of systemic medications for conditions such as eczema, psoriasis, and vitiligo. Specialists in the group can perform liposuction for body contouring and sclerotherapy for leg veins, and they have numerous lasers for skin rejuvenation and skin imperfections such as scars. Signature Dermatology offers the newest technology for those wanting to avoid oral medications for acne such as TheraclearX and has a very experienced support staff.
A Compassionate Team
Dr. Farmer has a lengthy history with the Flower Mound location and recently returned after having her beautiful daughter, Ellie. She attended Duke University to obtain her biomedical engineering undergraduate degree. Following graduation, she worked as a mechanical engineer designing missile-launching tanks before deciding to pursue a different career path in medicine. She earned her medical degree from the University of Texas Health Science Center in San Antonio, where she remained for her internal medicine internship. She completed her residency in Detroit at Henry Ford Hospital, where she had the opportunity to work with leaders in the fields of pigmentary skin disorders, phototherapy, follicular disorders, and complex medical dermatology.
Dr. Selkin graduated as Chief Educational Resident and was fellowship-trained in clinical trials in dermatology from Harvard. He specializes in medical, surgical, and cosmetic dermatology. He has been the recipient of numerous awards such as Living Magazine Best Dermatologist, D Magazine Best for over 10 years, Texas Super Doctor, and U.S. House of Representatives Congressional recognition for his outstanding patient care for over 15 years in the DFW region.
Dr. Kollipara earned a Doctor of Medicine from the University of Missouri-Kansas City School of Medicine. She then completed an internship in internal medicine at the University of Colorado-Denver, a clinical research fellowship in Houston, and her dermatology residency at Texas Tech University Health Sciences Center. She is currently the head of the cosmetic dermatology and skin rejuvenation program at Signature Dermatology and sees patients at the Plano location.
Dr. Meyer earned his medical degree and completed his residency at the University of Texas Health Science Center in San Antonio. He completed an internship at Yale School of Medicine.

Hometown Girl Serving Her Community
Dr. Farmer isn't the only familiar face in Flower Mound. Hughes grew up playing on softball fields in and around North Texas. She was a star pitcher for the Flower Mound Lady Jaguars, and by the time her senior year rolled around, the team was primed to compete for a state title. Sadly for Hughes, a devastating leg injury sidelined her before the playoffs. The injury could have ended her athletic career for good had it not been for a wonderful team of doctors. She went on to play college softball at North Central Texas College in Gainesville, but the injury and her caring team of doctors opened her eyes to a future career in medicine.
Experiencing for herself how well her doctors treated her planted an important seed.
After spending a few years shadowing doctors in multiple disciplines, Hughes chose dermatology. She earned her Bachelor of Science from Texas A&M, then returned to Dallas and obtained her Master of Physician Assistant Studies from the University of Texas Southwestern Medical Center before being hired by the company that would ultimately become Signature Dermatology in 2012. She and her husband have four kids and have been foster parents since 2017.
"It's an honor to be from this community," Hughes said. "All of us care so deeply, and our patients feel that. I get to treat generations of families, and then they send their friends. I love that they trust me to visit with and care for the most valuable people in their lives."
---
CONTACT
3221 Yucca Drive
Flower Mound, Texas 75028
(972) 505-2551
SignatureDerm.com