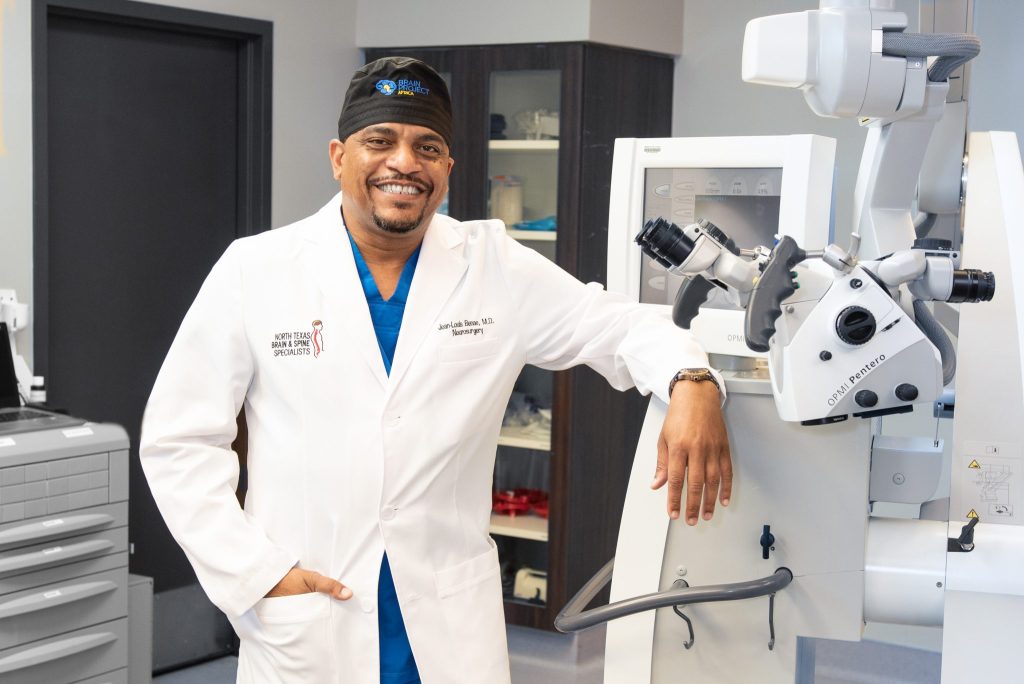 By
Steve Gamel
| Photos by
Amber Boykin Photography
---
As a double board certified neurosurgeon with more than 10 years of neurosurgical experience, Dr. Jean Louis Benae believes in one truth: do the right thing. Those four words may seem simple enough to follow, but they are all too often compromised in today's world of healthcare. Thankfully, that's not the case with Dr. Benae. They are at the heart of everything he and his team at North Texas Brain & Spine Specialists try to achieve in the management of complex spine and brain disorders and injuries.
As a result, it's easy to see why Dr. Benae's services are trusted and in such high demand. Patients who desperately want to fix whatever ails them — whether it be a herniated disc in their lower back, peripheral neuropathy, a complex brain infection, or another life-altering condition that continues to linger — come from near and far in hopes of one day reclaiming the life they want to live.
"What tends to be very difficult in our field is making sure we are always finding exactly what is causing the problem ," Dr. Benae said. "In this process, what matters most to me is finding the cause and providing the right non-surgical and surgical treatment options.
"Many patients have often been suffering for years when they come to see me, so they need my time and my compassion."
Meet Dr. Benae
Dr. Benae is committed to sharing his knowledge and helping those in need. And his journey to North Texas has been a winding yet highly decorated road. Born in Cameroon and raised in Paris, France, Dr. Jean Louis Benae came to the United States at age 20 to attend the University of California, Los Angeles (UCLA), where he pursued a degree in physiological sciences and graduated with honors. He continued his education at the David Geffen UCLA School of Medicine and obtained his Doctorate in Medicine. Throughout his extensive training and career, Dr. Benae accrued remarkable versatility with complex spine and minimally invasive spine surgery.
He is board certified and a member of various distinguished national and international neurosurgical societies, such as the Congress of Neurological Surgeons, the American Association of Neurological Surgeons, the North American Spine Society, and AO Spine.
Comprehensive Surgical and Nonsurgical Treatment Options
Sometimes, surgery is absolutely the best path forward to resolve your unique situation. But Dr. Benae's patients can rest easy knowing that he doesn't look to those methods first. More often than not, he exhausts all nonsurgical options, including focusing on conservative options such as light physical therapy and light interventional pain management procedures.
"The last thing I ever intend is to perform surgery on someone who doesn't need surgery," Dr. Benae said. "My intention is to locate the origin of a person's problem, and if surgery can be avoided, we can steer clear of it."
Dr. Benae is also active in the corporate community and has been invited to speak at some of the major multinational corporations headquartered in North Texas. He often gives talks focused on his unique multi-specialty approach to care and preventive measures that can be taken in the workplace to improve brain and spine health.
Minimally Invasive Treatment
If surgical intervention is the best approach, patients benefit from his training and remarkable versatility with complex spine and minimally invasive spine surgery. Dr. Benae believes in utilizing minimally invasive surgery, robotics, and spinal navigation, when indicated, to lessen the impact of surgery and maximize the benefits so each patient can quickly recover and return to full capacity. Dr. Benae's clinic is also equipped with the latest technology, including but not limited to, the Konica Minolta digital x-ray machine which allows his team to capture crisp images that are very helpful in diagnosing a patient's spinal condition. The clinic also owns a new AlterG AntiGravity Treadmill that helps patients reduce gravity's impact from 20% to 100% of their body weight during rehabilitation. This means patients with multiple neurological conditions can regain mobility and strength faster with less pain and discomfort. This means patients with multiple neurological conditions can regain mobility and strength faster with less pain and discomfort.
"Pain is scary and debilitating and can come from different sources, so I partner with my patients to investigate and find the source of that pain," Dr. Benae said. Because of this forward-thinking mindset, Dr. Benae can make decisions about a plan of action that will not simply mask a person's symptoms but rather correct the problem. Since minimally invasive spine surgery does not require the long incisions associated with traditional, open surgery, the muscles surrounding the spine do not suffer extensive tissue damage.
Minimally invasive techniques have been used for decades, and the results are typically faster recovery times and a substantially reduced amount of pain and scarring.
Philanthropic at Heart
Dr. Benae has long been a leader in give-back programs beyond the walls of his practice aimed at providing free surgical and medical procedures for economically disadvantaged communities near and far. At the forefront is the Brain Project Africa Foundation, a nonprofit he created in 2016 to empower Africa's healthcare system. Dr. Benae and his team routinely spend weeks at a time in Africa treating patients with a variety of services such as dental surgery, complex brain and spine surgery, general surgery, and more.
According to Dr. Benae, the organization is also responsible for donating medical equipment and supplies. And when he's not treating patients, he's providing hands-on mentorship opportunities to young leaders in the African medical community. For more information, please visit BrainProject.co
to learn more and contribute.
If you are looking for neck pain or back pain relief, turn to Dr. Benae and the experts with North Texas Brain & Spine Specialists. Call their office in Flower Mound at (469) 378-9039 or contact them online at DrBenae.com to learn more or schedule an appointment.
Specialty Services
Brain conditions

Brain tumor

Degenerative disc disease

Herniated disc pain

Hydrocephalus

Laminectomy spinal decompression

Peripheral neuropathy

Spinal disorders

Spinal fusion

Spinal stenosis

Subdural hematoma
---
CONTACT
7222 Crawford Road, Suite 100
Argyle, Texas 76226
(469) 772-9705
DrBenae.com