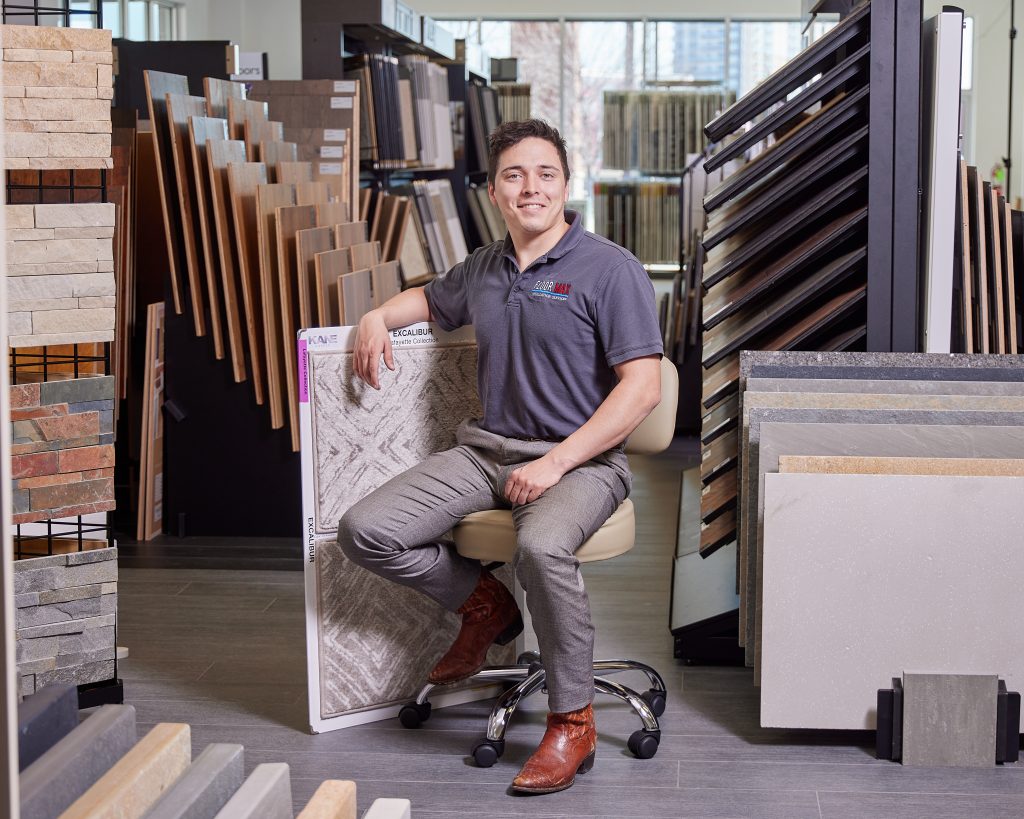 By Steve Gamel | Photos by Scott Peek Photography
---
Zach Guffey knows everything there is to know about honoring a family legacy. He's a fourth-generation master-grade flooring installer with a lineage that dates back over 100 years — from when his great-grandfather spent hours upon hours hand-scraping hardwood floors with his popular sand and finish crew. In time, the Guffey family quickly became the only crew anyone wanted to call to install custom flooring options in many high-end commercial and residential properties that dot our North
Texas landscape.
Yes, the Guffeys know flooring inside and out — many would say better than any of the big-box home improvement stores of today combined. And they live by the adage that anything worth doing is worth doing right.
"I have an innate sense of purpose as a steward of my family's legacy," Zach said. He and his family currently own Floor Max in The Colony. "It's like … if your father was a swordsman, and your grandfather was a swordsman, and your great-grandfather was a swordsman, then you're probably going to be a swordsman — and a really good one at that. You have to have pride in what you do, and it doesn't matter how much time it takes. It must be done right. When it comes to flooring, that means installing it right, selling it correctly, and doing your part to educate the customer.
"My family has remained at the top of the most hyper-competitive flooring market for over 100 years. That means something to us."
Doing Business the Right Way
When you've been at the top of your craft for as long as the Guffey family has, you experience your fair share of change. Some of that change is good, such as the dawn of state-of-the-art tools, specialty materials like natural stone, hardwood, laminate, and resilient carpet flooring, and innovative installation processes. But there's also the negative side — lack of experience in installation and product knowledge, pricing pressure, and too-big-to-fail stores that tend to focus more on bottom-line results than quality and customer service.
Floor Max in The Colony opened in 2017 when Zach Guffey led the family charge in owning a retail store. And it represents everything the flooring industry was built on — integrity, honesty, education, best products, and good old-fashioned blue-collar work. More than just a flooring installer, Floor Max offers a wealth of materials and services that help create a one-stop flooring shop, no matter how large or small the remodel is. Their associates work with you from start to finish to help you get the results you want and need.
"We want to offer something of value to every consumer, and I want to uphold the integrity of my industry," Zach Guffey said. "If you see someone wearing a Floor Max shirt, then you should know that individual is a consummate professional in floor coverings. You know he's the best and that he will give you an education and the ability to not waste your money."
The proof is in the pudding. After just six years of having a retail flooring store, Floor Max continues to exceed its clients' expectations and has vaulted itself into everyday competition with bigger name entities.
"I recently had the pleasure of working with Floor Max for the installation of new floors in my home," one satisfied customer said on Google. "From start to finish, the experience was nothing short of exemplary. The team was professional, knowledgeable, and efficient in their work. The installation process was completed quickly and with great attention to detail. I couldn't be happier with the final result and would highly recommend Floor Max to anyone in need of flooring. They truly exceeded my expectations."
Another customer added, "We found Floor Max from a referral by someone we trust. We worked with Zach and Caleb, with whom we were very pleased. Their professional customer service was top-notch. The quote was not the cheapest, but they answered every question that was asked, and many did not even need to be asked, as they came prepared with all information needed. We had a stone floor, so installation needed to be done with precision. The floor looks beautiful! We are so thankful we hired Floor Max and all their years of experience to do the install. We would highly recommend this store."
Don't Get Floored
Floor Max options are limitless, with flooring and wall tile options for foyers, kitchens, bathrooms, exercise rooms, bedrooms, outdoor spaces, and every room and hallway in between. And again, it's owned and operated by family. Alongside Zach Guffey is his father, Kenneth; business partner, Caleb Knoff; best friend, Jason Harmon; mother, Beatrice; and aunt, Darlene Kipes.
In today's world, it's easy to get fixated on the big-box stores and what they offer. And there's nothing wrong with that. But if you're looking for a family-owned flooring store with all the bells and whistles that also knows flooring better than anyone, Floor Max should be your first visit every time. And if you don't have time to visit the showroom, Floor Max can bring samples right to a customer's front door.
"My family is a big part of my life. It's one of the most critical driving factors in what I do every day," Zach Guffey said. "We have maintained high value and superior customer satisfaction scores for over 100 years. We simply do things better than anyone else.
The Floor Max Difference
Certified installers

Mobile showroom

One-stop stop

Highest quality products and service

Knowledgeable staff

Over 100 years of combined experience
Floor Max Services Satisfy Any Project Type
Flooring and carpet installation

Custom showers and installation

Baseboards

Subfloor preparation

Stair installation

Sand and finish

Grout

Indoor and outdoor installations

Flooring repair and flood service

Carpet re-stretch and more …
---
CONTACT
5733 SH 121, Suite 200, The Colony, Texas 75056
972-503-7799 | FloorMaxPro.com