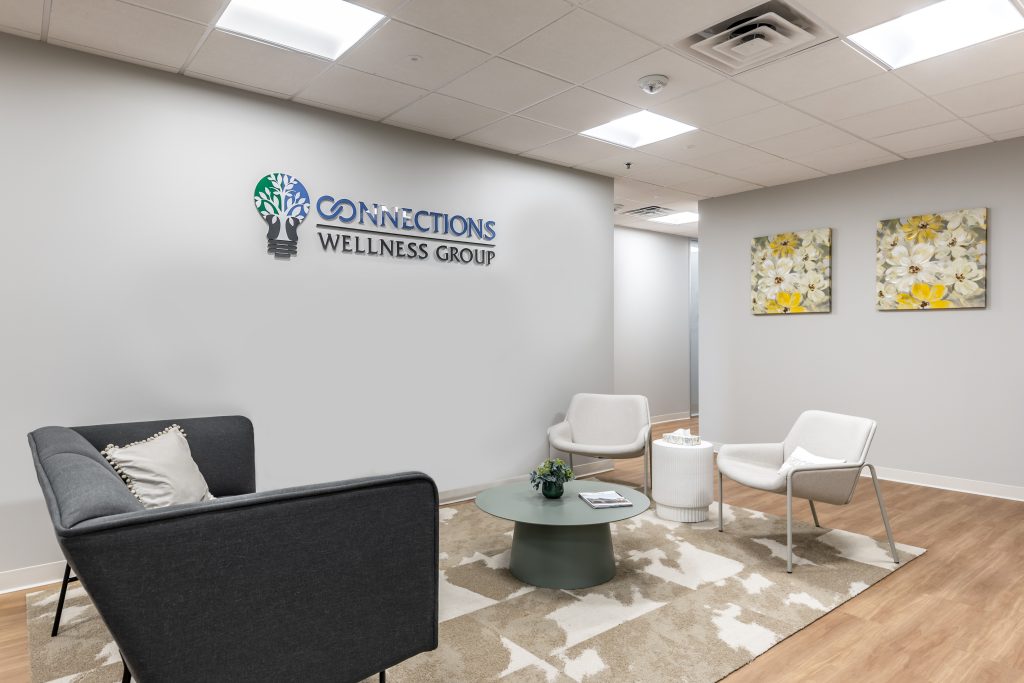 " Tune into your body instead of dismissing or minimizing symptoms and letting them continue to disrupt your life. We offer a free consultation to new clients and urge everyone to take the first step and call us. Let us help you break a pattern or habit your body has developed as well as treat mental health disorders." – Reagan Borgman, LCSW
By
Annette Brooks
|

Photos by
Kenny Richard Photography
---
Most of us know someone affected by a mental health disorder and recognize emotional signs like sadness and hopelessness, apathy, angry outbursts and irritability, and loss of interest in hobbies or sports. But did you know several physical symptoms of conditions like depression and anxiety may be easily overlooked?
Award-winning Connections Wellness Group not only treats mental health disorders using a comprehensive, multi-disciplinary approach, but they also aim to educate the public and help you understand both the emotional and physical signs and symptoms of anxiety and depression. Executive Director of Connections Wellness Group – Plano, Reagan Borgman, LCSW, explains, "Physical signs are often dismissed or mimic other medical conditions, so the root causes involving mental health disorders go undiagnosed
and untreated."
During our interview with Ms. Borgman, she discussed some of the physical signs connected to mental health disorders. She emphasizes that in addition to psychological evaluation and treatment, Connections Wellness Group strives to rule out medical conditions as the cause. They work closely with a patient's other medical providers, such as their primary care physician, to help ensure a safe and effective continuum of care.
"Tune into your body instead of dismissing or minimizing symptoms and letting them continue to disrupt your life. We offer a free consultation to new clients and urge everyone to take the first step and call us. Let us help you break a pattern or habit your body has developed as well as treat mental health disorders," says Reagan Borgman, LCSW.
Aches and Pains
Mental health disorders are often linked with unexplained muscle aches and chest, back, and joint pain. The National Institutes of Health (NIH) says, "a high percentage of patients with depression who seek treatment in a primary care setting report only physical symptoms, which can make depression difficult to diagnose."
If you or a loved one suffer from unexplained aches and pains, instead of using excessive over-the-counter (OTC) medications to help mask the symptoms, consider reaching out to a mental health professional for evaluation who can diagnose and treat a root cause such as depression.
Headaches and Migraines
Migraines and mental health disorders such as depression and anxiety are often intertwined, and this is backed up by research, including a 2017 study by the NIH. It's wise to pursue a comprehensive, multidisciplinary treatment approach that addresses both the physical and psychological symptoms and causes.
"One concern about headaches that go undiagnosed and untreated are rebound headaches brought on by long-term use of OTC pain-relieving medications," explains Ms. Borgman. "Instead of brushing your headaches off and self-treating with OTC products, explore potential underlying causes, including mental health issues."
Gastrointestinal Problems
If you suffer from depression and anxiety, you may also struggle with GI problems such as nausea, bloating, constipation, and diarrhea. It's widely recognized that most of the body's serotonin — a "feel good" chemical that plays a key role in several body functions, including mood — is produced and stored in the intestine. According to Harvard Health Publishing, Harvard Medical School, "A troubled intestine can send signals to the brain, just as a troubled brain can send signals to the gut. Therefore, a person's stomach or intestinal distress can be the cause or the product of anxiety, stress, or depression."
Ms. Borgman notes that stress and anxiety are also linked to elevated cortisol levels. (Cortisol is the body's primary stress hormone.) High cortisol levels can cause gut inflammation, worsening anxiety and depression.
Sleep Disturbance
The NIH indicates there are strong links between sleep and major depression. Around three-quarters of depressed patients have insomnia symptoms and hypersomnia, and about 40% of young adults who are depressed and 10% of older patients experience hypersomnia — excessive daytime sleepiness. In addition to treating depression, one should rule out medical conditions like sleep apnea that may contribute to symptoms.
About Connections Wellness Group
Connections Wellness Group offers life-enhancing, personalized, cost-effective mental health solutions to residents throughout North Texas. Whether you or a loved one is struggling with depression, anxiety, substance abuse, an eating disorder, self-harm, grief, loss, trauma, or another issue, they're here to help "connect you back to what matters most."
Known for its comprehensive services and innovative, integrated treatment model, Connections Wellness Group's dynamic, collaborative team of mental health professionals and other providers, including dieticians, provide multiple services under one roof.
Start on Your Journey to Wellness and Recovery
Call today and schedule a complimentary screening. Connections Wellness Group is in-network with all major insurance companies and Tricare. The practice has locations run by licensed health professionals in Plano, Frisco, Arlington, Denton, Flower Mound, Keller, Mansfield, McKinney, Prosper, Rockwall, Southlake, and Willow Park. Visit ConnectionsWellnessGroup.com for more information.
Services Include:
Therapy and counseling

Psychiatry

Nutritional Wellness

Medication management

IOP (Intensive Outpatient Program)

PHP (Partial Hospitalization Program)

Telehealth mental health services

Plano location – adolescents 12 and up, adults 18 and up

Frisco location – adults 18 and up
---
CONTACT
6101 West Plano Parkway, Suite 240
Plano, Texas 75093
(469) 613-3390
ConnectionsWellnessGroup.com/plano
255 West Lebanon, Suites 120 and 124
Frisco, Texas 75036
(469) 430-1930
ConnectionsWellnessGroup.com/frisco