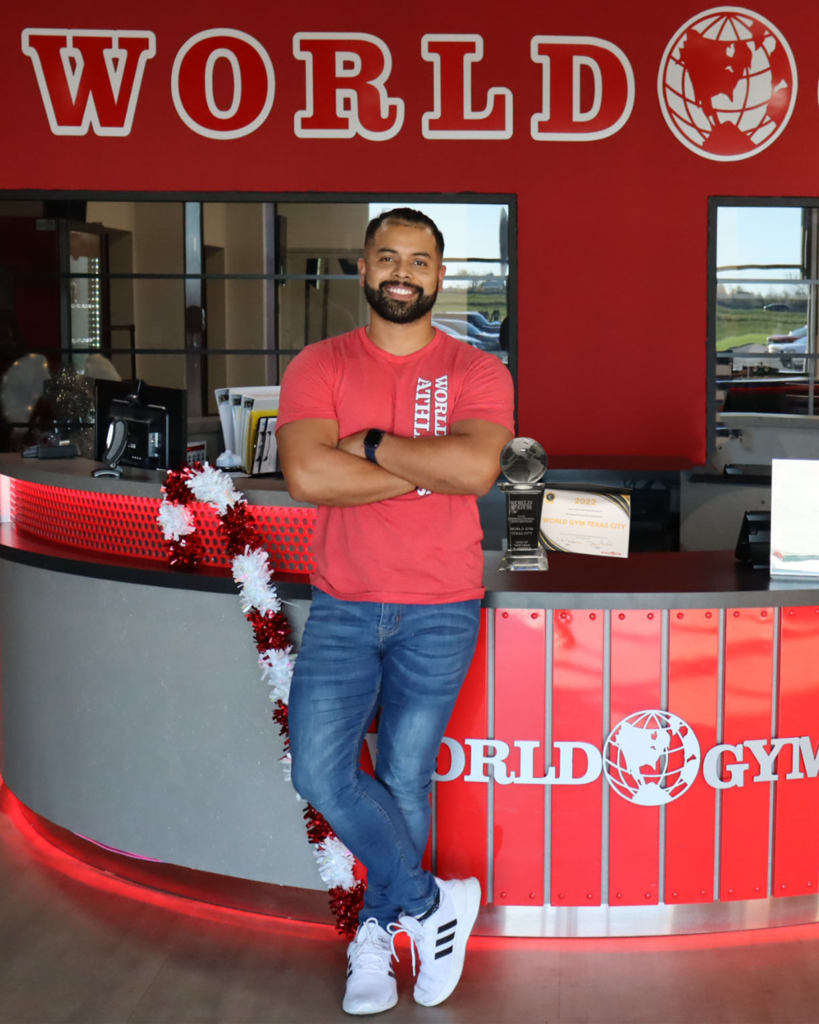 By
Meredith Knight
|
Photos by
Katelyn Mouser and Kelly Sweet
---
Nick Hernandez, General Manager of World Gym-Texas City, posed the question, "How do I train someone for one hour, so that the other 23 hours are influenced by that one hour of training?" Great question! Nick believes you must dive into the psychology of coaching. It's not just eating or exercising better. You MUST understand the "WHY." Why do our habits get so many of us off track in our journey toward fitness and wellness? Why are the things we do, when we're not in the gym, derailing the things we do when we are there? And what can be done about it? Nick decided he needed to understand the "why" of our lifelong habits. Why do we eat the things we know we shouldn't? How can we change those habits in a sustainable way?
Then he set about sharing that mindset—of searching out the "why"—with the trainers and coaches at World Gym-Texas City, teaching them to understand the psychology of fitness and how to pass that along to their members and help them break the habits that are holding them back. "It's not just about eating right and exercising better," he said. "You must dive into the psychology of coaching. You MUST understand the WHY."
"A lot of trainers underestimate fitness as a whole and they believe there's not a true customization of programs for each client," Nick said. "That's the furthest thing from the truth. One program does not fit all!"
Members of the award-winning World Gym-Texas City can attest that his philosophy has made all the difference for them. This 100,000 square foot gym offers something for everybody from the serious bodybuilder and gym rat to the senior who's working their way back from an injury and it does so in a welcoming, community atmosphere. It's become the ultimate fitness destination for thousands.
Here are just a few of the amenities you'll find at this state-of-the-art gym voted Best World Gym in the Country in 2022:
Personal Training
Certified, world-class coaches' partner with you to make fitness a natural part of your life with customized programs and one-on-one attention.
Red-Light Therapy
Once your workout is complete, high-tech red-light therapy can help your skin, muscle tissue, and other body parts heal.
Childcare
Trained and caring staff members not only keep your child safe, while you focus on your workout, but the kids can work out, too.
On-Site Physical Therapy
Houston Physician's Hospital Physical Therapy is on-site helping you work your way back from an injury and helping tailor workouts to your specific needs.
Sauna
After even the most intense workout, the infrared sauna will have you feeling rejuvenated and refreshed and ready to take on the world.
Sunless, UV, and Mist Spray Tan
Enjoy a gorgeous glow any time of year from any one of the sunless tanning options.
Basketball Court
Whether you're looking to join a pick-up game, play a little one-on-one, or perfect your free throw, the courts are ready and waiting for you.
Women's Only Area
Achieve your personal goals in a quieter, more intimate space minus the "gymtimidation" with classes and equipment geared toward the female body.
Group X Classes
Whatever your preference and fitness level, there's a spot just waiting for you in a group class.
Les Mills Classes
Punch, kick, and strike your way to fitness with this high-energy, martial-arts-inspired, non-contact workout.
Bellissimo Spa
Relax and unwind in the tranquility of Bellissimo Spa offering hydra and other facials, massages, waxing, and more.
RxBODYFx Medical Weight Loss
Live your best life with nutrition coaching, weight loss management, testosterone and hormone replacement therapy, and physician-grade products to facilitate healthy weight loss.
Outdoor Training Area
Take your fitness outdoors with a selection of outdoor training options.
Bad and Boujee Café
Meet up with friends after a group class or individual workout for a nutritious lunch at the on-site café.
Mainland City Centre has long been the destination for family fun including a new state-of-the-art Premiere cinema, Restaurant Row, Marquee at the Mainland, an event center and—coming this spring—the
grand re-opening of Tex Entertainment (100,000 square feet of bowling, video games, trampolines, go carts and more). Find out more at MainlandCityCentre.com and discover your ultimate fitness destination at WorldGym.com/TexasCity.
World Gym-Texas City is part of the JMK5 Holdings LLC, Karam Developments, owned by Jerome Karam. Mention this story during the month of January 2023 and you can join with no annual fee.
Mainland City Centre's HEALTH & WELLNESS EXPO
Mark your calendars now for Mainland City Centre's HEALTH & WELLNESS EXPO! We will see you on Saturday, January 21st, from 11:00 AM to 4:00 PM!
Find out more at MainlandCityCentre.com
---
Contact
World Gym – Texas City is the LARGEST World Gym in the WORLD!
10000 Emmett F Lowry
Texas City, Texas 77591
WorldGym.com/TexasCity
facebook.com/WorldGyminTexasCity
MainlandCityCentre.com
facebook.com/MainlandCityCentre
jmk5holdings.com
facebook.com/JMK5Holdings