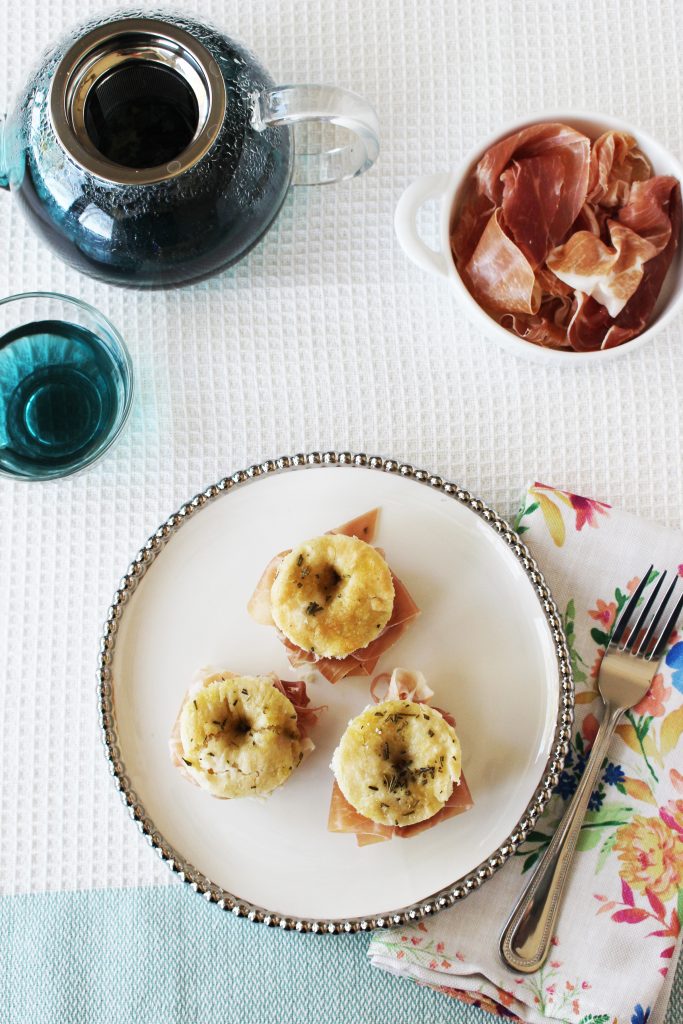 By
Jennifer Bajsel
---
Mini Focaccia & Prosciutto Sandwiches

Serves: 18 | Prep: 2 hrs 40 min. | Cook: 20 min. | Total: Approx. 3 hrs.
Ingredients: 1 pkg active dry yeast | 1 cup warm water (approx. 110°) | 3 cups bread flour | 1 tsp. salt | 1 Tbsp. honey |
5 Tbsp. olive oil, divided | 3 Tbsp. fresh rosemary, chopped | Sea salt as needed
Directions: Combine water and yeast in the bowl of a stand mixer. Wait 10 minutes for yeast to bloom. Add flour, salt, and honey. Using the dough hook to knead until ingredients come together. Oil a mixing bowl and place dough covered at room temperature to rise (about 2 hours). Generously oil a half-baking sheet (about 9 x 13) and stretch dough to fill the pan. If the dough won't stretch all the way, let it rest a while longer, then try again. When the dough fills the pan, cover and let it rest another 30 minutes. Mix 2 Tbsp. of olive oil with 1 Tbsp. water and pour over dough. Press fingers into dough to make dimples. Sprinkle the top with sea salt and rosemary. Bake for 20 minutes until golden. Cut focaccia into small squares or circles. Build sandwiches by cutting focaccia in half, drizzling with olive oil, and putting prosciutto in center.
Tips & Tricks: Double the recipe for a thicker dough, or you can buy store-bought focaccia and cut using molds — pairs well with Butterfly Pea Flower Tea.
---

Dilly Egg Salad Tea Sandwiches

Serves: 12 | Prep: 30 min. | Cook: 10 min. | Total: 40 min.
Ingredients: 6 eggs | 1 celery stalk, chopped | 1 shallot, minced | 2 Tbsp. mayonnaise | 1 ½ Tbsp. yellow mustard | 2 Tbsp. fresh dill, chopped | 8 rye bread slices (or your choice of bread) | 12 small green leaf lettuce leaves | Baby dill pickle, 1/8 cup minced & slices, halved | Pinch of salt & black pepper
Directions: Place eggs in a pot and bring to a boil. Boil 10 minutes, then rinse under cold water and refrigerate until cool. Peel the hard-boiled eggs and chop. Mix eggs, celery, shallots, mayo, mustard, fresh dill, salt & pepper. Cut bread slices into three 2" x 1" rectangles. Build sandwiches by layering bread with, lettuce, egg salad, then top with another bread slice and garnish with a dill pickle half, skewered.
Tips & Tricks: Older eggs and eggs shocked in ice water will peel easiest — pairs well with Jasmine Green Tea.
---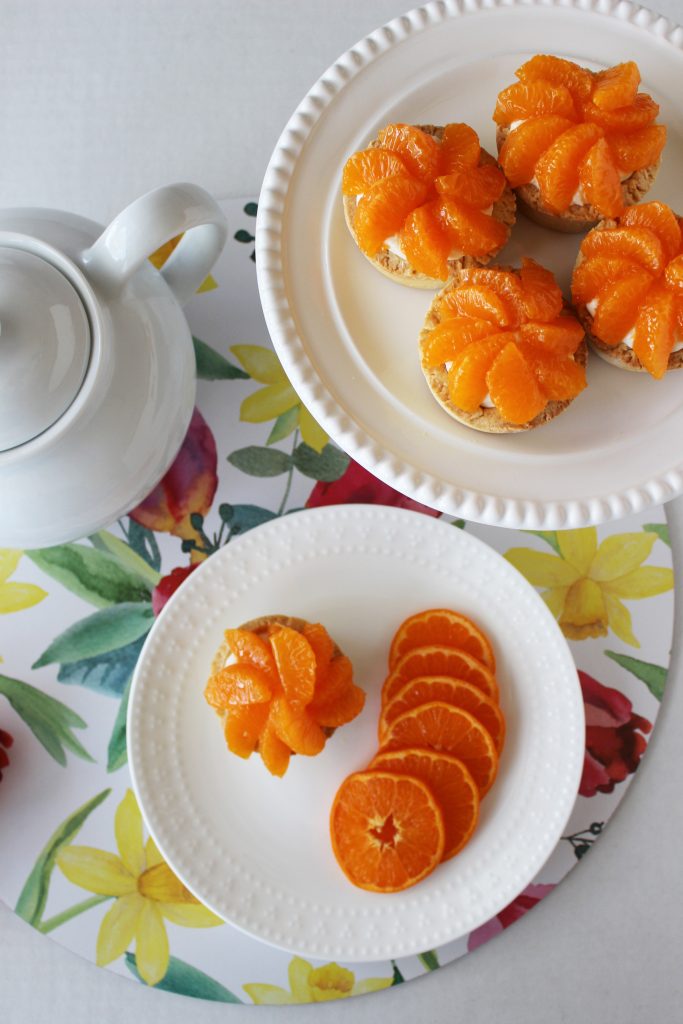 Orange & Mascarpone Tartlets

Serves: 12 | Prep: 40 min. | Cook: 10 min. | Total: 50 min.
Ingredients: Tart Dough: 1 ¾ cup all purpose flour | ½ cup sugar | Pinch of salt | ½ cup butter | 1 egg | 1 ½ tsp. vanilla | 2 Tbsp. ice-cold water Mascarpone Filling: 13 oz. mascarpone, room temperature | ¾ cup whipping cream | 1/3 cup powdered sugar | 2 tsp. vanilla Topping: Mandarin orange slices | Orange marmalade
Directions: Preheat oven to 350°. Combine flour, sugar, and salt in a food processor. Add butter 1 Tbsp. at a time, then add the egg and vanilla. Pour water into dough 1 Tbsp. at a time, dough should be crumbly, not wet. Press dough into muffin tins. Bake for 10 minutes. Whisk mascarpone, heavy cream, sugar, and vanilla together, set aside. Fill cooled tart shells with mascarpone filling and chill in the refrigerator. (2 hours or overnight). Cut orange into slices and place on top. Stir orange marmalade with water or tea to make a glaze. Brush the top of the oranges with glaze and refrigerate until ready to serve.
Tips & Tricks: Use pre-made tart shells and canned mandarin oranges for a quicker recipe — pairs well with Chai tea.
---
About Our Chef