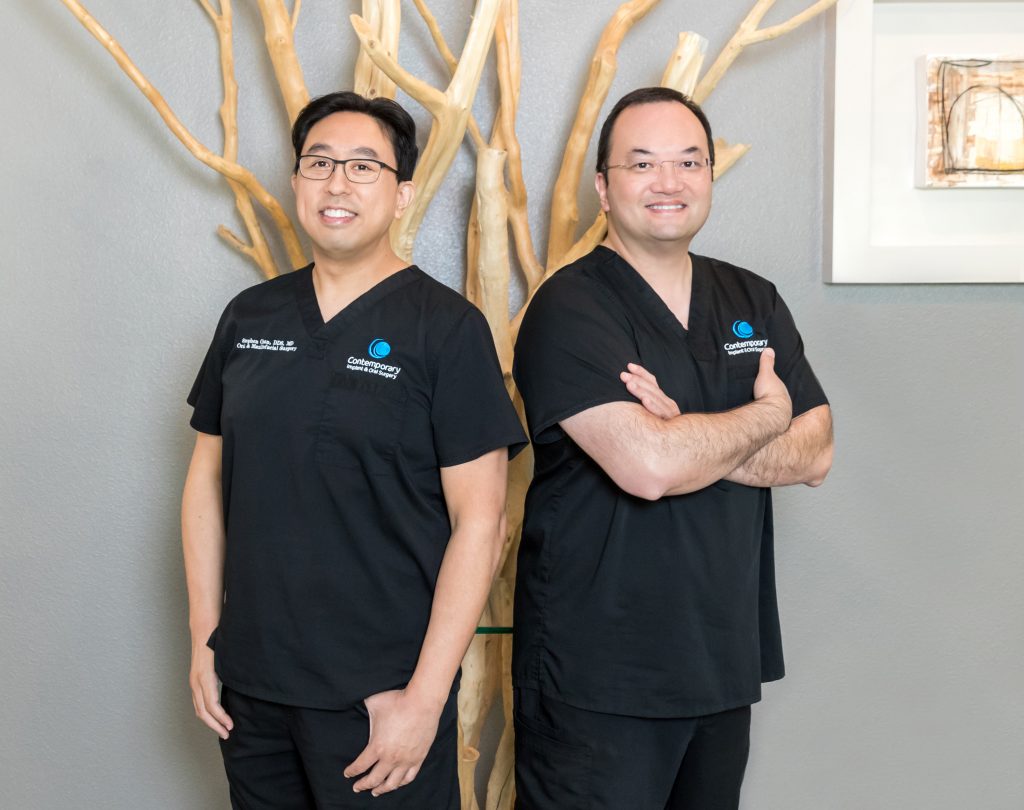 Photo by
Lee Ann Baker/LABphotography
---
Contemporary Implant and Oral Surgery of Plano was founded by two friends with a similar interest for bridging a void between dentistry and medicine. Dr. Stephen Chan and Dr. Aidan Phan's dual accreditations in dentistry and oral surgery provide patients with a distinct advantage when considering dental implants. Extremely qualified, both doctors have earned advanced medical degrees in addition to dental degrees. These accreditations allow patients to visit one office for both pre-implant procedures and implant placement.
Drs. Chan and Phan have undergone extensive training in dental implant procedures, maxillofacial surgery, facial reconstruction, and anesthesia including general, oral, and IV sedation. Their impressive patient testimonials prove their specialty practice is a favorite among Plano area residents.
Teeth to Last a Lifetime
Drs. Chan and Phan specialize in dental implant procedures. "Dental implants offer the best range of aesthetic and functional options when compared to alternative treatment, and best preserve the underlying bone structure," Dr. Chan explains. Implants can be used to replace single, multiple, or all teeth, and provide an excellent investment in oral health with high success rates.
Anchored to the jawbone, they provide excellent function and easy maintenance. There's no need for removal like traditional dentures, and toothbrushes and water picks help to sustain healthy oral hygiene. The new teeth are natural in contour, leading to a comfortable fit and improved taste and temperature sensation of foods and drinks.
Treatment Phases
The surgical phase of treatment includes any necessary extractions or bone grafting, followed by the placements of implants. "We believe an oral surgery specialist's practice is the best place to receive these treatments," Dr. Phan states. They use a team approach, working in conjunction with the patient's general dentist. Once the implant surgery site has healed, a dentist will place a customized crown. "This combination affords the best expertise from each respective provider to maximize successful treatment."
Customized Implant Treatments
All-On-4 procedures (also called Teeth-in-a-Day or Smile-in-a-Day) are customized dental implant treatments using specialized technology that can replace the full set of upper and/or lower teeth with as few as four dental implants. The actual treatment or surgery is often completed in one day, but there are several visits during the planning phase.
All-On-4 offers an alternative to dentures for patients missing multiple teeth or have damaged teeth. Additionally, it provides immediate cosmetic and dental function improvement with lifetime-lasting results. Scheduling a consultation with Dr. Chan and Dr. Phan is the best way to determine candidacy for this procedure. "We conduct a comprehensive dental exam and review your health history to evaluate if this procedure is right for the patient,"
Dr. Chan explains.
Bone grafts

Dental implants

Impacted canines

Implant alternatives

Missing teeth

Oral and maxillofacial surgery

Tooth extraction

Traumatic dental injuries

Wisdom teeth
---
CONTACT
3443 East Renner Road, Suite 100
Plano, Texas 75074
(214) 572-8633
CFOSurgery.com
---