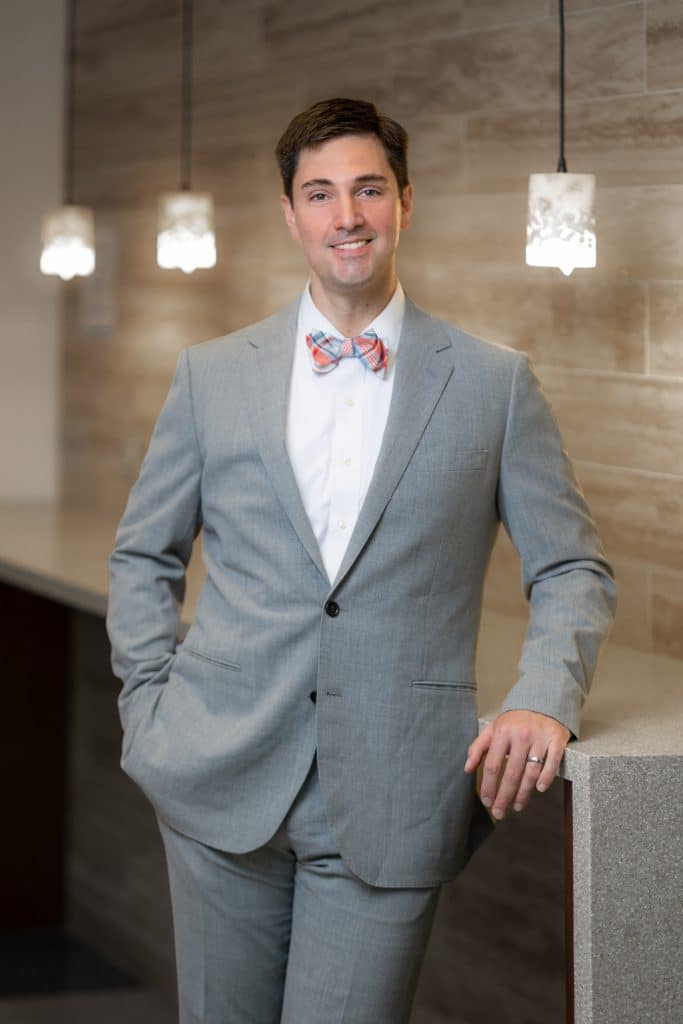 By Annette Brooks | Photos by Kenny Richard Photography
---
Urology Clinics of North Texas is a leader in complete urologic care with 20 locations in the DFW Metroplex and more than 54 providers. From clinical trials to minimally invasive procedures, including robotic-assisted surgery, the practice's highly skilled, board-certified specialists offer advanced services with a focus on personalized, patient-centered care. The group also embraces a relentless pursuit of expanding its collective medical knowledge and skills, always striving to best serve patients and the community.
With all this, it's not surprising that Urology Clinics of North Texas attracts top-tier urologists like David Griffin, MD, at the forefront of their fields. Dr. Griffin joined the group in 2021, practicing in the Allen office. He enjoys being part of a large, collaborative group on the cutting-edge of urology and calling Texas home.
"I love the North Dallas area, and so does my wife, who grew up in Plano. There are great people, parks, and schools, and lots of things to do here," says Dr. Griffin, a dedicated family man with a daughter and a son. He and his wife are active in the community and their children's lives. Dr. Griffin, who played soccer in college, coached his daughter's soccer team last year. This year, he's coaching his son's soccer team.
Dedicated to Helping Others Through Medicine and Serving His Country
Dr. Griffin's passion for helping others through medicine runs as deep as his commitment to serving our country. He was drawn to science and biology early in life, which ignited his interest in becoming a physician and followed in his parent's footsteps when he joined the U.S. military.
"Dad was in the Army's artillery corps and Mom was in logistics," Dr. Griffin says. After attending medical school at the University of Louisville Medical School in Kentucky, he was commissioned into the United States Navy, completing his internship in general surgery at the National Naval Medical Center in Bethesda, Maryland. There, he had an opportunity to become more familiar with urology and found that he was fascinated with this subspecialty. Dr. Griffin went on to complete urologic training at the Naval Medical Center in San Diego. After serving in the United States Navy for 12 years, Commander Griffin transitioned to Navy Reserves and moved from Pensacola, Florida, where he was urology department head at the Naval Hospital, to Texas in 2021. He continues to serve in the Navy Reserves.
"Urology has many intricate details and is a quickly evolving field. There continue to be massive advances in treatments in everything from cancer and prostatectomy to vasectomy and urinary incontinence," Dr. Griffin explains.
Treating Women and Men
We know men see urologists, but so do women. Dr. Griffin says around 40% of his patients are female. One of the issues he helps women with is urinary incontinence. Changes in the body due to childbirth or surgery and aging are often the main culprits. And according to the Urology Care Foundation, as many as 30% of men and 40% of women in the United States live with overactive bladder symptoms. The most common being a sudden, uncontrolled urge to urinate. Treatment for either of these conditions depends on the type and severity of symptoms and the
underlying cause.
"My approach to patient care includes education and joint decision-making," Dr. Griffin says. "We review all the options, then I help patients understand the pluses and minuses of each and what treatments might work well for them. Whenever possible, we'll start with the least-invasive treatments first, taking a conservative approach. This often includes reviewing lifestyle changes that may help the patient stay off medication and avoid surgery."
Clinical Trials
Urology Clinics of North Texas is involved in several clinical research studies. Patients deemed as good candidates may be able to participate.
"When patients participate in a clinical trial, we provide the standard treatment plus the trial treatment," Dr. Griffin explains. Each clinical trial participant is overseen by a principal investigator — a medical doctor trained in clinical research. Urology Clinics of North Texas' principal investigators are board-certified and have patients in their own practices.
Minimally Invasive Surgery
When surgery is indicated, Dr. Griffin uses minimally invasive techniques whenever possible. He is highly skilled in robotic-assisted surgery and uses prostate removal as an example of how it has revolutionized surgery for surgeons and patients alike.
"Open prostatectomy is fast becoming a thing of the past," he says. Using the da Vinci Surgical System, Dr. Griffin can operate through a few small incisions versus a large, open incision. "I have a much greater field of vision via the high-definition 3D magnified view, and far greater dexterity working in a small space with the system translating my hand movements in real-time, bending and rotating tiny instruments inside the body with precision," he explains. "Patient benefits typically include less blood loss, less pain, faster recovery times, and better overall outcomes."
If you or a loved one could benefit from seeing a urologist, call to schedule an appointment with Dr. Griffin. Visit UrologyClinics.com for more information about the practice, its wide range of services, and its providers.
Urology Clinics of North Texas has 20 convenient office locations throughout the DFW Metroplex in Collin, Dallas, Rockwall, and Tarrant Counties.
Advanced Services and Technology Include:
Multiple minimally

invasive treatments

GreenLight laser treatment

for an enlarged prostate

Pelvic floor physical therapy

MRI/ultrasound fusion-guided

prostate biopsy

Radiation therapy

cancer treatment

Rezum enlarged

prostate treatment

Robotic-assisted surgery

Shockwave therapy

treatment for ED

Testosterone replacement therapy

Urolift

And many more
---
CONTACT
1105 North Central Expressway, MOB 1, Suite 140
Allen, Texas 75013
(214) 691-1902
UrologyClinics.com
---