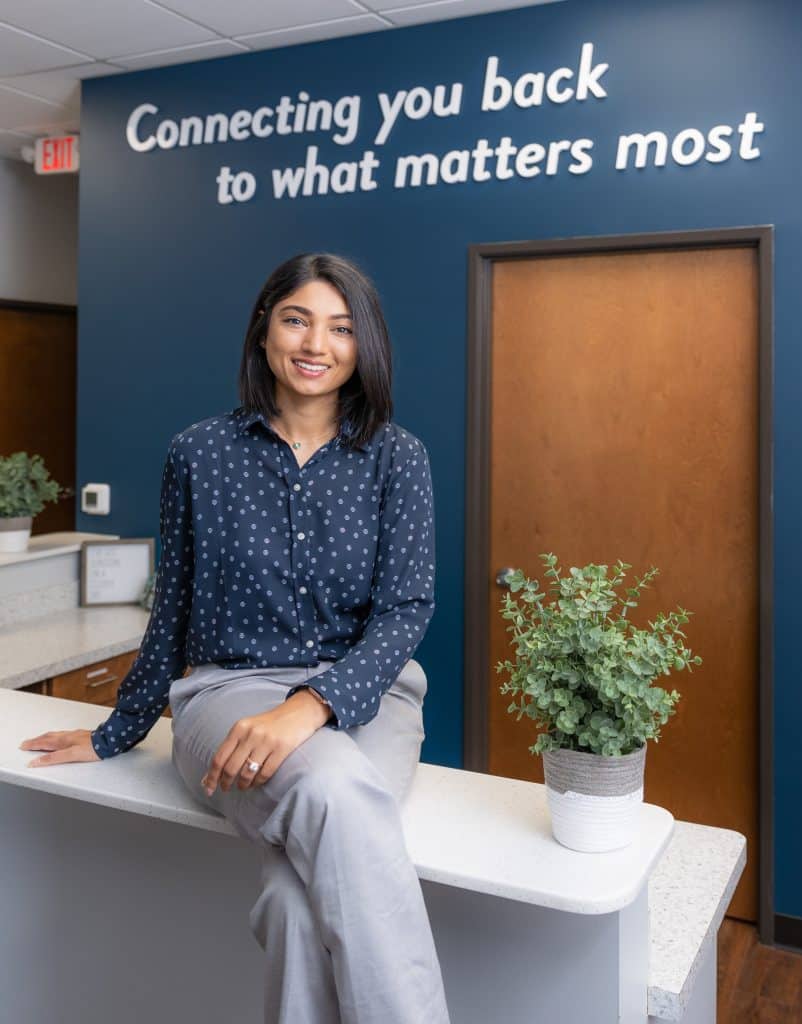 By Annette Brooks | Photo by Kenny Richard Photography
---
Are you or a loved one struggling with anxiety, depression, substance abuse, an eating disorder, self-harm, grief, loss, or trauma and wondering where to turn? Award-winning Connections Wellness Group is here to help adults ages 18 and up.
Serving Texas since 2018, Connections Wellness Group sets the bar for life-enhancing, personalized, cost-effective mental health solutions. Their innovative, integrated treatment model features a dynamic team of mental health professionals that includes licensed therapists and counselors, nurse practitioners, and board-certified psychiatrists, including Nisha Saraiya, MD, who practices in the Frisco location.
Meet Dr. Nisha Saraiya
Hailing from a family of physicians, Dr. Saraiya has been interested in medicine ever since she can remember. She discovered her passion for psychiatry during clinical rotations in medical school. "I realized that this specialty is the place I'm meant to be and where I can make the greatest impact," she says. "I love psychiatry because I can make meaningful connections with my patients and spend time getting to know them versus only looking at lab results and numbers."
Dr. Saraiya's philosophy of care reflects her passion for helping her patients "get through life more easily."
"My goal is to make the environment feel as comfortable and supportive as possible for my patients and to build a rapport with them, learning about their life and experiences, their current situation, and any complications," she says. "Combining this knowledge with their medical history, I develop a customized plan that may include medication management, therapy, or a combination of treatments and programs."
Dr. Saraiya grew up in Lewisville, Texas. She earned a bachelor's degree in anthropology, followed by a medical degree at the University of Oklahoma College of Medicine, then completed a psychiatry residency at The Ohio State University. She joined the Veteran Affairs Hospital to serve our veterans before relocating back to Dallas to be closer to family. An animal lover, Dr. Saraiya has a cat, Matilda, and she enjoys baking, bread-making, and spending time with family and friends.
Professional, Caring Team of Providers
Dr. Saraiya praises Connection Wellness Group's well-rounded team in Frisco, highlighting that everyone works together collaboratively to help patients achieve their goals with optional functioning. She encourages you not to be afraid of seeking help from the mental health professionals at CWG Frisco. "We're here to help you — that's our purpose. Most people we see say they wish they'd come to see us sooner."
Start On Your Journey to Wellness and Recovery
Call today to schedule an appointment. Connections Wellness Group is in-network with all major insurance companies and Tricare. The practice has locations run by licensed health professionals in Frisco, Arlington, Denton, Flower Mound, Keller, Mansfield, McKinney, Plano, Prosper, Rockwall, Southlake, and Willow Park. Visit ConnectionsWellnessGroup.com for more information.
Therapy and counseling

Psychiatry

Medication management

IOP (Intensive Outpatient Program)

PHP (Partial Hospitalization Program)

Telehealth mental health services
---
CONTACT
6101 Plano Parkway, Suite 240
Plano, Texas 75093
(469) 613-3390
255 Lebanon Road, Suites 120 and 124
Frisco, Texas 75036
(469) 430-1930
ConnectionsWellnessGroup.com/frisco
---