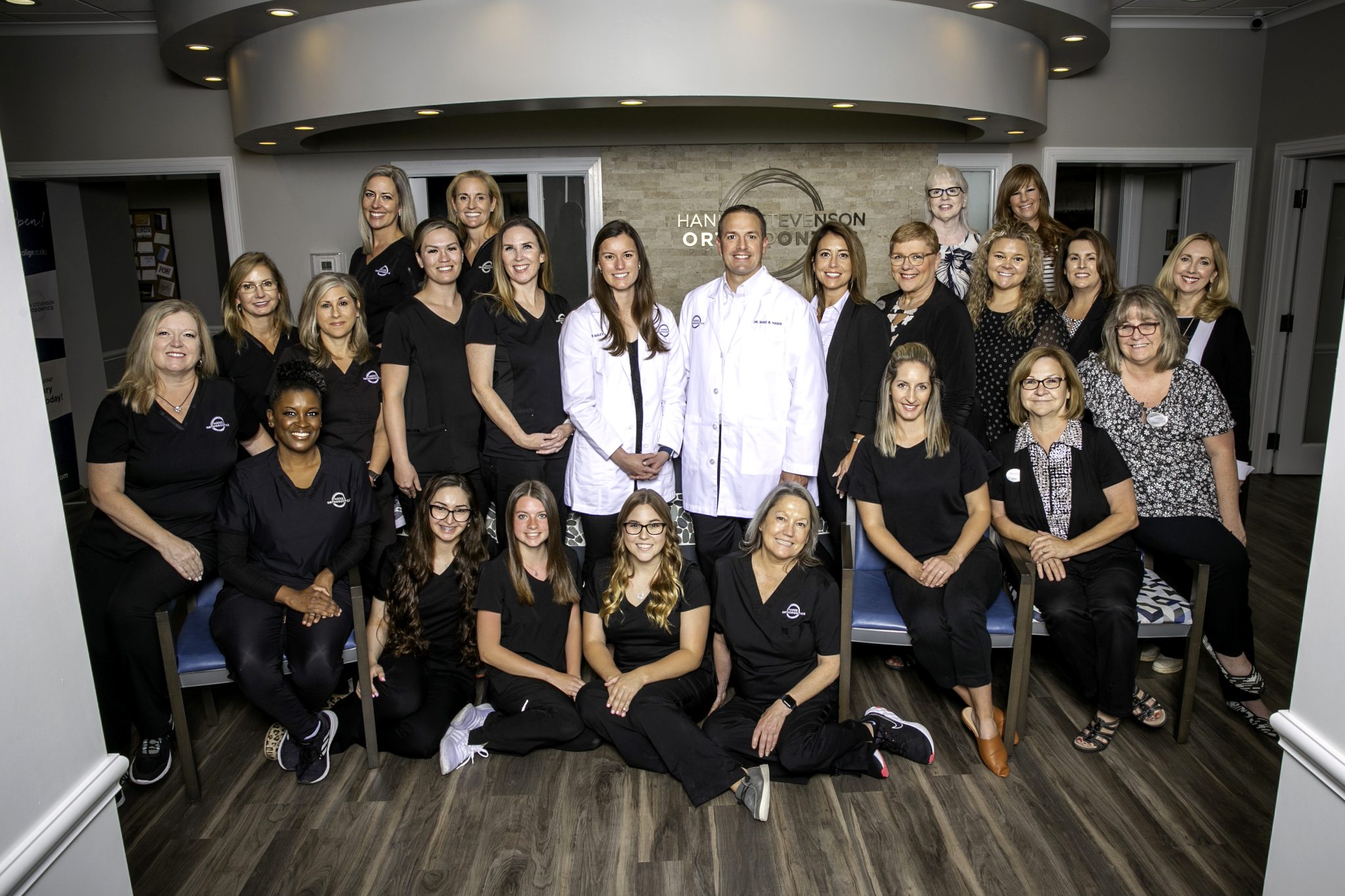 ---
Dr. Shad Hanis loves being an orthodontist. "Every morning I look forward to coming to the office and helping each of our patients achieve the wonderful smile they've always wanted," he said. "My team and I understand no two smiles are exactly alike. We meet patients of all ages, some with teeth that stick out or crowd together. Others have gaps between their teeth. Some have trouble chewing, get headaches when they eat, or simply feel embarrassed by their smile. No matter how your teeth are currently positioned, my team and I want to help."
Every Smile Counts
Dr. Hanis is joined in practice by Dr. Bailey Proft. "We want you to know your smile is important to us," she said. "Our office is passionate about changing lives one smile at a time. We want to work closely with you every step of the way to ensure you love the changes you see and leave us with a beautiful, fully functioning smile."
Living Magazine recently sat down with these two busy, local orthodontists for a quick chat about the new trend of tooth aligners at any age. Here's what they had to say.
LM-How do I know if I'm a candidate for Invisalign Clear Tooth Aligners?
Dr. Hanis – I believe everyone is a candidate for Invisalign. In the past, some people weren't candidates for different reasons, but technology has greatly advanced. With an increase in the quality of materials and the precision of modern diagnostics, we're seeing wonderful results with even the most complex orthodontic treatments. Clear tooth aligners are a great alternative to traditional braces for patients of all ages.
LM-What if my child loses their aligners?
Dr. Proft – Surprisingly, kids lose their aligners less often than adults. If anyone loses an aligner, they can simply move to the next size aligner and treatment continues. Even if you were to lose all your aligners, we can replace them at no charge because we've already completed the diagnostics to custom fit them.
LM-Are aligners more expensive than traditional braces?
Dr. Hanis – For most patients at our office, the cost of braces and Invisalign are the same. That wasn't always the case. As technology and training has caught up, we can do either for the same cost. Training is very important. It's up to the individual orthodontist to invest the time it takes to learn the technology and technique. Of course, if a patient prefers to go the traditional route, we're happy to oblige. With the extensive training we've undertaken, we can give anyone amazing results with Invisalign at any age.
LM-When's the right time for orthodontic treatment?
Dr. Hanis – The right time is different for everyone. For some, it may be seven or eight because they have an overbite, cross bite, or not enough room for their teeth to emerge. For others, it may be 12 or 13 when all their permanent teeth have grown in. In our office, we always say, "We do it at the right time for the right reasons." We won't recommend anything that isn't necessary. Some children benefit from two phases of treatment, while others can wait until they're in their teens to begin treatment. Adults are ready whenever they desire to have their teeth straightened. There's never a bad time to have straight teeth. Schedule a complimentary exam to determine the best time for you.
LM-How can I find the right orthodontic practice?
Dr. Proft – Begin by asking your friends, neighbors, and Facebook groups who they recommend and why. Be sure to investigate the practice and providers. If an orthodontist is board certified, that tells you a lot. Only one in three orthodontists have board certification. This requires an orthodontist to demonstrate actual accomplishments in patient care with detailed case reports for a broad range of patient problems. An orthodontist with board certification has been thoroughly interviewed by a highly respected panel of examiners to demonstrate their orthodontic knowledge, clinical skills, and judgment. Dr. Hanis and I are board-certified orthodontists who have successfully treated over 2,500 patients with Invisalign Clear Aligners, earning Hanis & Proft Orthodontics a Top 1% Diamond+ Provider Status based upon experience, skill, and success with the clear aligners. We invite patients to visit our office and meet our team. We're happy to schedule a complimentary, no-obligation evaluation.
Meet Dr. Hanis
Shad Hanis was born in Ann Arbor, Michigan, while his parents were in graduate school at the University of Michigan. The family soon relocated to Houston where Shad attended Westbury High School then earned his Bachelor of Science degree in zoology from Brigham Young University and his DDS from University of Texas Dental Branch.
He was blessed to serve a two-year mission for The Church of Jesus Christ of Latter-day Saints to Campinas, Brazil, where he became fluent in Portuguese. Shad is a proud Eagle Scout, an Omicron Kappa Upsilon Dental Honor Society Member, and a Diplomate of the American Board of Orthodontics. He strives to live a life worthy of these honors.
Dr. Hanis married his college sweetheart, Amy. The two are parents to five beautiful children, Hailey, Zach, Chloe, Molly, and Ellie. He enjoys bike riding, skiing, fishing, photography, swimming, and coaching his kids' sports teams. "I feel blessed to live and practice in Katy," he said. "I'm grateful to be a part of the lives of so many wonderful local families."
Meet Dr. Proft
Originally from West Hartford, Connecticut, Bailey Proft wanted to work in the dental field, for as long as she can remember. She earned a Bachelor of Arts in biological psychology from the College of the Holy Cross in Worcester, Massachusetts, her DMD from University of Connecticut, and completed an orthodontic residency at the University of Texas Health Science Center at Houston.
When not in the office, she enjoys cycling, exploring new neighborhoods, spending time with friends, and traveling to the Northeast to visit family. "I'm grateful to share in others' happiness through crafting beautiful, healthy smiles," she said. "I strive to make every patient feel like family and to provide a comfortable, fun experience throughout their orthodontic treatment."
Contact:
2830 Commercial Center Boulevard, Suite 101
Katy, Texas 77494
(281) 693-1333
EverySmileCounts.com