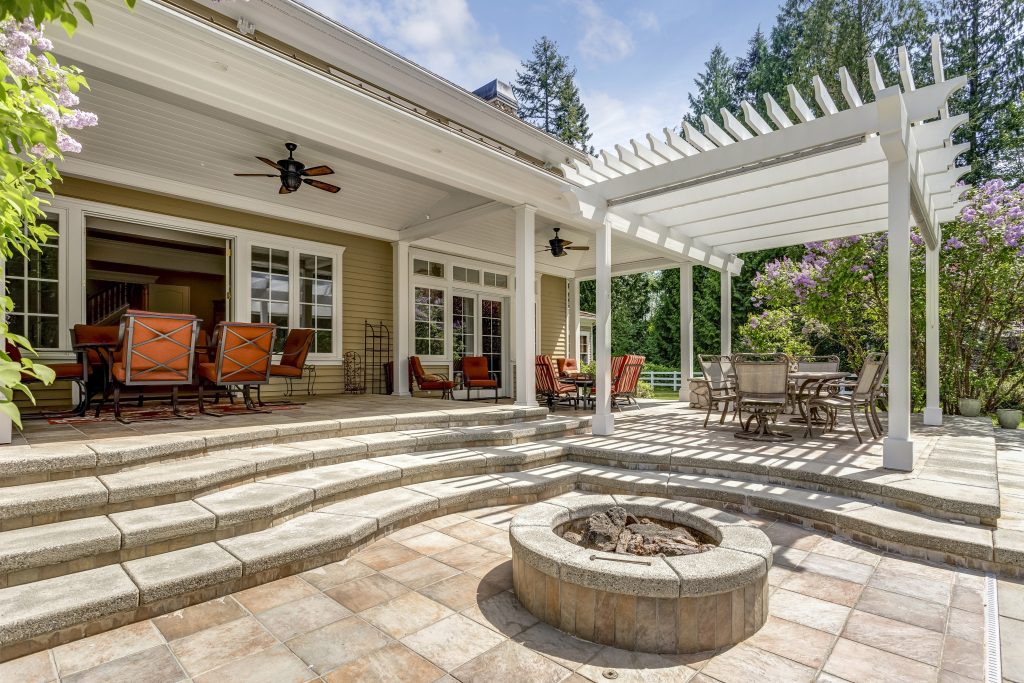 BY CHERYL ALEXANDER
Fall weather has a way of waking everything up, including your inspiration to create new and improved outdoor spaces. Giving a little attention to where you live outside adds value to your home and lots of enjoyment, too, especially in Texas where we can use these spaces almost year-round.
Grill Out, Chill Out
Everything tastes better when cooked outdoors and seems easier because, well, it's just more fun. Plus, today's grills are simpler to operate and clean, and everyone will love the outcome. A great backyard paradise addition is an outdoor kitchen, complete with a high-end grill, sink, bar, fridge, maybe a brick oven, and lots of prep space.
Pool Time, Play Time
Nothing says fun like a backyard pool or spa. Whether you want to swim or just have a place to cool off, there is something for every preference and space, even if your yard is small. Also, pools have become easier to care for and less expensive to operate over the years. Variable speed pumps offer energy upgrades for pools and spas that offer excellent savings on energy costs and are quieter than older models.
Get Decked Out
Upgrading what's underfoot is a great way to add value and enjoyment to your outdoor space. Options abound from pavers, stone, slate, and more, to stamped concrete that can enhance your deck or patio. If you don't have one but want one, or if your existing wood deck needs some TLC, consider weather-resistant materials that simulate wood, last longer, and are easier to maintain.
Fun All Year
The addition of music, TV, and games are popular outdoor upgrades. It's best to house them inside a weather proofed enclosure made specifically to protect your valuables from the elements. Look for one that includes a fan that can distribute heat outside. Consider a distributed audio system. These speakers can be disguised to blend with the outdoor environment.
Lounge In Style
This might be the year you throw out the tired, old patio furniture and upgrade your leisure style. Select from prints, color splashes, or neutrals that go with everything, and you'll find that everyone will want to lounge outdoors.
Keep It Comfortable
Controlling your outdoor climate is a smart way to extend the use of your outdoor investment. The addition of a screened or open porch, palapa, awnings, shade pergola, or gazebo will add shade to your retreat. Ceiling fans will create a nice breeze when things get muggy, and outdoor mist systems — some even with mosquito fogging systems — relieve the heat and keep the uninvited guests at bay while you and your friends and family play.
As autumn brings cooler temperatures, extend the use of your outdoor living space with a built-in fire pit or fireplace. You can also consider electric ceiling-mounted heaters and incorporate a radiant heating system into your patio tiles, brick, or concrete.
A fall spruce-up is the perfect time to add value to your most prized possession and turn your home into a resort where you and your loved ones will create life-long memories. If you have big dreams but are working within a budget, ask your contractor for a design that lets you complete your project in phases.