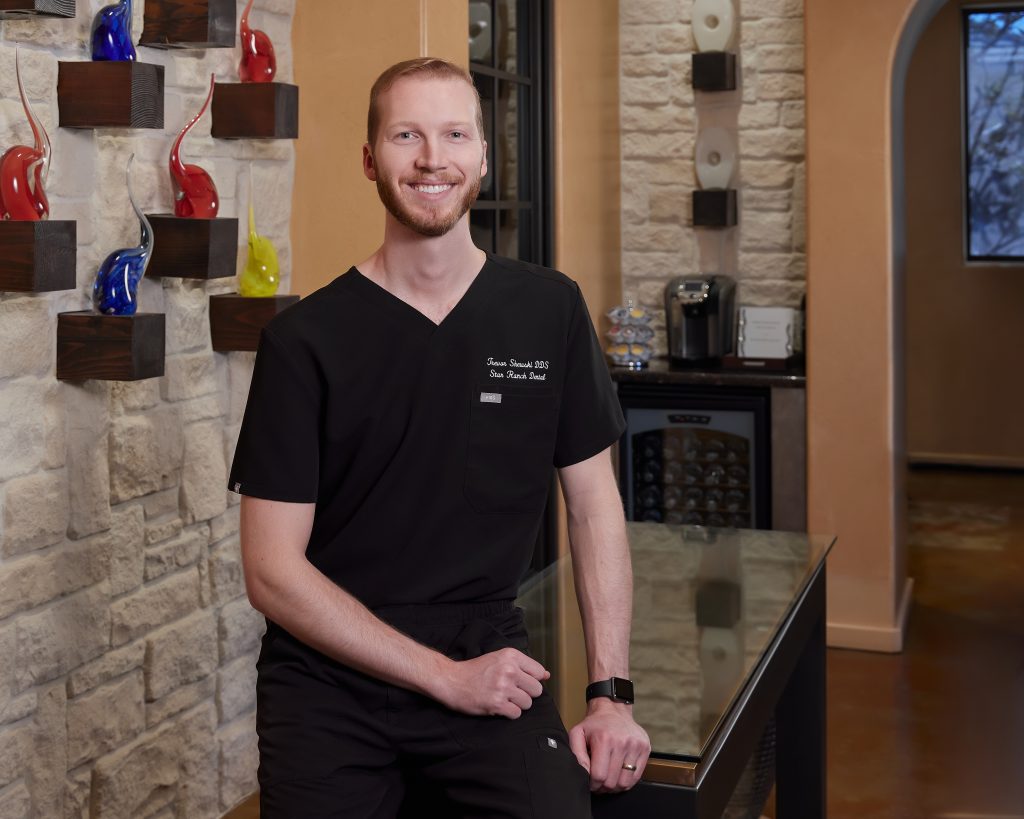 By
Steve Gamel
| Photo by
Scott Peek Photography
---
There is something to be said for walking into your neighborhood dental office and knowing that you are about to receive the most comfortable, compassionate, and comprehensive care possible. That is the atmosphere Dr. Trevor Shewski and Dr. Peter Barnett create at Star Ranch Dental in Plano, and it is a big reason why so many patients and their loved ones keep coming back.
"My goal is to connect with my patients and make them feel comfortable and valued," Dr. Shewski said. "I am here to help with their teeth, but I want to make sure they know I care for them as a person and treat them like family."
Dr. Trevor Shewski and Dr. Peter Barnett bring nearly 50 years of combined experience and knowledge to the table. Everything they do is centered around making their patients the "stars" of the show; hence the name Star Ranch Dental. As they have begun the ownership transition to Dr. Shewski, they want their patients to know they are in a practice that they can continue to rely upon for years to come. Dr. Barnett is not going anywhere any time soon.
Meet Dr. Shewski
Dr. Shewski joined the practice in 2020 after graduating from Texas A&M College of Dentistry. He was the perfect addition to the long-time hometown practice since he and his wife, Libby, have roots in Plano. Staying close to home allowed him to be mentored by one of the best dentists in the field, Dr. Barnett, while creating a practice that prioritizes general and specialized dentistry under one roof. Their services address the entire patient, from routine checkups and cleanings to fillings, crowns, cosmetic veneers, implants, orthodontics, root canals, extractions, and more. Dr. Barnett also specializes in treating sleep apnea, jaw and facial pain, and headaches (TMJ).
Dr. Shewski believes that every smile is beautiful and strives to help his patients maintain healthy, functional teeth that are uniquely theirs – while opening up new possibilities for desired appearance and change. Dr. Shewski is an active member of the Academy of General Dentistry and regularly volunteers at Watermark Urgent Care in Dallas. Dr. Shewski is also Invisalign certified and a member of the American Academy of Clear Aligners.
Innovators in Dental Technology
Star Ranch Dental constantly adapts to the new age of dentistry with state-of-the-art technology. This includes CBCT and advanced 3D imaging, which guides the way to smart diagnosis and consistently excellent treatment results. Star Ranch Dental is also as meticulous with their clinical accuracy as they are with your time, recognizing the importance of keeping your appointments timely and efficient.
"We truly have the best patients," Dr. Shewski said. "And we have an amazing staff that shares our mindset on patient care, and the result is a comfortable place for people to get dental work done."
---
CONTACT
5944 West Parker Road
Suite 500
Plano, Texas 75093
(972) 943-5944
StarRanchDental.com