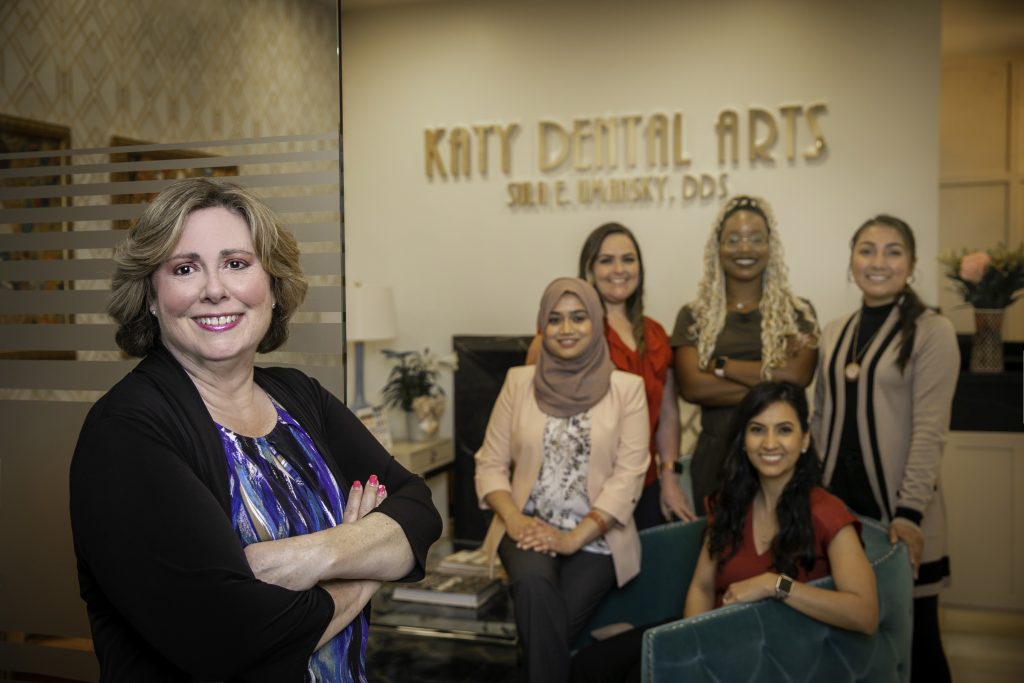 PHOTOS BY KELLEY SWEET PHOTOGRAPHY
How many people can say they love the work they do? Dr. Sula Umansky can. Every day she gets to wake up and care for her patients at Katy Dental Arts. Those patients thank her by enthusiastically recommending her to family and friends and consistently growing her practice, over the past 20 years. As her practice has flourished, Dr. Umansky judiciously hand-selected her staff and added two like-minded dentists, Dr. Naila Zafer and Dr. Ximena Camacho.
"They both share my patient-first philosophy and conservative approach to dentistry," she said. "They're not only highly skilled dentists, but kind, caring people I'd happily send any member of my family to. Drs. Camacho and Zafer have a wonderful rapport with our patients and a commitment to keeping our practice at the cutting-edge of dental technology and know-how. Together, we offer Katy families all the oral healthcare they need under one roof from a team who truly cares about them."
Meet Your New Dental Team
Naila Zafer, DDS
Dr. Zafer has been practicing general dentistry with Dr. Umansky for the past seven years and has now joined her at Katy Dental Arts. Dr. Zafer focuses on cosmetic and prosthetic (crowns and bridges) procedures and is also experienced in the placement and restoration of dental implants.
After years spent watching her parents struggle with the lack of dental care in their home country of India and witnessing firsthand the effects on their health, Dr. Zafer and her sister both chose to study dentistry. "I like to see the direct impact dentistry can have on my patients by creating healthy smiles and improving self-esteem," she explains. "I've been told I have a very good chairside manner, and give detailed, in-depth treatment options." Her compassionate and thorough treatment approach has helped her earned her patients' trust and respect.
When she was 17, Dr. Zafer's parents moved their family from India to Houston. She earned her DDS degree from The University of Texas Health Science Center Dental School in San Antonio in 2015. She and her husband have two boys and reside in Richmond. The family enjoys weekends spent outdoors.
Ximena Camacho, DDS
Originally from Columbia, Dr. Camacho was raised in Katy and graduated from Cinco Ranch High School. After earning her undergraduate degree, she went on to graduate from The University of Texas School of Dentistry at Houston in 2014. During dental school, she shadowed one of her instructors in his private dental practice learning from him firsthand. She worked as his dental assistant throughout college, eventually becoming his main assistant and taking over his practice and patient based, when he retired.
Dr. Camacho knew she'd chosen the right career when she woke up every morning excited about going to work. Currently, she splits her week between Katy Dental Arts and another practice.
"I love showing patients what state-of-the-art, digital dental technology can do," she says. "It allows us to show what the completed treatment results will look without ever having to examine their teeth." She strives to make every patient feel important, delivering personalized care and treatment plans for their specific needs. Dr. Camacho's cat, Chu Chu, is her pride and joy and has been her companion since dental school. A recent newlywed, she enjoys working out regularly at Orangetheory.
Dr. Sula Umansky
Dr. Umansky graduated with a bachelor's degree in history and chemistry from Texas A&M University. She graduated from the University of Texas Dental Branch, Houston in 2002 and opened her first dental practice in Katy in 2008. Since graduation from dental school, Dr. Umansky has completed more than 1,000 hours of continuing education in cosmetic dentistry, orthodontics, implant dentistry, sedation dentistry, pediatric dentistry, endodontics (root canal therapy) and periodontics (gum disease treatment). She considers herself to be a lifelong learner, keeping current with the latest treatments and technologies to deliver excellence in comprehensive dental care.
Cutting-edge Technology and Equipment
Katy Dental Arts uses the latest dental technology and equipment to bring out the best in everyone's smiles. "My patients deserve the very best technologies to realize the complete picture of their oral health and treatment options," Dr. Umansky says. "We've invested in cutting-edge technology to not only make dentistry less stressful, but much more precise."
That technology includes 3D cone beam computerized tomography (CBCT), allowing the doctors to view a patient's teeth, jaw, and entire head in multiple dimensions and angles. They also used low-dose digital X-rays, intraoral cameras, laser cavity detection, advanced oral cancer screening technology, and more in many of her treatments and procedures.
Health and Safety
In 2020, when other dental practices were scrambling to implement new safety protocols, Katy Dental Arts was always making their patients' safety a priority. "Patients' safety has always been a top priority for us," Dr. Umansky said. Updated safety measures add an extra layer of protection to the office's already-vigorous cleaning practices. "We take every precaution to prevent the potential contamination and spreading of germs. Our treatment suites are designed to provide patients with complete privacy," she said. "This feature is greatly enhancing our safety efforts, and dramatically reducing the opportunity for cross contamination."
Five-star, Spa-quality Amenities
Why shouldn't your time in the dental chair feel like time at a luxury spa? At Katy Dental Arts, little extras like warm blankets, eye pillows, paraffin hand-wax treatments, overhead entertainment, and Bose headphones that sync your personal playlists make your dental appointment a pleasure.
The internet is brimming with five-star reviews from happy patients who've made Katy Dental Arts their dental home for generations of their family. Drs. Umansky, Zafer, and Camacho and their seasoned staff look forward to welcoming and caring for new patients and their families, for years to come. Visit KatyDentalArts.com to learn more about this dynamic team and the services they provide.
Contact
23501 Cinco Ranch Boulevard, Suite B228
Katy, Texas 77494
(281) KATY-DDS
(281) 528-9337
KatyDentalArts.com