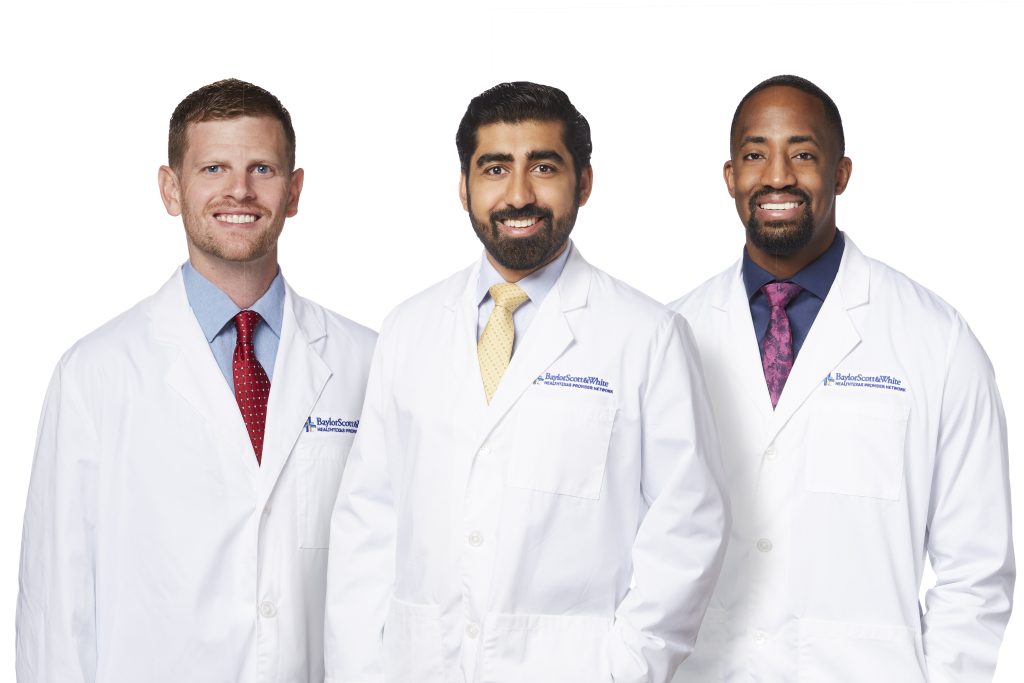 ---
Whether you're a student athlete, a weekend warrior, or just want to maintain your active pace, the physicians at Baylor Scott & White Sports Medicine and Orthopedic Institute want you to keep right on moving. The team treats ages 18 and up for everything from concussions to joint replacements to spine surgery.
The three physicians who lead this trained and qualified team strongly agree on their primary goal: to get patients back to the sports and activities they love as quickly as possible. They work closely with each patient learning what level of activity each patient desires and what barriers are slowing them down. Then they create a treatment plan to achieve the
patient's goals.
"I chose this field because I was really interested in spine surgery's ability to restore a large amount of a patient's function," says Dr. Ilyas. "It's great to see someone after a month or six weeks who has had their quality of life restored."
Dr. Ilyas received his medical school training at St. Louis University. He completed his internship and residency in orthopedic surgery at the Cleveland Clinic Foundation. His fellowship in orthopedic neurological spine surgery, also at the Cleveland Clinic Foundation, gave him the rare opportunity to train in both disciplines.
Dr. Ilyas' philosophy of treatment rests on understanding what issues are impacting the patient's quality of life and what the patient wants to resume doing, whether that is running errands, lifting grandchildren, or perfecting their golf game. His respect for his patients motivates him to work toward those goals.
While back pain is rarely life threatening, Dr. Ilyas understands it can quickly spoil day-to-day life. Causes can include sleeping wrong or lifting something improperly, problems with the hip joint, a disc out of place, scoliosis, back fractures, even aging. Anywhere from 20- 30% of patients seeking care for low back pain actually have hip bursitis, when a tiny sac of fluid on the outside points of the hip becomes inflamed. He majors in numerous treatments, many non-surgical, that can solve these problems.
Tailoring the treatment to the patient can seem like putting together a puzzle. Complete comfort with the medical provider figures strongly in developing a plan. There is no pressure to rush decisions about care. Patients and doctors together come to a creative solution.
The treatment plan may or may not include surgery. Even though two of the three doctors are surgeons, their philosophy does not make surgery the first choice. Often physical therapy, medications or injections can provide the desired outcomes.
Dr. Mbah calls his primary care practice "the gateway between primary care and surgical medicine." He specializes in ultrasound-guided musculoskeletal procedures as well as treating concussions. His efforts include staying informed on new options for treatment, including the possibility of stem cell therapies.
He sees many athletes with muscular and skeletal issues who don't require surgery. But for patients who do, he works alongside the surgeons, which makes for quick consultations and referrals, saving the patient time and trouble. Because he played many sports as a youngster, he knows what it's like to find obstacles in the way of doing what you want to do. His number one goal is to understand the patient's goals and preferences.
Dr. Mbah graduated from the University of Texas Medical Branch Hospitals in Galveston. He completed his internship and residency in emergency medicine at Baylor College of Medicine and a fellowship in primary care sports medicine at John Peter Smith Hospital in Ft. Worth.
Dr. Barnes also grew up an avid athlete. He remembers a high school soccer injury to his MCL (Medial Collateral Ligament) that sidelined him. It didn't require surgery but a difficult rehabilitation and sitting on the bench watching teammates play made him especially sensitive to his patients' needs and frustrations.
Dr. Barnes attended Virginia Commonwealth University Medical School and interned in general surgery at the Virginia Commonwealth University Health System. He completed his residency in orthopedic surgery there as well as a fellowship in orthopedic sports medicine at the University of Kentucky. He has special interest in sports injuries, which include conditions of the shoulder, elbow, and knee, in addition to cartilage injuries and the use of ortho-biologics.
Dr. Barnes takes a team approach to working with student athletes. That team consists of himself, the patient, the physical therapists, family, friends, and the athletic trainer. Most middle schools, high schools, and colleges in the North Texas area employ athletic trainers. They are often first on the scene to evaluate an injury or issue that interferes with a student athlete's performance. It is common for athletic trainers to refer athletes for treatment and to act as one of the supporters of the patient's recovery.
Continuing education is a large part of these doctors' daily work. They attend virtual and in-person conferences, watch webinars, and consult medical journal articles to keep up-to-date on the latest breakthroughs in orthopedics. New advances and treatments as well as less invasive procedures arrive almost
every day.
One of the latest new procedures available is the ability to grow a new cartilage. After taking a cartilage sample by biopsy, the physician sends the sample to a lab. There, new cartilage is grown, returned to the doctor, and implanted in the patient's knee.
A CT scan can show exactly where a shoulder replacement needs to be inserted and the surgeon can use GPS technology during surgery to place the new joint in exactly that spot.
"I'm dedicated to providing the highest quality of care," says Dr. Barnes. "I try to go above and beyond to ensure a positive experience and a positive outcome."
When you visit Baylor Scott & White Sports Medicine and Orthopedic Institute, you'll find a team of physicians and staff who are all dedicated to exactly that kind of care. They will do everything they can to help you live the active life you choose.
Physicians are employees of HealthTexas Provider Network, a member of Baylor Scott & White Health. ©2023 Baylor Scott & White Health.
---
CONTACT
1776 North US 287, Suite 220
Mansfield, Texas 76063
(469) 800-9790
BSWHealth.com/OrthoWax