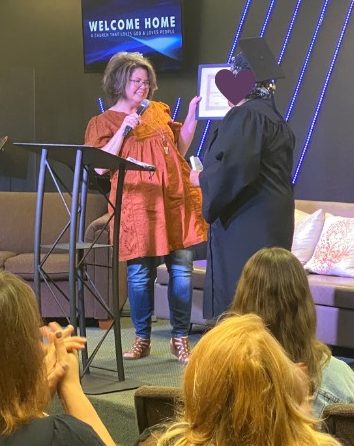 BY BOB WEIR
In January, which is National Human Trafficking Awareness Month, my wife Annette and I were invited to a breakfast event to learn more about Refuge for Women and their mission to assist the women who have been exploited by human trafficking.
Human sex trafficking is a cruel and sinister industry that abuses and exploits women of all ages. After being sold into a life of abuse, women rescued from traffickers are left with many years of past trauma and often substance abuse issues.
Human trafficking is in the business of stealing freedom for profit. In some cases, traffickers' trick, defraud, or physically force victims into providing commercial sex. It's a multi-billion-dollar criminal industry that exploits about 25 million people around the world.
A 2016 study by the Institute on Domestic and Sexual Violence at the University of Texas at Austin estimated that there are 313,000 victims of labor and minor sex trafficking in Texas. This study also estimates the industry will cost Texas over 6 billion dollars from the lifetime costs of providing care to victims and survivors of minor and youth sex trafficking, including expenses related to law enforcement, prosecution, and social services.
Most trafficked persons in Texas, whether domestic or international, come from lower socioeconomic backgrounds. Some internationally trafficked persons are lured by false promises of education and a better life in the United States. In other situations, what begins as a smuggling arrangement can turn into a case of human trafficking. In those schemes, smuggled persons are forced into coercive labor agreements upon arrival to pay off smuggling debts incurred during transportation. International trafficking victims are controlled with deportation threats, confiscation of identification and travel documents, and even threats of physical harm to family members back at home.
Refuge for Women is a nonprofit, faith-based organization providing specialized long-term care for women who have escaped human trafficking or sexual exploitation. With multiple locations across the U.S., Refuge for Women offers up to 12 months of safe housing, at no charge to the resident, with around the clock care as clients progress through evidence-based, trauma-informed programming.
The compassionate staff is trained to help residents reclaim their identities, reach their goals to overcome addictions, heal from trauma, and develop life skills leading to healthy, balanced living and financial independence. Refuge for Women strives to help each woman complete the program with a vision for her future, equipped to succeed and sustain a life marked with dignity and hope.
Abby Germer, Executive Director of the North Texas chapter, has been passionate about this cause since 2009, when she found herself in the middle of helping women in the Red-Light District in Mumbai, India. From there, she has spent her time serving and giving back to exploited women. She was on the startup team for Refuge for Women North Texas in 2015, where she initially served as Board Chairperson. She has been married to her husband, Jon, for 18 years and has two girls, Trinity and Kamryn. They currently live in Argyle, Texas, and spend most of their time raising two active girls and enjoying their extracurricular activities.
For more information about Refuge for Women North Texas, visit rfwntx.org.