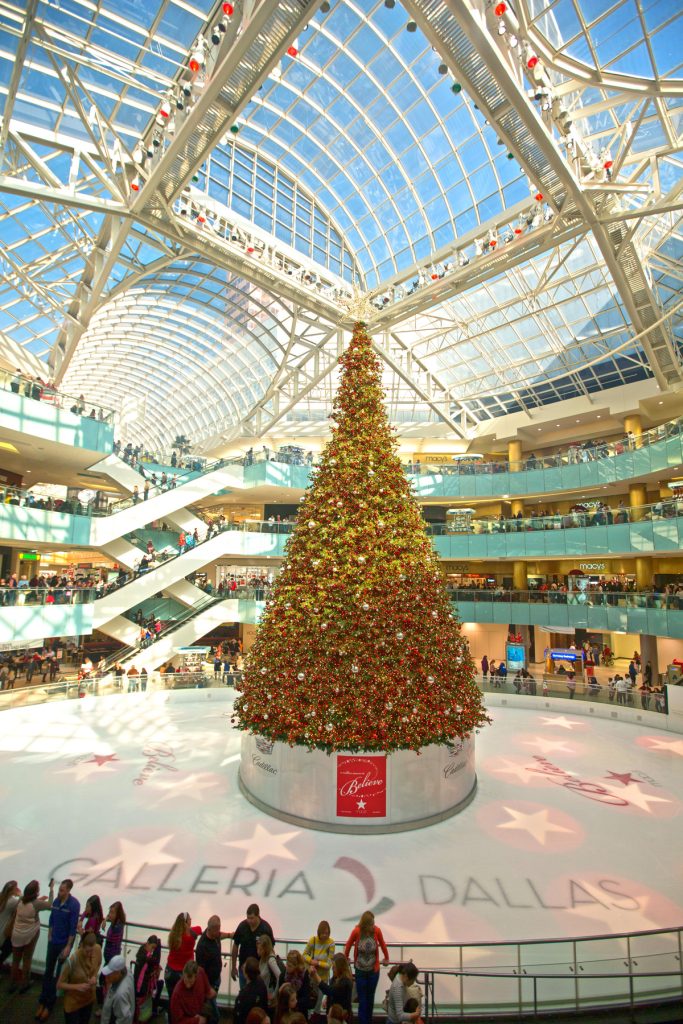 As we feel autumn temperatures creep back into North Texas, it seems only appropriate to get ready for the holidays. And while it certainly will look different this year, Galleria Dallas still plans to host a holiday celebration as big as Texas itself. Crowds will be lighter, and the center will be closed on Thanksgiving Day.
The holiday experience begins when a team of Santa's elves works from November 8th to the 11th to erect the country's tallest Christmas tree — a 95-foot wonder that is beloved here in North Texas. Guests will be able to ice skate around the tree from November 12th to January 3rd.
Additionally, guests will make appointments in advance to visit Santa at the North Pole Express. While kids and families will be able to talk with and take festive photos with Santa, they will be socially distanced with a custom-created transparent barrier. The experience provides families a safe and cost-effective means of continuing their holiday traditions while receiving memorable digital images. Guests can meet with Santa from November 20th through Christmas Eve.
Visiting Santa isn't the only chance for a fabulous holiday photo at Galleria Dallas. SNOWDAYDALLAS is a multi-room immersive photo experience that leads visitors through a fantasy land of holiday experiences and high-tech photo opportunities. Tickets are only $22 for adults and $8 for children and can be reserved online in advance at SnowDayDallas.com.
Figure-skating fans still have the chance to enjoy a skating spectacular at 7:30 PM on December 6th. Galleria Dallas will hold one show, featuring an internationally renowned headliner, with socially distanced viewing pods. An admission fee will benefit the Dallas Children's Advocacy Center. Tickets are limited for this event and are available at DCAC.org.
Another tradition of the holiday season is viewing The Nutcracker. New this year, Nordstrom and Galleria Dallas will hold a limited-attendance abbreviated performance presented by Chamberlain Ballet at 9 AM on November 21st. A limited number of tickets for the show will be available at ChamberlainBallet.org.