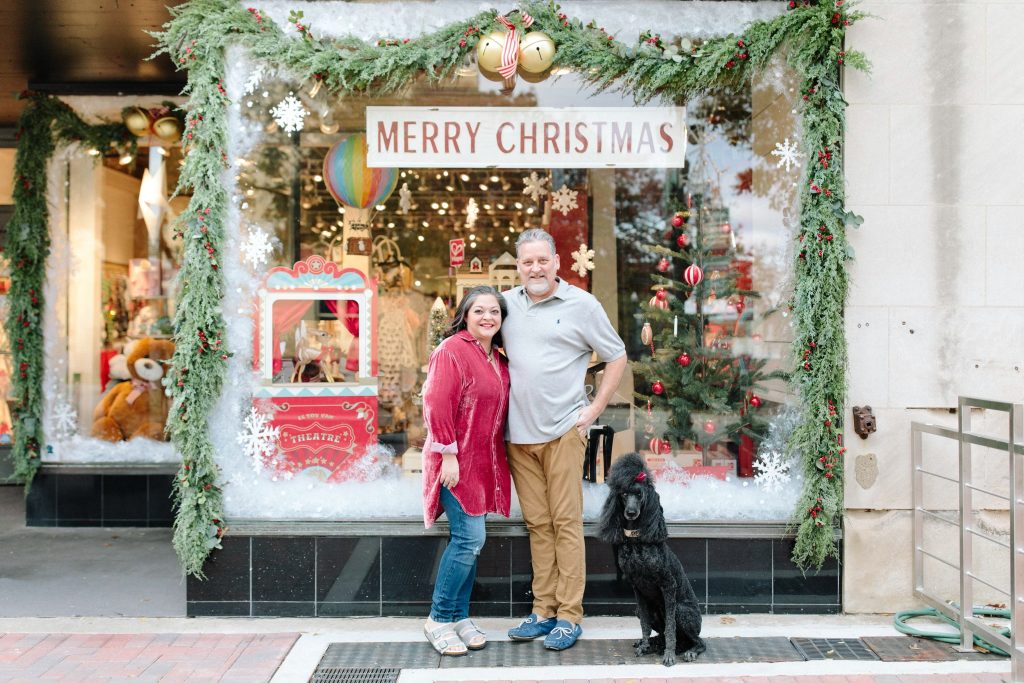 If you're strolling through historic downtown McKinney, give yourself plenty of time to browse at Rockin' A B. This cozy and welcoming children's gift boutique is packed with toys, books, and unique finds in every nook.
Whether you're looking for a perfect birthday or Christmas gift, or you want to celebrate your child's good grades, you can explore interesting finds and colorful playthings from around the world — and all at reasonable prices. "An average ticket here is $35 to $40," says Amy Pyeatt, the shop's lead designer.
Curating toys, hand-selecting books, and overseeing the overall brand for Rockin' A B is a labor of love for Amy. "It takes a substantial amount of time to curate all the different items, but I love it," she says. "We carry a lot of reproduction toys and backlist titles for books you can't find anywhere. When you walk in, you can't help but feel nostalgic."
Some of the brands you can browse at Rockin' A B include Posh Peanut, Inc., Me & Henry, Vignette, Mayoral, Mud Pie, Kickee Pants, Joules, and, of course, the one and only Rockin' A B brand. "I love the design part of my job, whether I'm designing clothes or floor displays," Amy says.
A Local Favorite
Shoppers can't say enough good things about this children's emporium. The shop has garnered dozens of five-star reviews, with one customer raving, "Amazing local shop! The staff is very friendly and happy to answer any and all questions. It's so nice to have such charming local shops nearby to support." Another customer commented, "This is a super cute and great shop. Any time I need a gift for little ones, this is the only store I go to. I absolutely love how they package their item before giving it to you. No need to spend time wrapping the gift — it's presented perfectly."
Rockin' A B offers smile-inducing gifts for everyone, including young dancers. The boutique acquired Upstage Dancewear and now offers dance bodywear, shoes, and accessories in the back portion of the store. You can also shop for clothing and items for infants to ages five to six at Maimee Lou, the little sister store to Rockin' A B. "That name stuck because my sisters couldn't say Amy — so they called me Maimee," Amy explains.
If you're tired of the usual selection at big-box stores, stop by Rockin' A B for a gift that is sure to surprise and delight the youngsters in your life. You can shop in-store, online, or pick up your gifts through convenient curbside pickup. Visit RockinAB.com to see what's new today.
Stop in to Rockin' A B and discover fun goods galore, including:
Musical toys
Games
Puzzles
Wooden toys
Plush toys
Apparel, including sleepwear and rain gear
Shoes, sunglasses, and hair accessories
Backpacks, handbags, and purses
Rockin' A B also offers gifts for the whole family, including:
Serving/entertaining items
Picture frames and accessories
Napkins
Drinkware and mugs
Room spray
Beauty and skincare items
Contact
113 North Kentucky, Suite 102
McKinney, Texas 75069
(469) 907-1053
RockinAB.com