Recipes and photos by Meghan Yager
When it comes to starting the New Year off on the right foot, you have to focus on the first meal of each day. Whether you prefer a grab-and-go smoothie, a big bowl of warm overnight oats, or a handheld egg sandwich, we've got some ideas that'll keep you fueled and focused all morning long.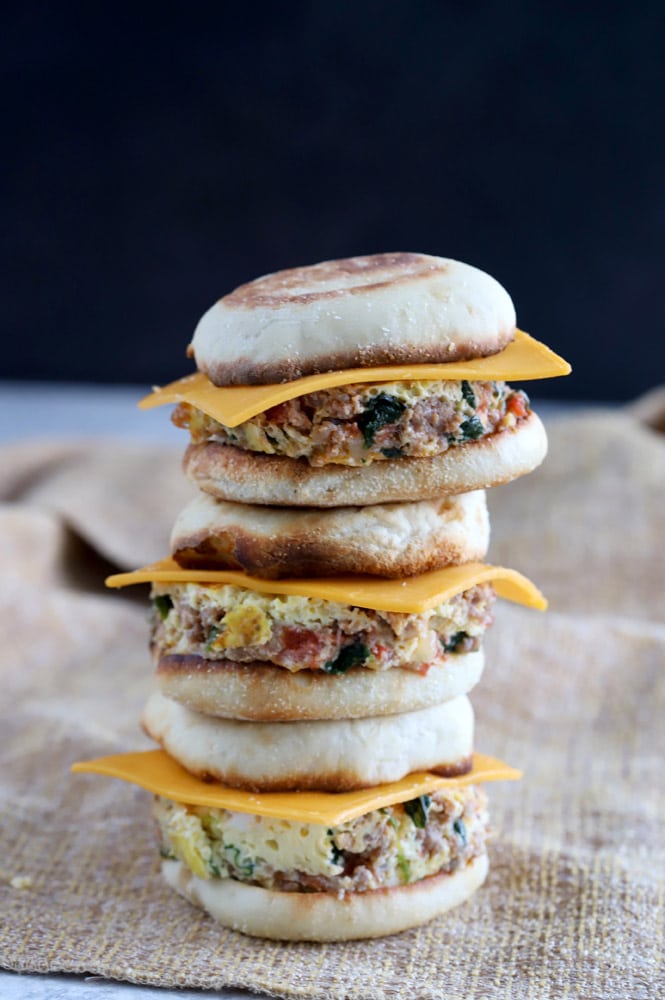 Freezer Frittata Sandwiches

Makes: 6 Sandwiches | Time: 55 minutes
Ingredients:
1 tablespoon olive oil

½

medium onion, finely chopped

8 ounces uncooked Italian sausage, casings removed

5 to 6 ounces baby spinach

2 tomatoes, seeded and diced

10 large eggs

1 cup whole milk

½

teaspoon garlic powder

½

teaspoon fine salt, plus more for seasoning

6 (1 ounce) slices sharp cheddar cheese

6 English muffins

Directions:
Preheat oven to 375˚F and spray a 9"x13" baking pan with cooking spray. Heat oil in a large skillet over medium heat, then add onion, season with salt and pepper, and cook until the onion is softened, about 4 minutes. Stir in sausage and cook until the meat is no longer pink, breaking up the sausage into small pieces as it cooks. Once the sausage is cooked, stir in spinach and tomatoes, cooking until the liquid has evaporated, about 4 minutes. Remove sausage mixture from heat and spread in an even layer on the bottom of the greased pan.
In a large mixing bowl, whisk together eggs, milk, garlic powder, and salt. Once combined, pour the eggs over the sausage mixture in the pan, then bake until the eggs are puffed and edges are golden brown, about 25 to 30 minutes. Cool completely in the pan. While the eggs are cooling, toast the English muffins.
Once the frittata mixture is cool, gently lift the sheet out of the pan onto a cutting board. Using a biscuit cutter, cut 6 rounds of eggs that are about the size of the English muffins.
Layer the bottom halves of the English muffins with one round of frittata each. Top each with a slice of cheese and finish by adding the muffin tops.
Wrap each sandwich in aluminum foil. Add sandwiches to a freezer bag or airtight container. Freeze for up to 1 month. To reheat, unwrap the sandwich and microwave on a microwavable plate. Microwave for 1 to 1½ minutes until the frittata is warmed through and cheese is melted.

TIPS & TRICKS
You can reheat the freezer frittata sandwiches in the oven as well! Reheat in an oven heated to 325˚F on a baking sheet until heated through, about 30 to 40 minutes.
---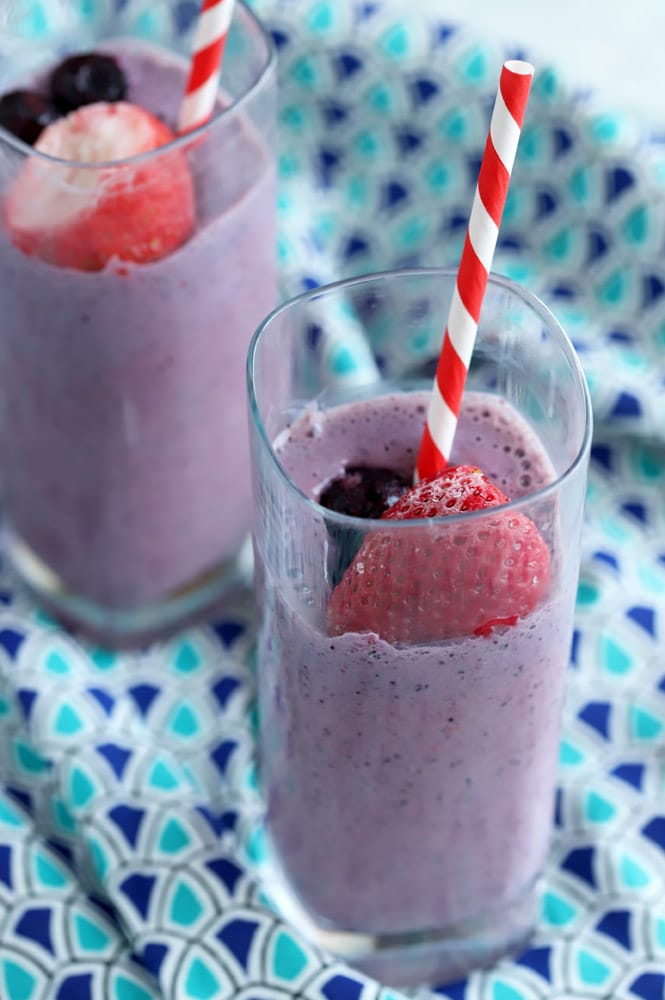 Berry Kale Smoothie
Makes: 2 smoothies | Time: About 5 minutes
Ingredients:
⅓

cup plain yogurt

½

cup milk

1 tablespoon chia seeds

1 tablespoon honey

½

cup torn kale leaves

½

cup frozen blueberries

½

cup frozen blackberries

½

cup frozen strawberries

Directions:
Layer the ingredients as listed, starting with yogurt and ending with frozen berries. Blend/process until smooth, adding milk to reach your desired consistency.
TIPS & TRICKS
Happen to have fresh berries on hand? You can use those instead! Simply add ¼ cup ice for each ½ cup of frozen berries you substitute for fresh.
---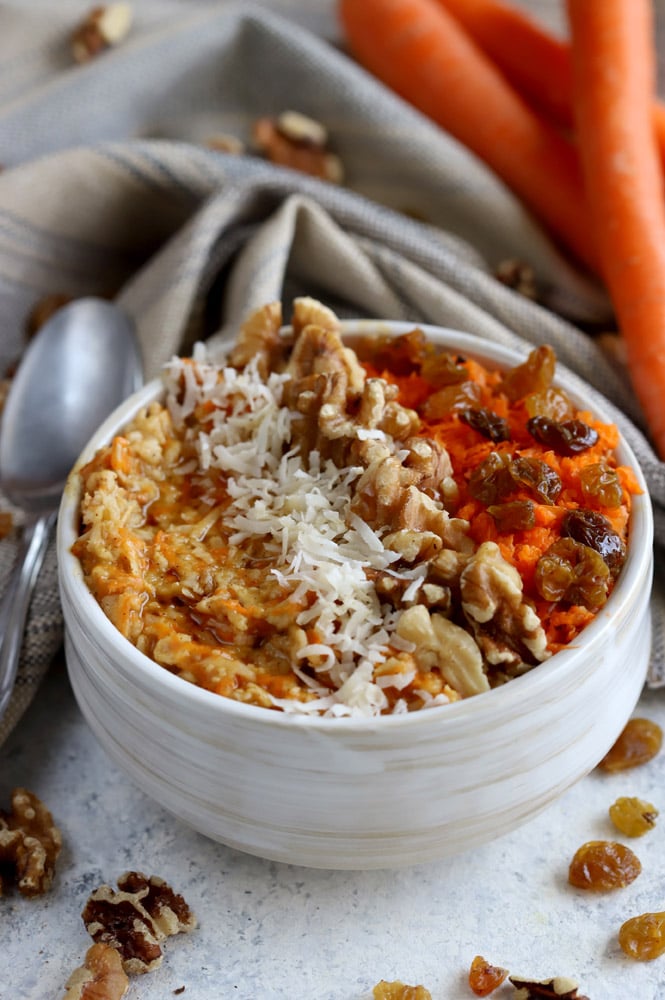 Carrot Cake Breakfast Bowl
Serves: 2 | Time: 10 minutes + Overnight soak
Ingredients

for the oats:
2 cups rolled oats
3 cups filtered water
1 cup grated carrot
1 teaspoon ground
  cinnamon
½ teaspoon powdered
    ginger
¼ teaspoon freshly
    grated nutmeg
1 teaspoon vanilla extract
3½ teaspoons pure
      maple syrup
½ cup coconut milk
2 tablespoons
   shredded coconut
to use as toppings:
Maple syrup
Flaked or shredded coconut
Chopped walnuts
Shredded carrots
Golden raisins
Directions:
1. Add oats and water to a saucepan and let sit covered at room temperature overnight.
2. When ready to eat, place saucepan over medium heat and stir in all other ingredients for the oats.
3. Cook for a couple of minutes, stirring frequently, until warmed through.
4. Divide between two bowls and serve with toppings as desired.
---