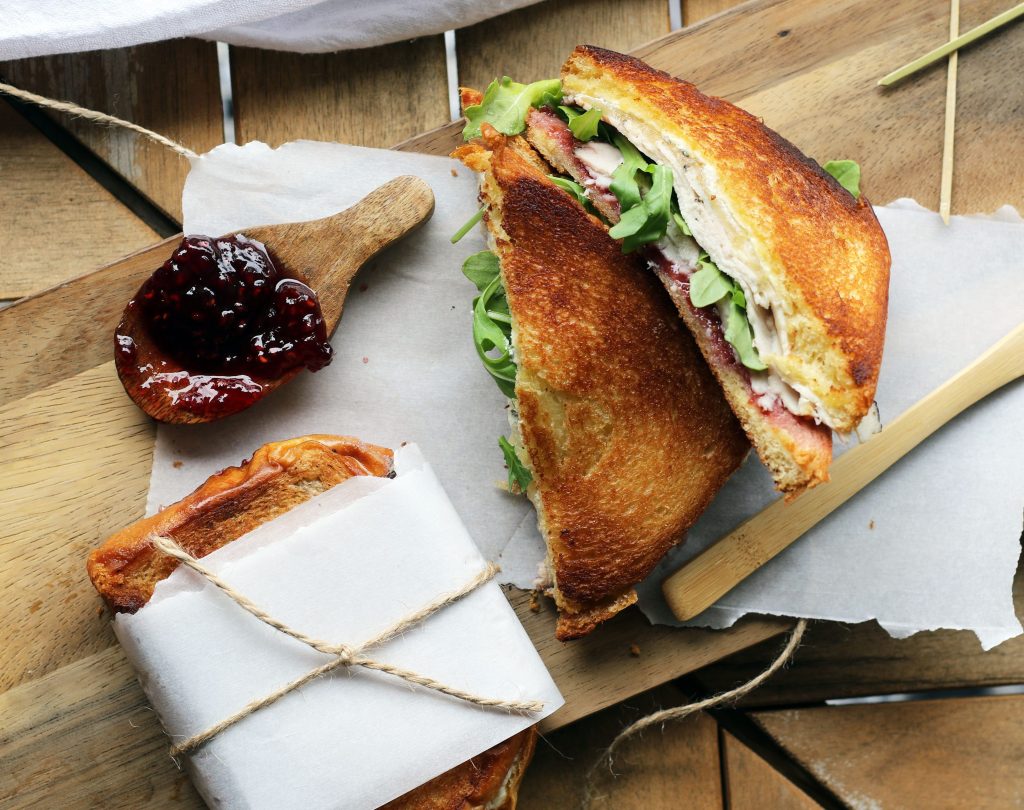 BY MELISSA TATE
Grilled Monte Cristo
Servings: 2 | Prep Time: 10 min. | Cook time: 5 min. | Total Time: 15 min.
Ingredients: 4 slices challah bread | ½ lb. leftover turkey (or desired amount), sliced thin | ½ lb. leftover ham (or desired amount), sliced thin | ¼ cup leftover cranberry sauce | ¼ cup herbed cream cheese, homemade or store-bought | 1 stick butter, softened | arugula
Directions: Heat skillet or griddle to medium heat. Melt 2 Tbsp. of butter in a pan. Spread 2 Tbsp. cranberry sauce on one slice of bread and 2 Tbsp. herbed cream cheese on the other. Top one side with turkey, ham, and arugula, and place both pieces of bread together to make your sandwich. Place the sandwich in melted butter and spread 1 to 2 Tbsp. of butter on the top slice of bread, while the bottom toasts. Cook until golden brown, and then flip the sandwich. Cook again golden brown and remove from skillet. Repeat with second sandwich.
Tips & Tricks: Serve as is or sprinkle with powdered sugar.
Sweet Biscuit Shortcakes
Servings: 4 | Prep Time: 15 min. | Cook Time: 25 min. | Total Time: 40 min.
Ingredients: 4 leftover biscuits | 2 Tbsp. butter, melted | 1 cup sugar, divided | 3 ripe peaches, peeled and sliced | 3 Tbsp. honey | 1 cup heavy cream | fresh mint
Directions: Preheat oven to 375°. Toss sliced peaches in ¼ cup sugar and spread on greased baking sheet. Bake 7 to 9 minutes until peaches are soft. While peaches roast, brush ½ Tbsp. melted butter on top of each biscuit. Sprinkle ¼ cup of sugar equally on each biscuit. Remove peaches from the oven. Bake the biscuits for 5 minutes to warm inside and crisp the top. Prepare the whipped topping while biscuits are warming. Beat 1 cup heavy cream with ½ cup sugar on high until soft peaks form, 2 to 3 minutes with a hand or stand mixer. Assemble by cutting biscuits open, fill the bottom half with peaches, top with whipped cream, and a sprig of mint. Add top of the biscuit, drizzle with honey and serve.
Tips & Tricks: Try this recipe with fresh strawberries, roasted pears, blueberries, or any leftover fruit you have.
White Bean & Cauliflower Hummus
Servings: 8 | Prep Time: 20 min. | Total Time: 20 min.
Ingredients: 3 cups leftover roasted cauliflower | ¼ tsp. salt | ¼ tsp. black pepper | ¼ tsp. garlic powder | 2 Tbsp. minced garlic | 2 ½ Tbsp. tahini | 2 Tbsp. lemon juice | 1 Tbsp. olive oil | 1 15 oz. can white cannelloni beans | salt & pepper | olive oil | parsley | pita | veggies
Directions: Make sure the cauliflower has been roasted or baked and is cut into 1-inch pieces. Add cauliflower, salt, pepper, garlic powder, garlic, tahini, lemon juice, olive oil, and white beans in a food processor. Process for 3 to 5 minutes, until mixture is very smooth. Pour into a mixing bowl and taste. Season with salt and pepper as desired. Place hummus in a serving dish, drizzle with olive oil, sprinkle with parsley, and serve. Serve with pita bread and veggies.
Tips & Tricks: This dip is great served warm, cold, or room temperature.
Photos & Food by Melissa Tate
To follow her cooking adventures visit MelissaTateTX.com or find her on Instagram at @melissatatetx.