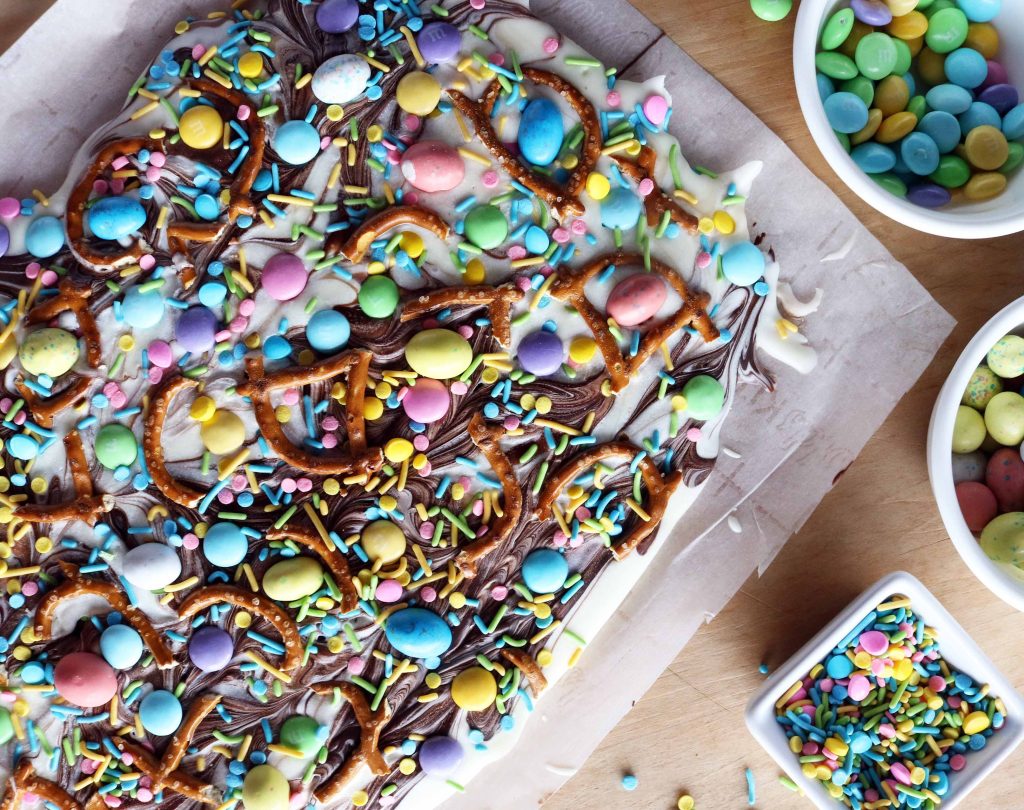 BY MELISSA TATE
Spring Sweet & Salty Bark
Servings: 20 | Prep time: 20 min. | Cook time: none | Total time: 20 min.
Ingredients: 1 pkg chocolate candy melts | 1 pkg vanilla (or white chocolate) candy melts | ½ cup thin pretzels | ½ cup spring color M&M's | ¼ cup Robin eggs candy (or any other Easter candy) | ¼ cup pastel-colored sprinkles
Directions: Spray a baking sheet with nonstick cooking spray, line with parchment paper and set aside. The spray keeps the paper from moving. Chop the chocolate and vanilla candy melts into 1 x 1-inch pieces and place them in separate microwaveable glass bowls. Microwave the chocolate melts for 30 seconds and stir. Microwave for 15 seconds and stir. Repeat microwaving and stirring every 15 seconds until melted and smooth. As soon as you pull the chocolate candy melts out, start microwaving the vanilla candy melts the same way. While the vanilla candy is melting, smooth half of the melted chocolate onto the parchment paper. Once vanilla candy is melted, use a spoon and dollop onto the chocolate you placed on parchment paper. Dollop the remaining chocolate on top of the vanilla dollops. Use a toothpick to create streaks and swirls in the melted chocolate and vanilla as you smooth it out into a ½ inch layer. Immediately begin placing broken pretzels, M&M's, and other candies into the melted chocolates. Finish by topping the entire treat with sprinkles. Place in the refrigerator for 45 minutes. Use a butter knife to break into uneven pieces or a sharp knife to cut evenly into squares.
Tips & Tricks: This is an easy but time-sensitive recipe. Have your work area prepared with all your sprinkles and candies placed in small bowls for easy access.
Coconut Poke Cake
Servings: 12 to 15 | Prep time: 15 min. | Cook Time: 25 min. | Total time: 40 min.
Ingredients: 1 box yellow cake mix, bake as directed on box (most require water, oil & eggs) | 1 – 14 oz. can sweetened condensed milk | 1 – 15 oz. can cream of coconut | 1 – 8 oz. container Cool Whip | 1 cup shredded coconut, sweetened
Directions: Preheat oven to 350°. Bake yellow cake as directed on the box in a 9 x 13 baking pan. Remove from oven when ready. Use a fork and poke directly into the cake while it is hot. About 12 fork pokes spread evenly across the cake. Pour sweetened condensed milk immediately on top of the warm cake. Pour cream of coconut over sweetened condensed milk. Place in refrigerator for about 30 minutes. Once chilled, spread cool whip evenly across the top of the cake. Sprinkle with coconut and serve. Store the cake in the refrigerator when not being served.
Tips & Tricks: Cream of coconut separates in the can. Shake well before opening and use a spoon to stir well in the can before pouring on cake.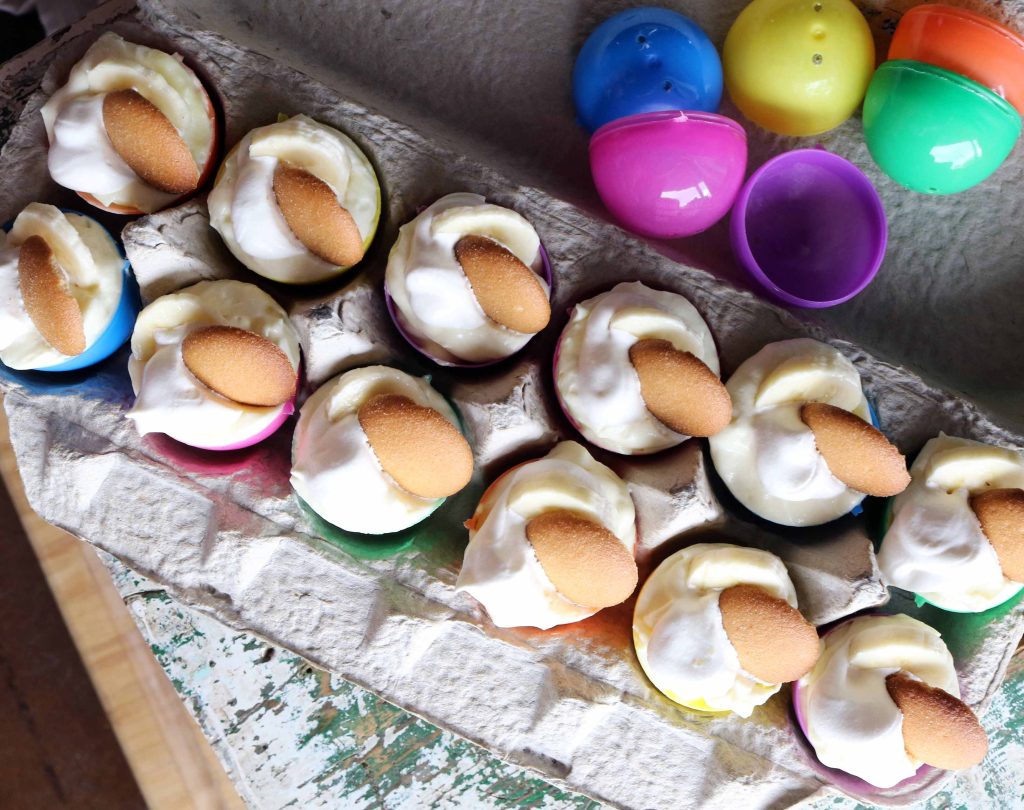 Easter Egg Banana Pudding Cups
Servings: 30 | Prep time: 30 min. | Cook time: 0 min. | Total time: 30 min.
Ingredients: 1 – ¾ oz. pkg instant banana cream pudding, prepared as directed (requires milk) | 1 – 8 oz. container Cool Whip, halved | 2 bananas, sliced to ½ inch thickness | 1 box miniature vanilla wafers | 30 multicolored plastic Easter eggs, separated in half (top & bottom) | 2 empty egg cartons
Directions: Prepare pudding as directed on the package. Add half of the cool whip to the pudding and stir well, set aside. Place the plastic eggs into the egg carton. Fill each egg with banana cream pudding. Top with a dollop of the remaining cool whip. Place a banana slice and one miniature vanilla wafer on top of each banana pudding cup. Store in refrigerator until ready to serve. If making ahead of time, fill eggs with banana pudding and store until ready to serve. Right before serving, top with cool whip, banana slice, and cookie.
Tips & Tricks: For a fun surprise, crumble two miniature vanilla wafers and place them at the bottom of each easter egg before adding the banana pudding. This way, your guests get an extra cookie crunch at the bottom of the treat!
About Our Chef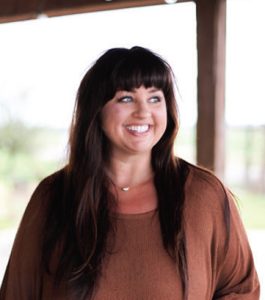 Melissa is a freelance food writer with a passion for hospitality and home cooked meals. Along with writing, she helps her husband run their working ranch and event venue in Rockwall, Texas. To follow her cooking and ranching adventures visit MelissaTateTX.com or find her on Instagram at @melissatatetx.