Mixing up flavors and textures keeps meals interesting and helps you focus on eating healthy.
Roasted Cumin Chickpeas and Pork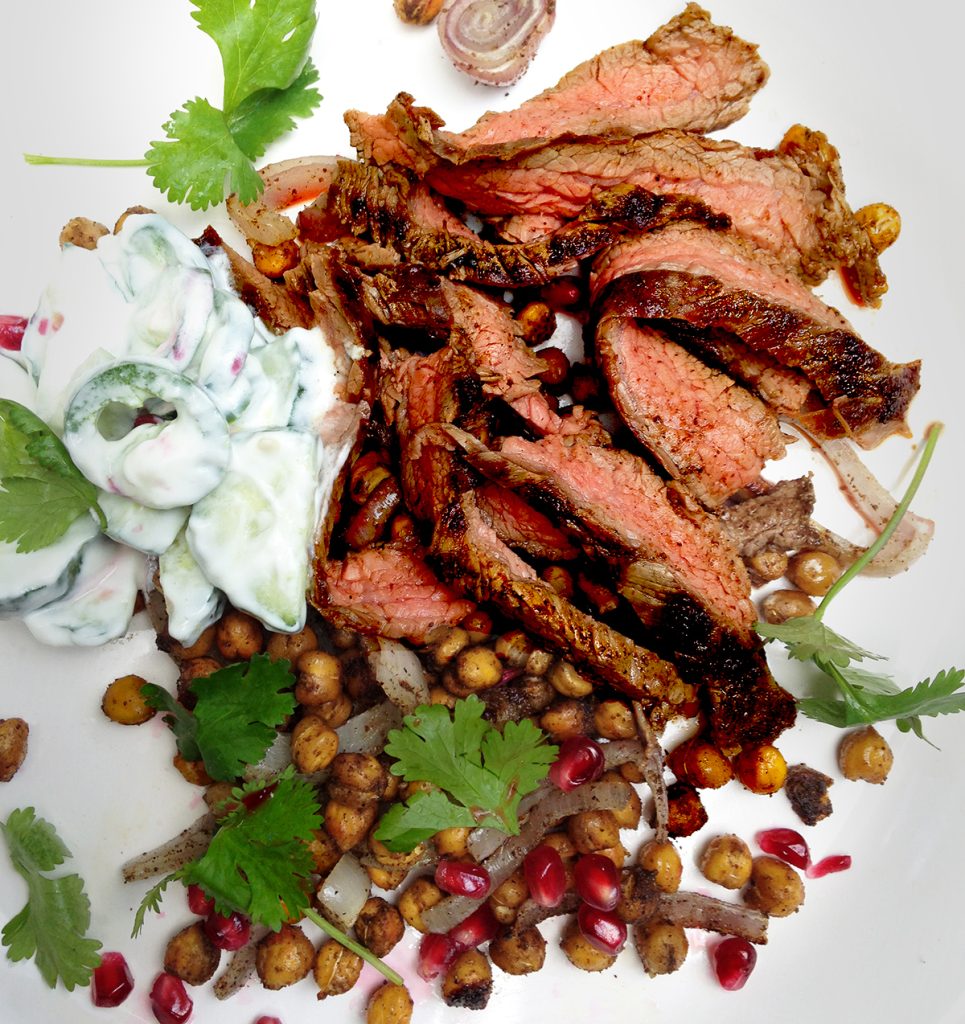 1 (16-oz.) can chickpeas, drained and rinsed

2 tsp. olive oil

1/2

 tsp. kosher salt

2 tsp. ground cumin, divided

4 shallots, thinly sliced

1 

tsp. red pepper flakes

Pomegranate seeds

Cilantro leaves

1 (2-lb.) flank steak (with lots of spice)

Zippy Yogurt Sauce

1/3  cup 2% Greek yogurt

1/2

 English cucumber, thinly sliced

1 small jalapeño, thinly sliced (if desired)

1/2

 clove garlic, pressed

1/2

 tsp. kosher salt

1/2 tsp. extra virgin olive oil

Preheat oven to 425 °F. Pat chickpeas dry with a paper towel. Toss peas, olive oil, salt and 1 tsp. cumin in a jelly roll pan. Bake for 25 minutes. Add shallots and toss with peas. Bake 20 minutes, stirring occasionally, until peas are crisp but still tender.
Meanwhile coat steak with 2 tsp. olive oil. Sprinkle with 1 tsp. salt and remaining cumin. Let stand 20 minutes. Heat a grill skillet or grill to medium-high heat. Place steak on grill and cover with grill lid. Grill 8 minutes, turn steak. Grill about 5 minutes or until desired degree of doneness is reached. Let stand 5 minutes.
For Zippy Yogurt Sauce: Combine yogurt and next 5 ingredients. Thinly slice steak and serve with sauce and roasted peas. Sprinkle with cilantro leaves and pomegranate seed, if desired.