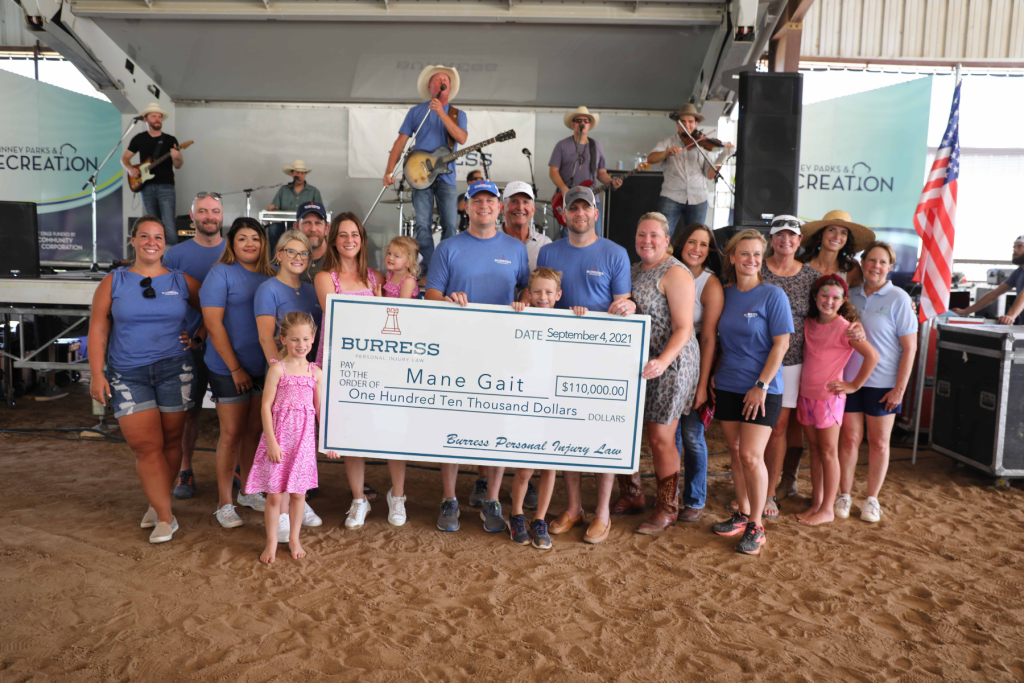 On Saturday, September 4th, friends throughout the community gathered together for Burress Injury Law's 10th Annual Picnic benefiting ManeGait Therapeutic Horsemanship in McKinney.
Burress Injury Law funds this event each year, welcoming friends, colleagues, clients, vendors, and staff for an afternoon of family fun. This year's picnic featured music from Kevin Fowler, hometown favorite Austin Cunningham, and upcoming artist Lauren Rose.
Patrons enjoyed delicious burgers provided by Local Yocal, caught live catfish from Kid Fish, enjoyed bounce houses, petting zoos, and bid on silent auction items donated by local businesses. Burress Injury Law matches donations dollar-for-dollar. This year, Burress Injury Law set a lofty goal of raising $70,000 for ManeGait.
Before the picnic began, $31,250 was pledged by donors throughout North Texas. The event hit its goal in the first hour, and donations continued to pour in for a total of $110,000.
These proceeds support ManeGait's mission to help children and adults (former military and first responders) with serious disabilities and other injuries move beyond their boundaries through the healing power of the horse.
ManeGait's Executive Director, Tricia Nelson, shared, "We are so appreciative of the ongoing support of our mission that Burress Injury Law and their friends have provided. We could not keep our riders in the saddle without this beautiful community."
Founded in 2007 by Bill and Priscilla Darling and their daughter, Landon Darling Schneider, ManeGait is a nonprofit agency that serves children and adults with special needs from Collin, Dallas, Denton, Grayson, and Rockwall Counties.
For more information, visit Manegait.org.