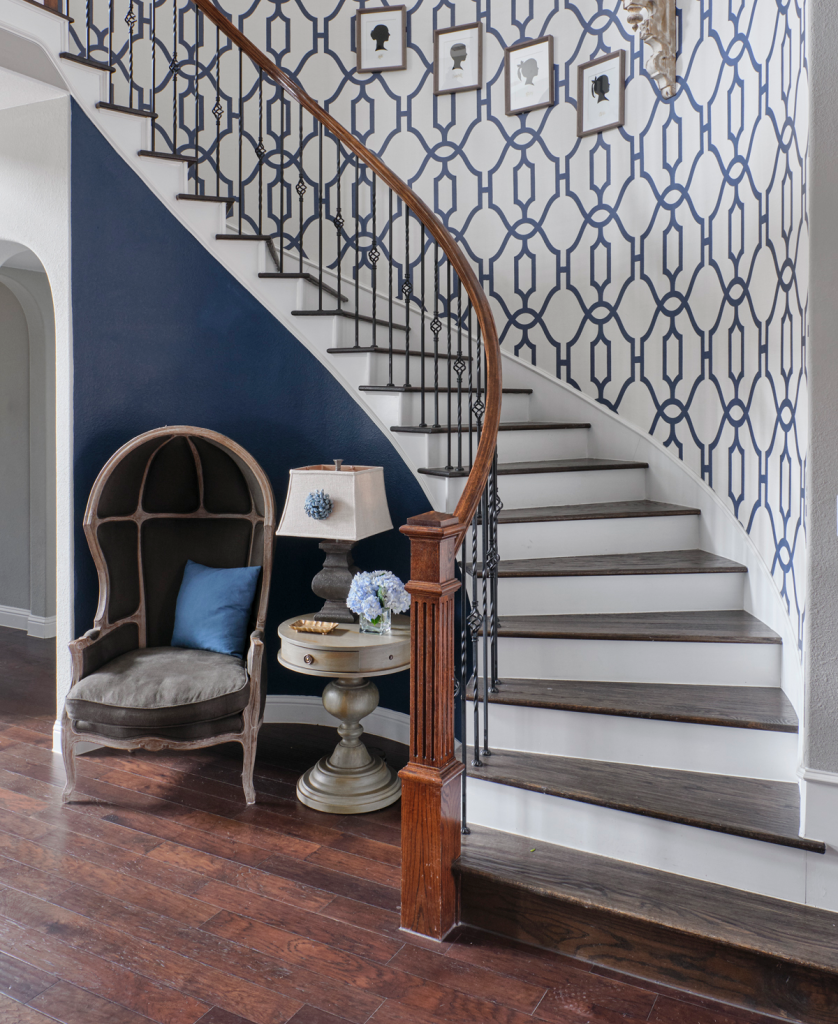 By Courtney Warren
Photos By Jarrod Estes
Ah, spring! You look out at the bright blue sky, the vibrant blooming flowers, and the budding trees and feel so inspired. But as your gaze moves from the outdoors back inside, your mood might shift a bit. Compared to the freshness outside, your rooms are seeming, well, a bit stale.
A new season can bring us out of the winter doldrums, but our homes require help from us to take them from blah to beautiful. The good news is you don't have to do a major remodel — simple changes here and there can give your spaces the refresh you crave.
Wallpaper Present Tense
Today's wallpaper designs are bold and fresh and can instantly change a room's look from tired to terrific!
Not ready to commit completely to wallpaper? A papered accent wall is easy to create and delivers a distinctive focal point for the room. Many wallpaper styles now come in removable versions, so the look can easily change down the road.
Rug Refresh
While you're at it, consider changing out the rug in your room. A new pattern underfoot is relatively inexpensive and can tie together your whole design — or even inspire a new palette!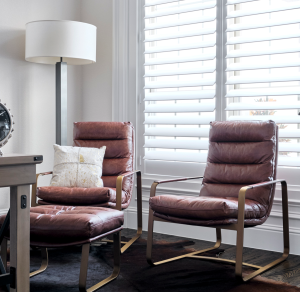 Soft and serene or bold and graphic, a new rug transforms the style of any room. Designer's tip — do you have carpet that you can't afford to replace? Layer a large rug on top of it to change your look, bring in a new color scheme, define an area, or even camouflage a worn or stained spot.
Mirror, Mirror on the Wall
In addition to bouncing light around a room, a dreamy mirror can show off your room's best features and bring fresh energy to your design. Bonus: a mirror is not only utilitarian but functions as art on your wall!
If your home's design feels a tad down-at-the-heels, spring is the perfect time for a new look. Give the heave-ho to worn or dated elements like old rugs and regrettable lighting. Bring in some up-to-date replacements that inspire fresh design, like a colorful new rug, trendy wallpaper, a statement
mirror, or lively lighting.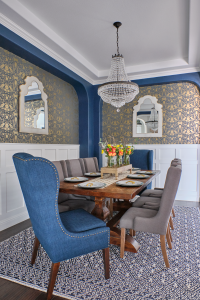 And, while you are at it, throw in a few jaunty new pillows and a bundle of fresh flowers. As the cheerful spring sun filters in the windows, your newly refreshed rooms will thank you.
The Light Fantastic
Speaking of transformations, what can inject fresh style into a room like new lighting? From chandeliers to pendants to sconces, there are so many affordable options out there.
Besides amping up the style, light is a great mood lifter. Adding lighting not only brightens your spaces but helps them feel larger and more cheerful, especially in a room with little natural light.
About the Designer
Courtney Warren is a Waxahachie interior designer whose award-winning work has been featured in numerous national magazines and media and whose clients span the North Texas area. She believes,"You deserve a beautiful home you can be proud of, and it doesn't have to be complicated."