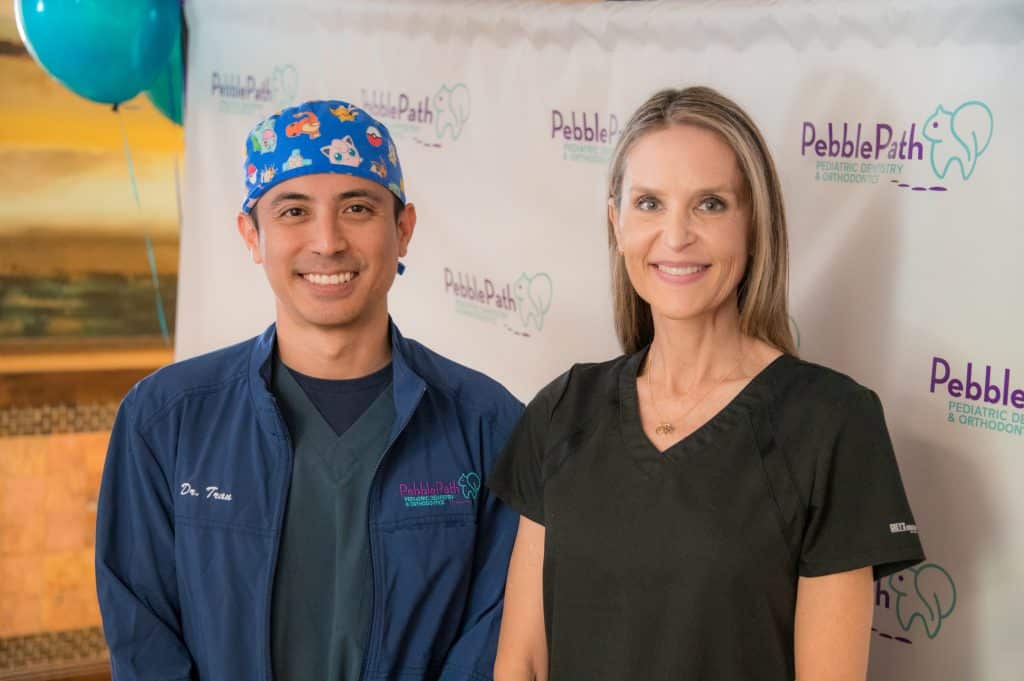 By Brigitte Surette | Photos by MorningWatchPhoto.com
---
Our smiles are an essential part of our well-being.
They give our faces shape and personality — they project confidence. Everyone understands a smile — it overcomes all language barriers as a symbol of happiness and welcome. A healthy smile isn't just about aesthetics, it's part of our overall health, and here at PebblePath Pediatric Dentistry, our goal is to help kids in McKinney get introduced to dental care early. Every child deserves a great smile!
Imagine if we all began our lives setting up a comprehensive program of healthcare. One that included consulting a dental professional at a very young age. Studies from the Mayo Clinic have concluded that our oral health may be linked to various diseases, so beginning an oral health program early is vital. According to the Centers for Disease Control and Prevention, "Cavities are one of the most common chronic diseases of childhood in the United States." Studies have concluded that children with poor dental health miss more school and receive lower grades than kids with better oral health.
PebblePath Pediatric Dentistry & Orthodontics, the pediatric arm of Stonebridge Dental, has a team of dedicated professionals who not only take a conservative approach to children's dentistry with a focus on preventative and patient education, but inspire fun among their young patients.
Thien Tran, DMD
Dr. Thien Tran is a board-certified pediatric dentist and a native Texan. He obtained his Doctor of Dental Medicine and advanced certification in pediatric dentistry from the Tufts University School of Dentistry in Boston. He then returned to his home state, where he has been treating children for the past 10 years.
"I grew to really love working with kids," Dr. Tran said. "We've created a fun environment here for our patients. Our team is excellent at what they do. We tailor our care solely toward children, and like me, the team is very young at heart. When our patients see us laughing and joking at their appointments, it helps put them at ease."
Dr. Tran sees dentistry and healthcare as a whole, trending toward a more comprehensive approach. "Children should have their first dental exam when their first tooth comes in or by one year of age, whichever comes first," he said. "We educate parents and their kids on how to take care of their teeth."
The initial appointment establishes a baseline. From there, every appointment is geared toward the future, what to expect, and what changes may occur.
"I've always been conservative in my approaches to dentistry and treatment," Dr. Tran said. "My goal is to develop relationships and gear my practice more toward the long term. I don't just fix cavities. That doesn't solve the underlying problem. I want to educate my patients to help them get through those early years so that they establish good oral health practices. If they adhere to this routine as they get older, they can avoid bigger problems. As they come to the office more frequently, they're discovering that dentistry can actually be fun. They get our checkups and cleanings and it's actually an enjoyable time."
The environment is only part of the reason. A sense of trust, a quality continuity of care, using the most advanced technology when needed and a compassionate team rounds out what sets them apart.
Laurie Parks, DDS, MS
PebblePath Dentistry & Orthodontics has an orthodontist, Dr. Laurie Parks, on their team. Dr. Parks can readily connect with kids that need orthodontic treatment. As a child, she herself underwent extensive treatments.
"Going to the dentist and then getting braces and orthodontic treatment actually became fun for me," Dr. Parks said. "I loved my dentists, and I thought what they did was so cool. I knew I wanted to get involved in oral healthcare when I was a child. From those experiences, I can really relate to children having to have braces, having issues with overcrowded teeth and other problems they may have."
Dr. Parks works with both children and adults. She stressed the importance of orthodontic checkups as part of a child's oral healthcare plan.
"Children should see an orthodontist by the age of seven," she said. "That's typically when their permanent teeth erupt. They have a mix of baby and permanent teeth at that age and we can determine if there are any issues such as crowding, crossbites or abnormal jaw development. Seeing any malocclusion (bad alignment of the teeth) at an early age is important. We can then determine if treatment is needed."
The Future
PebblePath Dentistry & Orthodontics has realized exponential growth in a just a few years. Plans to expand the pediatric wing are in the works and may come to fruition within two years. As a premier oral healthcare provider, the team is experienced with providing dental and orthodontic care to children, from infants to 18 years of age, including special needs children.
"Our patients know our practice as a fun place," Dr. Tran said. "We have televisions if they want to watch the Disney channel, or they can bring their own iPads or phones to watch TV or play games. I and my team love to listen to them, to have fun with them and to help them overcome any fears they have. They may come in scared or nervous at first, but they leave here with a smile on their face."
Let us know how we can help put a smile on your child's face. We are accepting new patients and look forward to meeting you.

---
CONTACT
6633 Eldorado Parkway, Suite 100
McKinney, Texas 75070
(972) 547-6580
PebblePathDDS.com
---