Countless choices for versatile vacationers

Build sandcastles on the beach or hike mountain trails? Golf in the high desert or visit wine country? How about satiating your inner foodie with creative cuisine made from locally sourced ingredients? Or maybe you love to be pampered at a luxury resort and spa. You can do all this and more in Oregon!
World-Class Golf, Craft Beer, Hiking the High Desert
Bend was the first destination on our trip through central and coastal Oregon. This cosmopolitan mountain town nestled along the Deschutes River is an international mecca for outdoorsy types, golfers, and microbrew lovers. We took a scenic route to Bend from Portland—a bit out of the way, but worth it—skirting part of the Mount Hood National Forest. The road wound along miles of jaw-dropping scenery where fragile mists hung thinly among the towering pines and clear mountain-fed streams tumbled down rocky beds. After passing through a handful of tiny outpost-ish mountain villages, we exited the forest and made our way to the high desert.
Pulling into Tetherow—a luxury boutique hotel and golf resort—we felt a surge of energy. Our beautifully furnished suite, complete with a well-stocked coffee bar and a comfy leather sofa facing a gas fireplace, overlooked Tetherow's 18-hole championship Scottish-style link golf course. Past the course, snow-capped mountain tops peeked above the horizon.
We decided to dine at Solomon's at Tetherow, and what a gem it was! Offering unpretentious luxury, Solomon's expansive windows frame open skies and sweeping golf course views. With a fabulous wine list and a Pacific Northwest-inspired menu that includes wild game along with beef, seafood, chicken, and vegetarian dishes, we wished we could order everything on the menu.
Meeting Solomon's Executive Chef, Rian Mulligan, was a real treat. His creativity and talent shine on a changing menu he crafts from scratch.
Chef Rian says his culinary inspiration comes from his heart, and it's evident in his eclectic style. Even his small plates are deliciously inventive. The crispy zucchini and summer squash noodles with chevre and pepita Romesco sauce—divine!
At sunrise, we sipped coffee on our generous private balcony, enjoyed Scotch eggs and a refreshing agave fruit mint salad at The Row, then hit downtown Bend. Filled with more than 200 unique shops and boutiques, the Bend vibe is trendy and understated. That afternoon, we drove 35 minutes to Smith Rock State Park. Its cliffs are ideal for rock climbing and there are miles of hiking trails. After our 2.5-mile river trail walk, we stopped at the Deschutes Brewery, the place where Bend's bustling craft brew industry began.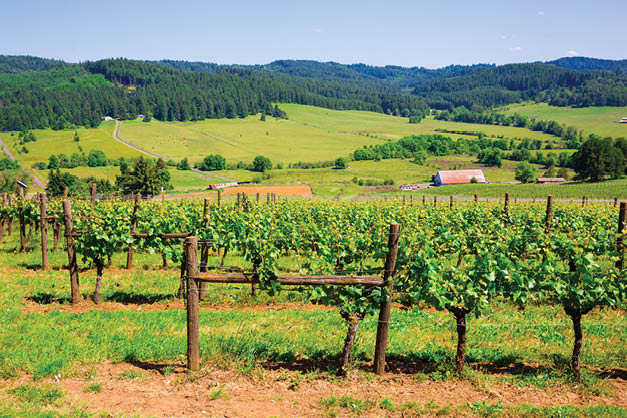 Wineries and Vintage Trailers
Willamette Valley wineries were up next on the trip. Home to more than 500 wineries, the Willamette Valley is known for its world-class Pinot noirs. We decided to try something different and stayed in a refurbished vintage trailer at The Vintages Trailer Resort, located in the middle of Oregon's wine country. I couldn't wait to relive some of my childhood memories of times spent in my parent's blue and white Bee Line camper. Check-in was a breeze and the folks at the front desk were super friendly, but the real fun came when we stepped into our immaculate camper. At the day's end, we kicked back in our camper's lawn chairs and mapped out the wineries we wanted to tour.
Up early the next day, we tooled around back roads, visited tasting rooms ranging from contemporary to rustic, and enjoyed many superb wines. Luckily, my husband volunteered to be the designated driver!
Idyllic Cannon Beach
Driving up U.S. Route 101 along the Pacific coastline made us wish we had rented a convertible. We passed through coastal towns and old growth forests, and crossed over historic bridges and picturesque bays. Arriving at the Surfsand Resort in Cannon Beach, we popped into our nicely-appointed oceanfront suite, and were thrilled to have an unobstructed view of Haystack Rock. The pet and kid-friendly Surfsand—a Sunset Travel Award winner—has thought of everything for a family on vacation. Their program, Surfsand Kids, offers daily craft projects, beach toys and beach cruiser bikes, weenie roasts, ice cream socials, storybooks, and much more. Of course, adults and children alike love the nightly beach bonfire with s'mores.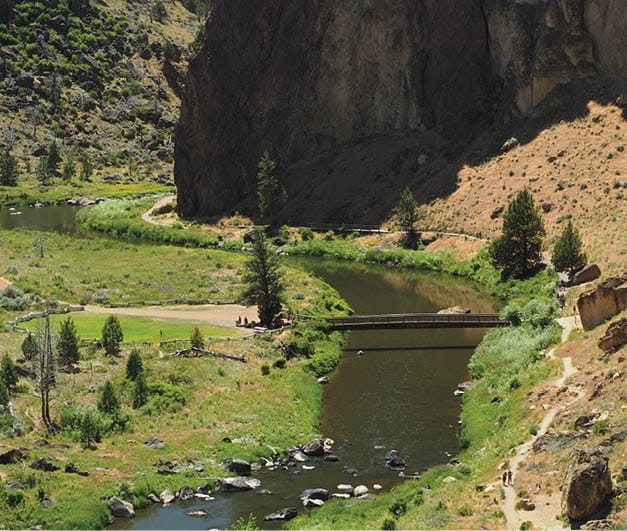 An early dinner at the woodsy oceanfront Wayfarer Restaurant was to-die-for. Executive Chef Josh Archibald embraces Oregon's sustainable, locavore food movement. I feasted on troll-caught seared salmon and my husband enjoyed a fork-tender steak accompanied by freshly foraged wild morel mushrooms, lightly sautéed. Afterward, a walk along the beach helped us work off our meal. We explored Haystack Rock—a seasonal haven for tufted puffins—which is surrounded by colorful tidal pools with starfish, anemones, and limpets.
The next day we strolled along the quaint streets of Cannon Beach, chock-full of cute shops, cafes, kite stores, and ice cream parlors. Lunch at Public Coast Brewing Company provided sustenance before our long afternoon hike at Ecola State Park, perched dramatically on the edge of Tillamook Head. We enjoyed food and drink from Coastal Brewing's convivial brew master, Will Leroux, and the nicely designed pub comes with large windows through which you watch the brew master working his magic.
Famished after hours of hiking along the coast and in the forest, we dined at The Stephanie Inn—an elegant, upscale family-owned oceanfront boutique hotel and restaurant with richly appointed guest rooms and a luxury day spa. I was glad I brought along a gorgeous, lightweight scarf by Yala (headquartered in Eugene, Oregon) which doubled as a fashionable wrap for the evening.
The Stephanie Inn's award-winning Executive Chef Aaron Bedard, who has a wonderfully down-to-earth personality, talked with us about his passion for sourcing ingredients from local farms, foragers, and fishermen. Our gourmet prix-fixe multicourse dinner was, of course, exquisite.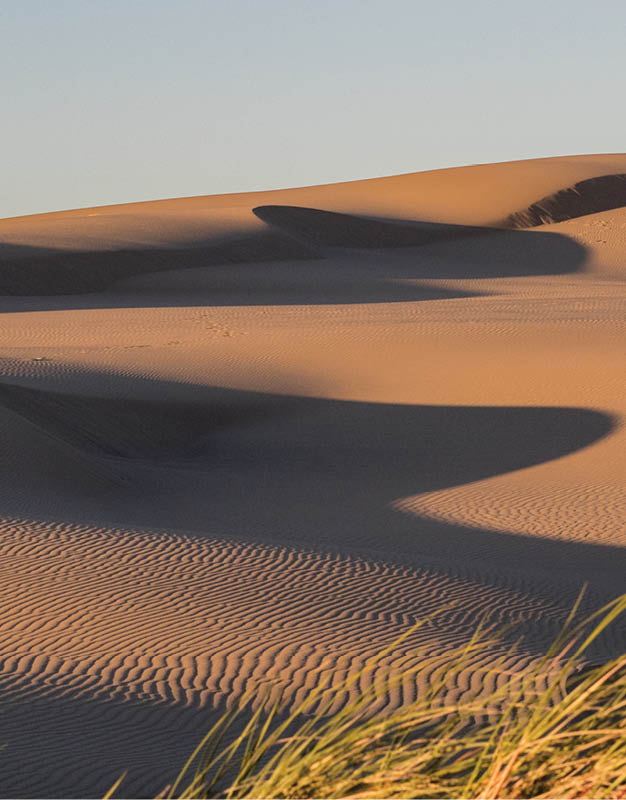 Sand Railing on the Dunes
The Oregon Dunes National Recreation Area is a thrill-seeker's paradise. Stretching 40 miles along the central Oregon coast from Florence to Coos Bay, the ever-shifting, wind-sculpted dunes are strange and spectacular. We met up with our private sand rail guide at Sand Dune Frontier first thing in the morning. The folks at Sand Dunes Frontier were so helpful and friendly we were tempted to hang out with them after our ride. As for the ride itself, zipping to the top of a 500-foot dune not knowing what's on the other side is more exhilarating than a theme park roller coaster. And the sheer beauty of the massive dunes dotted with small spring-fed "tree islands," leaves you speechless. We even spotted a bald eagle leaving its nest in search of a morning meal.
Morning at the Portland Japanese Garden
Making the most of our short time in Portland, we toured of the must-see Portland Japanese Garden. With its new $33.5 million Cultural Crossing expansion project—complete with a Cultural Village designed by world-renowned architect Kengo Kuma—the gardens exude serenity. The massive medieval-style stone castle wall constructed from dry-stacked rocks, the soothing visual aesthetics of the Jordan Schnitzer Japanese Arts Learning Center, and the Garden House with its living roof inspire visitors to get acquainted with Japanese culture.
As we drove back to Portland along the Columbia River, we marveled at the diverse geography and activities Oregon offers, and added this trip to our list as "one of the great ones."
Story and photos by Annette Brooks