Explore, unplug, relax, and share family togetherness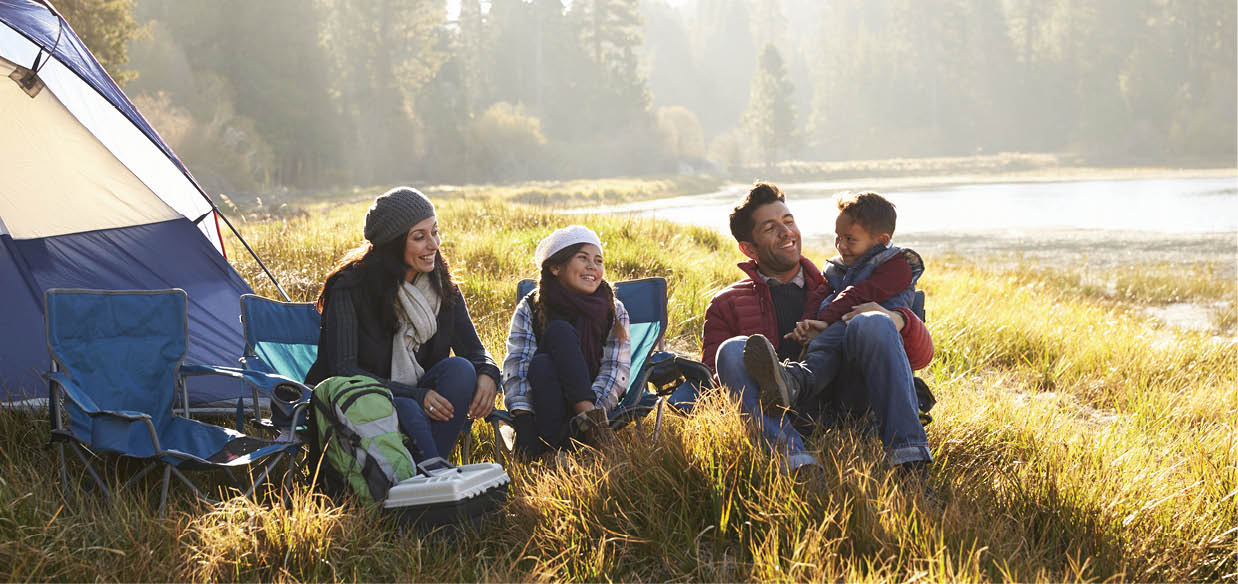 Stifling heat, humidity, and swarms of mosquitoes don't necessarily suggest an ideal camping scenario, even if you're into "glamping" in a tricked out fifth wheel. Luckily, with the hot days of summer long behind us, camping can take on new life in Texas.
Some of the best camping weather in the Lone Star state comes in late autumn and early winter. All it takes is a little basic planning up front and bringing along items that will keep you warm. Start by selecting a couple of weekends you can devote to camping and then steer clear of the temptation to schedule activities that will kibosh your plans. Watch the weather forecast to see if storms or high winds are brewing, and remember to check ahead of time for any seasonal changes in campground hours or closings.
Gearing Up for Temperature Changes, Cool Nights
Keeping warm is a concern that comes with cool weather camping, but don't let that deter you. Sure, weather highs and lows can vary—just dress in layers that can be removed or added. This allows you to easily adapt to temperature changes, regardless of whether they are gradual or sudden. Essential items include a jacket, hat, gloves, and rain gear. A sturdy pair of hiking boots is also a good idea no matter what time of year you camp.
Bring items that will keep you warm and toasty at night. In addition to a cold weather-rated sleeping bag and a closed-cell foam pad to place beneath it for extra insulation, it's wise to invest in long underwear. Pack an extra pair or two of thick socks to ensure you have a dry pair to wear at night. Wear a neck gaiter if your neck tends to get cold, and slip on a knitted hat to help you warm up when you first get into your bag. You can easily pull it off later if you get hot. Drinking a warm, nonalcoholic beverage before hopping in the bag can help, too, although remember that it may cause you to get up in the middle of the night for a bathroom break. (Alcohol dilates blood vessels and may accelerate heat loss.)
Fun, Family-Friendly Camping Activities
There are many activities that don't require packing lots of extra gear—after all, you're a camper, not a pack animal! Here are a few ideas.
Instead of hiking just to hike, spend some time ID'ing plants. This gives you a chance to explore and stay active, and to possibly learn something new as well.
Camping isn't complete without s'mores. Check out creative ideas at TheKitchn.com (salty caramel bacon s'mores, anyone?), then bring along the ingredients in addition to the usual graham crackers, marshmallows, and chocolate bars—and let the deliciousness begin.
Discover the stars. Beautiful, cool, clear nights are great for star gazing. There are a variety of online sources where you can download easy-to-follow star maps. Use these to help identify constellations. While you're at it, be on the lookout for a possible shooting star and make a wish.
Play camping games. Don't be tempted to bring an iPad in case the kids get bored. Time away from electronics gives everyone an opportunity to interact and play. Washer toss, for example, is a fun game for players of all ages. It's like horseshoes but easier, and requires minimal gear—two targets consisting of a square box with a circle of plastic pipe in the center, and metal washers in two colors (three of each). You can buy washer toss games, but they're easy to make. You can find lots of instructions online.
Teach your children safety and cooperation, and lead by example. Camping is a good time to foster an understanding of the importance of safety in the wilderness. Educate children about being aware of their surroundings and get them involved in the camping experience from the beginning planning stages through to campsite cleanup. Teach them how to set up and break down camp, gather firewood and tinder, etc.
Tell campfire stories and sing songs. Sitting around an evening campfire is a perfect time to share family memories and make new ones. And of course, stories and songs are part of the experience. If you're looking for story ideas to tell with your family, check out the book, Spooky Campfire Stories: Outdoor Myths And Tales For All Ages.
Campfire Safety
Campfires and cool weather camping go together, but campfires are also a big responsibility. Never leave a fire unattended, and always keep water near your campfire. You might have a sudden need to put it out or the weather might change dramatically (e.g. the wind might grow breezy and threaten to push your fire out of your fire ring). Bring a first aid kit with you and know what steps to take if someone is burned by sparks, hot cooking tools, or coals. Don't forget to "stop, drop, and roll" if any of your clothes catch on fire.
Before you build a campfire, visit SmokeyBear.com for essential information on how to pick a campfire spot, how to prepare your campfire pit, and how to build, maintain, and extinguish your campfire.
Easy Campfire Breakfast Burritos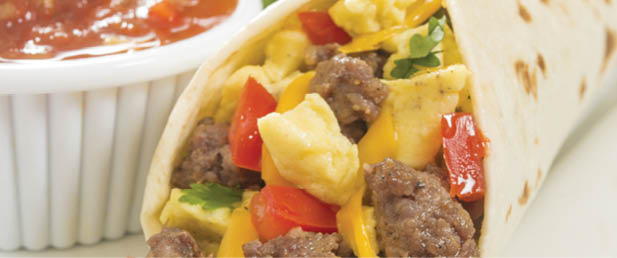 Campfire breakfasts may be pretty much the best food on the planet. The smells and crackling sounds of bacon and eggs cooked over an open fire entice even non-breakfast eaters to indulge. This satisfying Tex-Mex favorite with make ahead prep will leave you ready to conquer the outdoor adventures of the day.
Ingredients:
large flour tortillas
Yukon gold potatoes, peeled, parboiled until just tender but not falling apart, and chopped (about one potato per burrito)
salt and pepper
green onions, sliced
breakfast sausage or chorizo, browned and crumbled,
about ¼ cup per burrito
eggs, beaten (about two per burrito)
cheddar cheese, grated
heavy-duty foil
Preparation:
Season parboiled potatoes with salt and pepper. Add sliced green onions (about 1 tablespoon per burrito) and browned breakfast sausage or chorizo. Stir to combine then place into a plastic zipper bag or portable container. Refrigerate or store in cooler until ready to make burritos.
At the campsite, warm a lightly oiled cast iron skillet over the campfire. Add the potato/sausage mixture to the hot pan, stirring often until potatoes begin to brown and mixture is heated through. Add beaten eggs, stir mixture and cook until eggs are scrambled.
Place a tortilla on top of a large square of foil, top with potato/sausage/egg mixture, sprinkle cheese on top. Fold each burrito, roll it up in foil, place over the campfire. Cook burritos, flipping once, about four to five minutes per side depending on the heat of your campfire. The tortillas may get some browning and charring on them. Watch carefully not to burn. Serve with hot sauce.
By Annette Brooks