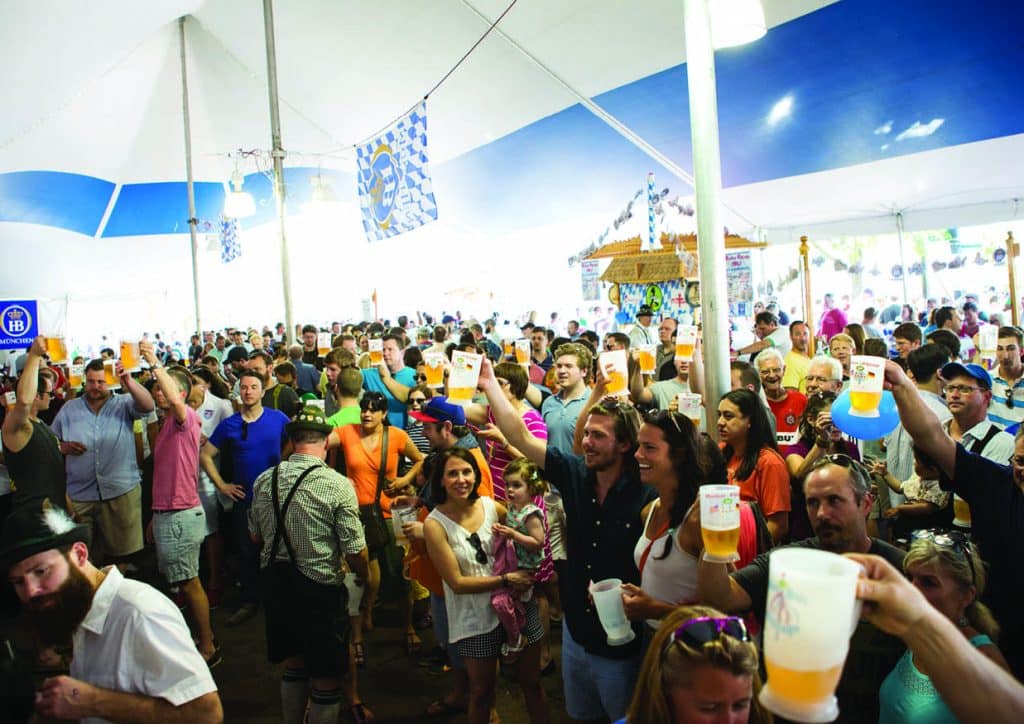 By Annette Brooks
---
Celebrating the Windy City's deeply rooted German heritage
Oktoberfest began as a wedding celebration in Munich when Bavarian Crown Prince Ludwig married Princess Therese of Saxe-Hildburghausen in 1810. Today, the Oktoberfest in Munich is the largest folk festival in the world.
Chicago knows how to throw a party. As autumn arrives, Chicagoans never miss the opportunity to don dirndls and lederhosen for some good old German-inspired merrymaking. Bratwurst, giant beer steins, schnitzel, apple strudel, and Bavarian oompah bands take over the Windy City, which hosts over 25 organized Oktoberfest happenings during the fall. Most any time from mid-September through October, you can soak in the celebratory vibe and get the flavor of Chicago's German heritage and cultural traditions. Tour the area and sample events ranging from old-timey Oktoberfests to trendy craft beer festivals.
Get into the Oktoberfest spirit by dressing in German garb. The dirndl, worn by women, is composed of three pieces: the dress ("kleid"), the blouse ("bluse"), and an apron ("schurze"). Lederhosen, which are leather pants, can be either three-quarter length pants or shorts and are worn with a shirt, long socks, and boots.
Munich-Style Oktoberfest in the Heart of The Loop
Landmarks such as The Chicago Brauhaus in Lincoln Square pull out all the stops during Oktoberfest. Not to be outdone, the historic family-owned Berghoff Restaurant, established in 1898, throws what is hailed as Chicago's largest and longest running Oktoberfest at the Federal Plaza.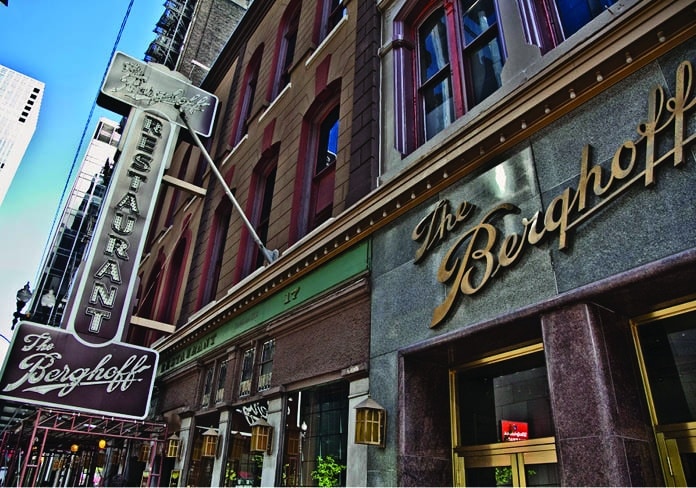 You won't want to miss the opening festivities, when the Berghoff family kicks everything off with the keg tapping as the crowd exclaims "Ozapft is!" which means, "It's tapped!" Each year, there are a variety of giveaways and commemorative steins, and brat and craft beer tastings are plentiful. The Berghoff usually has something special planned each season, such as its recent 45-foot attempt to break the Midwest record for longest brat. Regardless of your heritage, the immersive atmosphere is fun and positively contagious. We dare you to resist the urge to get your oompah band moves on!
Oktoberfest Meets Family-Friendly Street Fair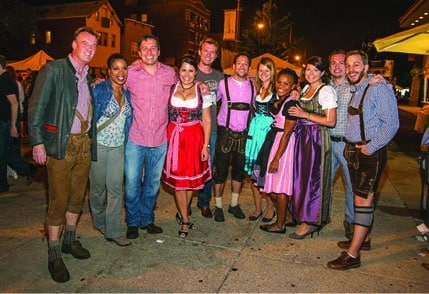 St. Alphonsus church hosts a popular fest featuring handmade bratwursts, plenty of cold brews, music from authentic German bands in a beer garden setting, and a bounce house for the kids. Think of it as a street festival with a big German twist, where you can applaud all things fall and all things Bavarian. Run by church volunteers, the proceeds go to good causes.
Trendy Logan Square's Brew Fest
It's not a stretch to say that Logan Square is becoming to Chicago what hipster haven Williamsburg, Brooklyn, is to New York City. With artisanal cocktail lounges, gourmet coffee, and farm-to-table movement restaurants, Logan Square attracts visitors from around the globe. Not to be eclipsed by Chicago's old school Oktoberfests, Logan Square hosts an annual beer festival. This year, 20 breweries and more than 50 beers will be featured, including seasonal and rare beers.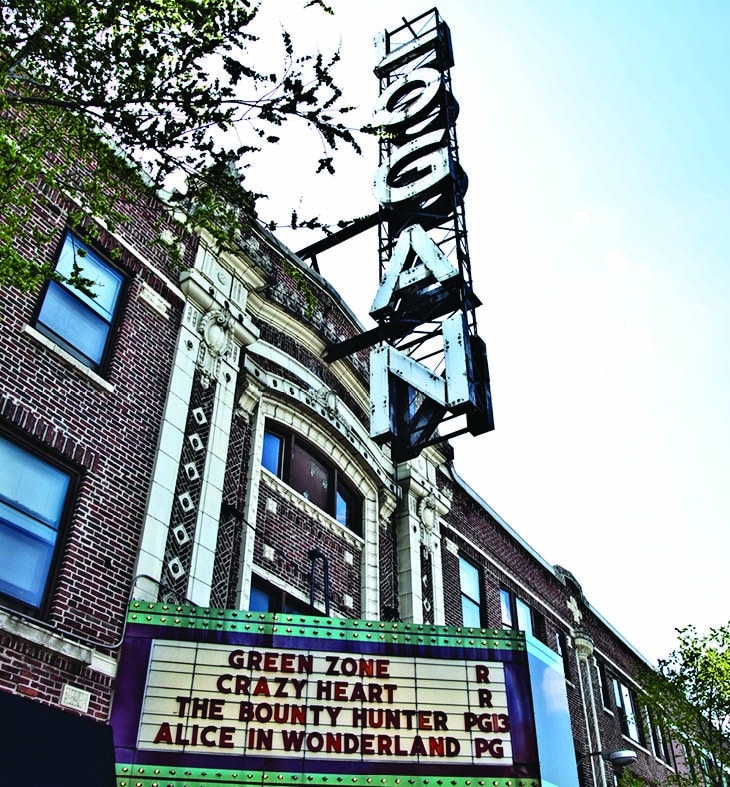 The beer fest—which offers up cask-conditioned and barrel-aged brew and swag giveaways—will appeal to those who prefer specialty beers over strudel, or to those who are simply oompah band dance-weary. If, however, you find yourself missing the sausage and kraut scene, head to The Radler, Logan Square's modern beer hall that offers an upscale take on German eats.
You might think sauerkraut—finely sliced, fermented green cabbage—originated in Germany, but the honors go to China. It's believed laborers building the Great Wall of China began fermenting shredded cabbage in rice wine to preserve it so they would have a constant food source throughout the year.
The Best of the Wurst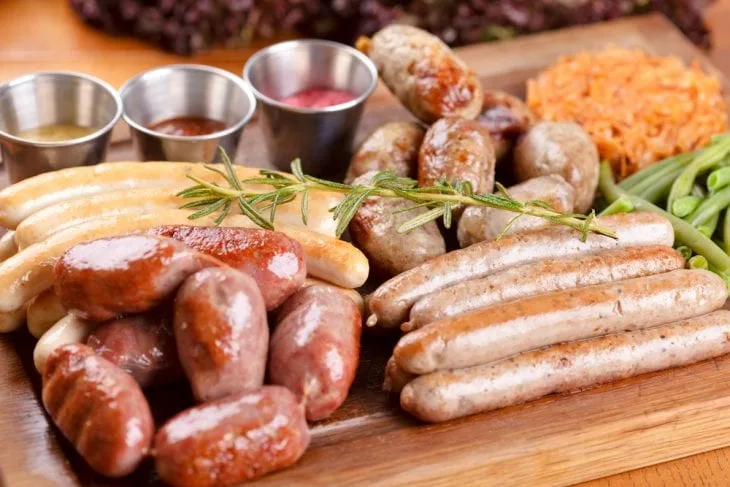 Hot off the grill with sizzling casings that crack and burst when bitten into, German sausages (wursts) can be highly addictive. Just thinking about that crisp snap followed by an instant surge of hot juices and flavor makes your mouth water.
Germany is a country of sausages—with hundreds of local varieties that are unknown anywhere else. Stateside, you're likely to find the following wursts at an Oktoberfest celebration.
Bratwurst – made from finely minced meat—typically pork, but some varieties include veal. Each region in Germany has its own version. Over 50 kinds are available, differing in size, seasonings, and texture. Brush them with beer before grilling or frying to bring out a nice, dark brown color.
Knackwurst – short, thick sausages made of finely ground pork, flavored with plenty of garlic. The name comes from the German "knacken," which means "to crack."
Bockwurst – a lightly colored and somewhat delicately flavored sausage made with a mixture of ground veal and pork, with the addition of cream and eggs. Drink with bock beer, of course!
Thuringer (Rostbratwurst) – a long, thin, spicy sausage seasoned with salt, pepper, caraway seeds, marjoram, and garlic. Some butchers also add nutmeg, coriander, and/or lemon zest as additional flavorings.