Elianne Alarcon, DDS; Cindy McMann, DDS; Bridget Le, DDS; Norma Soto Lehman, DDS; Laurie Parks, DDS; Melissa Tricamo Dean, DDS
Stonebridge Dental and
PebblePath Pediatric Dentistry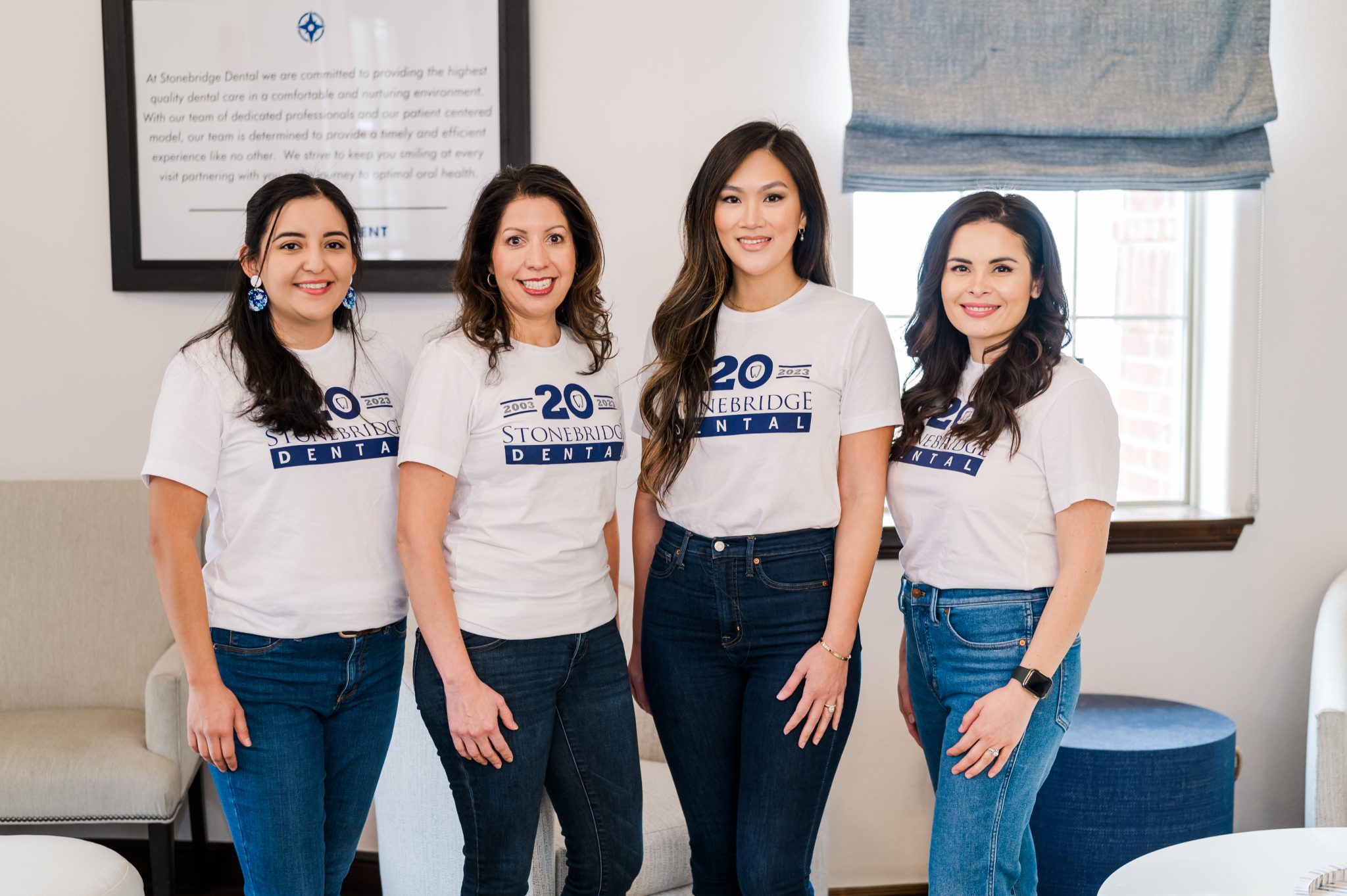 By
Sandy Lowe
|
Photo by
The Teal Album
---
The women of Stonebridge Dental and PebblePath Pediatric Dentistry are all leaders in their field. Each one has extensive education and experience in the dental industry that sets them apart. Together with their team, they extend genuine care to every person who enters the practice.
Norma Soto Lehman, DDS
Dr. Lehman takes pride in working with the best materials and technology available to a provide quality experience for her patients. She has worked at Stonebridge Dental for just over three years. Dr. Lehman appreciates the experience of each of her colleagues and shares her own insight so that each patient receives exactly the treatment they need. She looks forward to resuming dental mission trips.
Bridget Le, DDS
Dr. Le's upbeat personality has been a perfect fit during her year and a half at Stonebridge. She feels rewarded by treating numerous generations of families loyal to the practice with same genuine caring as all the staff. Working at Stonebridge has inspired, taught, and helped her grow her scope of practice. She enjoys sharing her experience with students who want to learn about the field of dentistry.
Elianne Alarcon, DDS
Dr. Alarcon has been with Stonebridge Dental for about a year and half. She especially enjoys building relationships with her patients and helping those with dental anxiety overcome their fears. She listens attentively to patients express their concerns, treating them as she would want her own family members to be treated. She finds transforming a patient's smile and relieving their pain the most fulfilling part of her work.
Laurie Parks, DDS
When she joined the practice in 2019, Dr. Parks, an orthodontist, brought along a great team of assistants to enhance the care Stonebridge Dental provides. She and Dr. Dean have worked together for 15 years. Their connection enriches the camaraderie at the practice. Like all the staff, Dr. Parks continues to learn the latest in technology to give her patients the most up-to-date experience available. Dr. Parks helps support local patients through education opportunities and by joining in community events and regular promotions.
Melissa Tricamo Dean, DDS
Dr. Dean relishes the interaction with her colleagues, sharing best practices and helpful information. She shows her patients special concern by calling each one after surgery to check on their progress. As a periodontist, she especially appreciates the Stonebridge emphasis on constant growth and learning for dentists and staff alike. She has served the needy on a mission trip to Jamaica and participated in dental days of service in the Dallas area. She tries to always remember advice from one of her mentors who encouraged her to greet each patient with a smile and look them in the eye.
Cindy McMann, DDS, cofounder of the practice with Michael Bolten, DDS, says, "It's been an honor to provide dental care for all ages of our community for 20 years."
---
CONTACT
6633 Eldorado Parkway
Suite 100
McKinney, Texas 75070
(972) 547-0554
StonebridgeDental.com