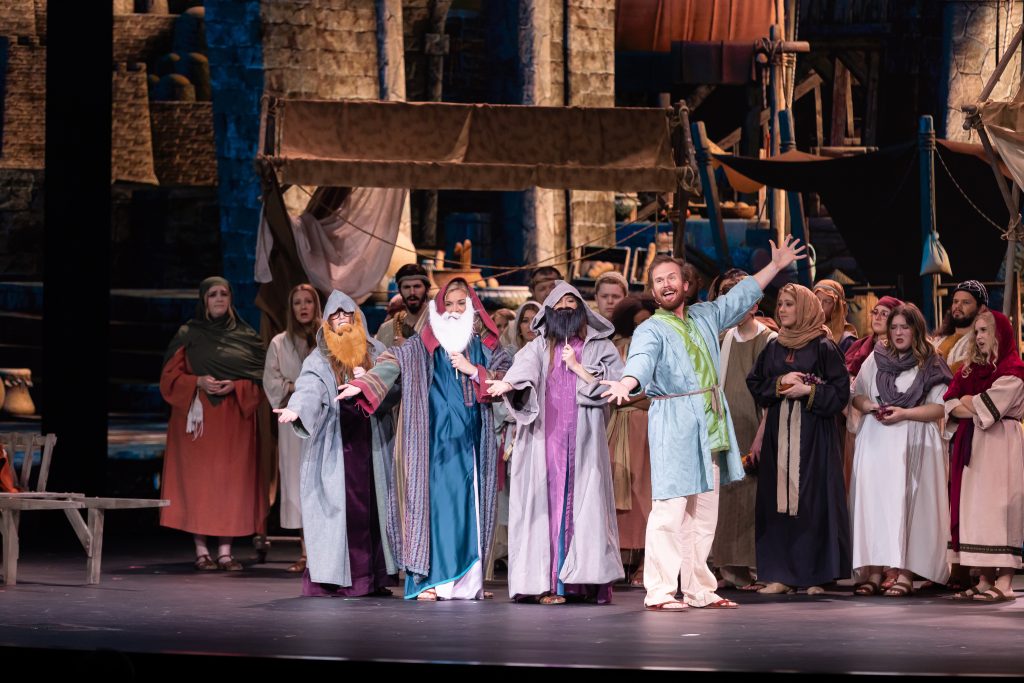 Start the holidays with a good laugh by joining Gateway Church for The Other Wisemen. This comedic musical adventure follows the Farzan sisters as they attempt to track down a new king, narrowly missing him at every turn—for 33 years! This year, come along for a reimagined journey filled with new songs, special effects, and story twists.
---
After spending their lives preparing to join the highly esteemed magi only to be rejected, Darina, Cyrena, and Essie Farzan set off to find a new king to serve. On their quest, the sisters encounter many colorful characters and learn valuable lessons about themselves and their places in the world. They also discover the secret behind what it truly means to be wise.
The Other Wisemen runs December 7 through 11 live at Gateway's Southlake Campus. Visit gatewaychristmas.com to reserve your free seat for a live show. Performances will also stream online beginning Thursday, December 8, at 7 pm (CT) and be simulcast at Gateway campuses during weekend services December 10 and 11. Simulcast performances are free, and seat reservations are not required. Children's ministry (newborn through sixth grade) is available.
Spanish interpretation is also available (habrá traducción en español) for all campus shows. In addition, American Sign Language (ASL) interpretation is available at the Southlake Campus during the 4 pm (CT) performance on Saturday, December 10.
With a hilarious cast of characters and much more, you won't want to miss one of the most exciting musical events of the Christmas season!
The Lights Are Brightly Shining
Join Gateway Church for a celebration of the true meaning of Christmas during this year's candlelight services! You won't want to miss musical performances from Steven Curtis Chapman, Tauren Wells, Bryan and Katie Torwalt, and Gateway's own Rebecca Hart!
From start to finish, you'll experience the joy of Christmas as we sing carols, hear a special greeting from Pastor Robert Morris, and watch the room fill with the warm glow of candlelight. Children's ministry is provided (newborn through 5 years old), and children are welcome to attend.
Candlelight services take place Saturday, December 17, and Sunday, December 18, at Gateway Church campuses. You can also stream the live service starting at 4 pm (CT) on Saturday, December 17.
Visit gatewaychristmas.com for service times and locations. Spanish interpretation is available (habrá traducción en español) for all campus services. We also offer American Sign Language (ASL) interpretation at our Southlake Campus during the 4 pm (CT) service on Saturday, December 17. Brighten your holiday season by joining us!
Home for Christmas
There's nothing better than spending time with friends and family. This year's Christmas service makes room for you to spend even more time with your loved ones from the comfort of home!
Gateway Church is hosting Christmas weekend services online only. Gateway Christmas at Home features special music and a message from Pastor Robert Morris to encourage you this season.
You can enjoy this uplifting Christmas service on gatewaychristmas.com starting at 9 am (CT) on Friday, December 23. Both Spanish and ASL interpretation will also be available. In-person services will resume December 31, 2022—just in time to ring in the new year!
---
Gateway Church Christmas Season Calendar
The Other Wisemen: A Musical Comedy
December 7–11
Gateway Candlelight Services
December 17–18
Gateway Christmas at Home
December 23–25
Weekend Services | Online Only
Streaming begins at 9 am (CT) on December 23.
Visit gatewaychristmas.com for all times and locations.