By
Rita Cook
---
To many homeowners, the words "you have mold" elicit instant feelings of dread. There are plenty of reasons why you definitely don't want to see the unsightly signs of it around your home, even though it might not always be disastrous.
"Most homes have mold, and mold is naturally occurring outside as well," says Atlanta-based Jeff Dinkle, president of Eco Custom Homes. But even if you can't see it and don't know that it is there, there are certain types of mold that are worse than others. For example, you don't want to hear you have mycotoxins, which can present hazardous health risks that might initially just seem like allergies.
Even if you have a mold that won't kill you, there's never a bad time to get rid of it. But where to begin?
You Think You Have Mold, Now What
If you think there might be a mold issue lurking in your home, the best thing to do is have a professional take some mold samples for you. Once the samples are taken, the test is sent to the lab and you get a report back in a few days. If you have more spores than the exterior of your home, or spores of certain molds, like Stachybotrys chartarum, then it's likely you have a problem.
Avoid Mold In The First Place
Prevention is the best medicine. Consider tapping on the brakes and taking some steps to reduce the moisture around the house—which can help you avoid mold in the first place. "The number one reason for moisture in a home is faulty guttering," says Dinkle. Dirty or clogged gutters, or downspouts that don't direct the water at least five feet away from your home, can cause issues.
"The second reason is usually a dirt grade that has changed over time, which can cause rain water to run towards the home—or it might be a neighbor that is directing water towards your home," he says.
Mold needs moisture and a food source to survive, and that food source can come from dust, areas behind the refrigerator, in a laundry room, in bathrooms, or any place where water is present.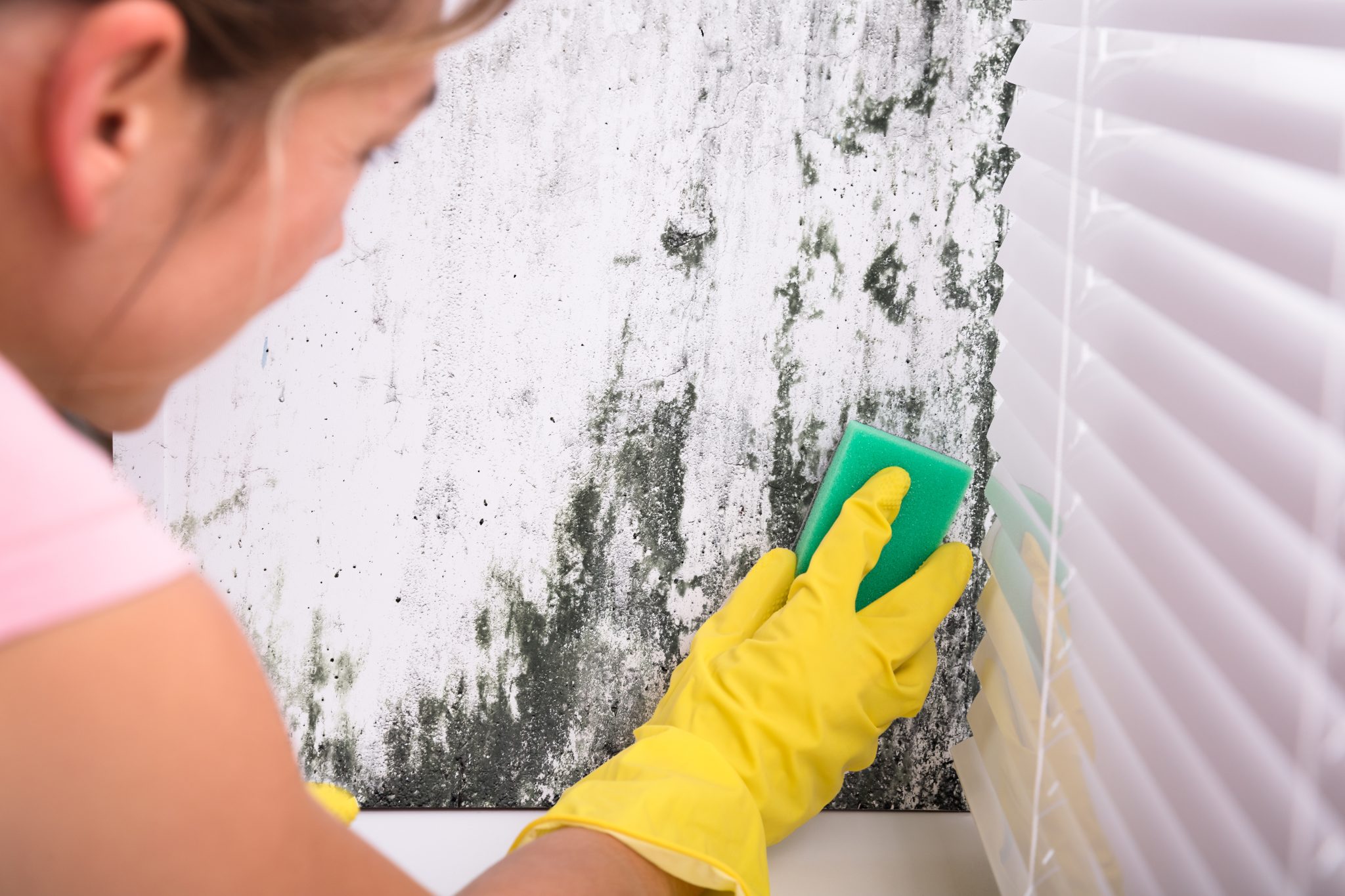 Consider for a moment a home with a small, shower-equipped bathroom attached to the master bedroom. Mold can become a real problem in this situation because of a lack of ventilation. Dinkle says in a case like this to be sure there is a way to adequate ventilation added to lower the moisture level—and to take care of it before things get out of hand.
Another example of mold trouble just waiting to happen is a leak in floor tile or shower tile with water seeping into the wall or floor. "Mold will start growing," Dinkle says matter-of-factly. "So it is important to seal all cracks and gaps in your tile or grout before the moisture level starts to build in these areas. Bathrooms, kitchens, laundry rooms—these areas need ventilation, and almost always develop some sort of moisture issues over time."
His company has even done a full remediation on a large home that was flooded with 48 inches of water. They removed wiring, drywall, plywood, furniture, and household goods, and then treat all the solid lumber with a mold remediation chemical before sealing it with another product.
"We basically rebuilt the home and cleaned everything as it re-entered the home," he said. A third party performed multiple mold tests during the renovation process too, ensuring the results remained impartial.
Mold and Your Health
Not all molds are created equal, but many can definitely make you sick. The Center for Disease Control and Prevention lists the most common indoor molds as Cladosporium, Penicillium, Alternaria, and Aspergillus, and a 2003 University of Arizona study indicated that just about every home has some kind of mold. The health effects of mold will differ in each person.
"At first, a body can handle the effects of mold, but gradually their immune system can decline and become more and more susceptible—leading to health issues and sickness," says Dinkle. In some extreme cases, it's thought that mycotoxins can even be lethal to humans and animals.
A telltale sign that there is mold lurking? "If I have allergies inside my home, mold might be a possibility," he says. "With conditioned HVAC, a home should be cleaner inside than outside, therefore you should have allergens dissipate while you are in your home—not get worse. If you feel worse in the morning than you do outside or at work, then you could have a problem."
Some symptoms can overlap with things like allergies, but to be on the safe side, don't take any chances when it comes to mold. "Mold poisoning is difficult to distinguish because of similar symptoms," Dinkle concludes. "Why take any chances? It can't hurt to just tackle the mold issue, and consult a doctor to be on the safe side if you think there is a chance mold has infiltrated your home."