There's no better way to care for someone than to whip up a batch of feel-good comfort food that might just conjure up some childhood memories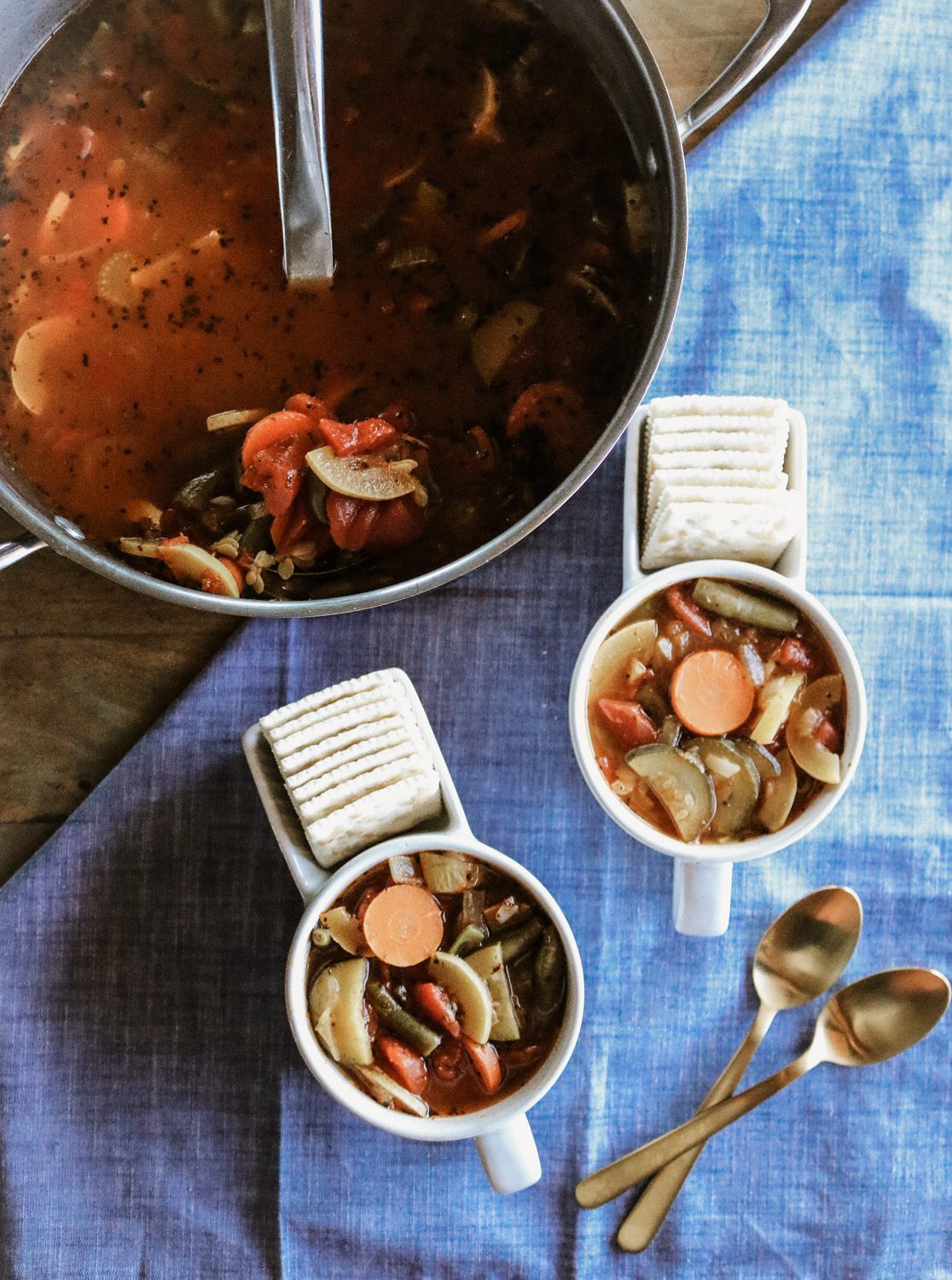 Classic

Vegetable Soup
Makes: 12 bowls | Time: 1 hour
Ingredients:
2 Tbsp. olive oil
2 cups thinly sliced onions
1 cup sliced celery
2 tsp. Italian seasoning
4 cans (14.5 ounce) vegetable broth
1 can (28 ounce) diced tomatoes with juice
1 Tbsp. tomato paste
8 cups mixed cut fresh or frozen vegetables of your choice
salt and pepper
instructions:
Heat oil in a large stockpot over medium heat. Add onions, celery, and Italian seasoning, season with salt and pepper. Cook, stirring frequently, until onions are translucent, 5 to 8 minutes.
Add broth, tomatoes and their juice, and tomato paste to pot, bring mixture to a boil. Reduce heat to a simmer, and cook uncovered for 20 minutes.
Add vegetables to pot, and return to a simmer. Cook uncovered until vegetables are tender, 20 to 25 minutes. Season with salt and pepper as desired. Let cool before storing extra.
---

Easy Yeast Bread
Makes: 1 loaf | Time: 1 hour prep/bake + 2 hour rise
Ingredients:
1 Tbsp. active dry yeast
1 Tbsp. sugar
1 Tbsp. salt
2 cups warm water
About 5½ to 6 cups all-purpose flour
flour for dusting
boiling water
instructions:
In a large bowl, mix together the yeast, sugar, salt, and water. Let stand until the yeast is dissolved. Gradually add the flour to the liquid and mix thoroughly until the dough pulls away from the sides of the bowl. Put the dough onto a floured surface to knead.
Knead the dough with the heels of your hands, rotating 90 degrees between kneads, and dusting with flour as needed to prevent sticking.
Let the dough rest while you clean and grease the mixing bowl, then knead for 2 more minutes and return the dough to the bowl. Cover with a damp towel and leave on the counter for 2 hours to rise. Once risen, punch down the dough and briefly knead for a moment to remove air bubbles. Shape into a French-style loaf, then place on a cookie sheet and sprinkle very lightly with flour. Let rest for 5 minutes. Lightly slash the top of the loaf and brush with cold water.
Pour an inch of boiling water into a roasting pan on the bottom rack of the oven. Place baking pan with loaf on middle rack. Bake at 400˚F for 35 to 45 minutes until loaf is golden brown and sounds hollow when tapped.
BEST WHEN FRESH:
Serve warm with butter and a light sprinkle of sea salt
---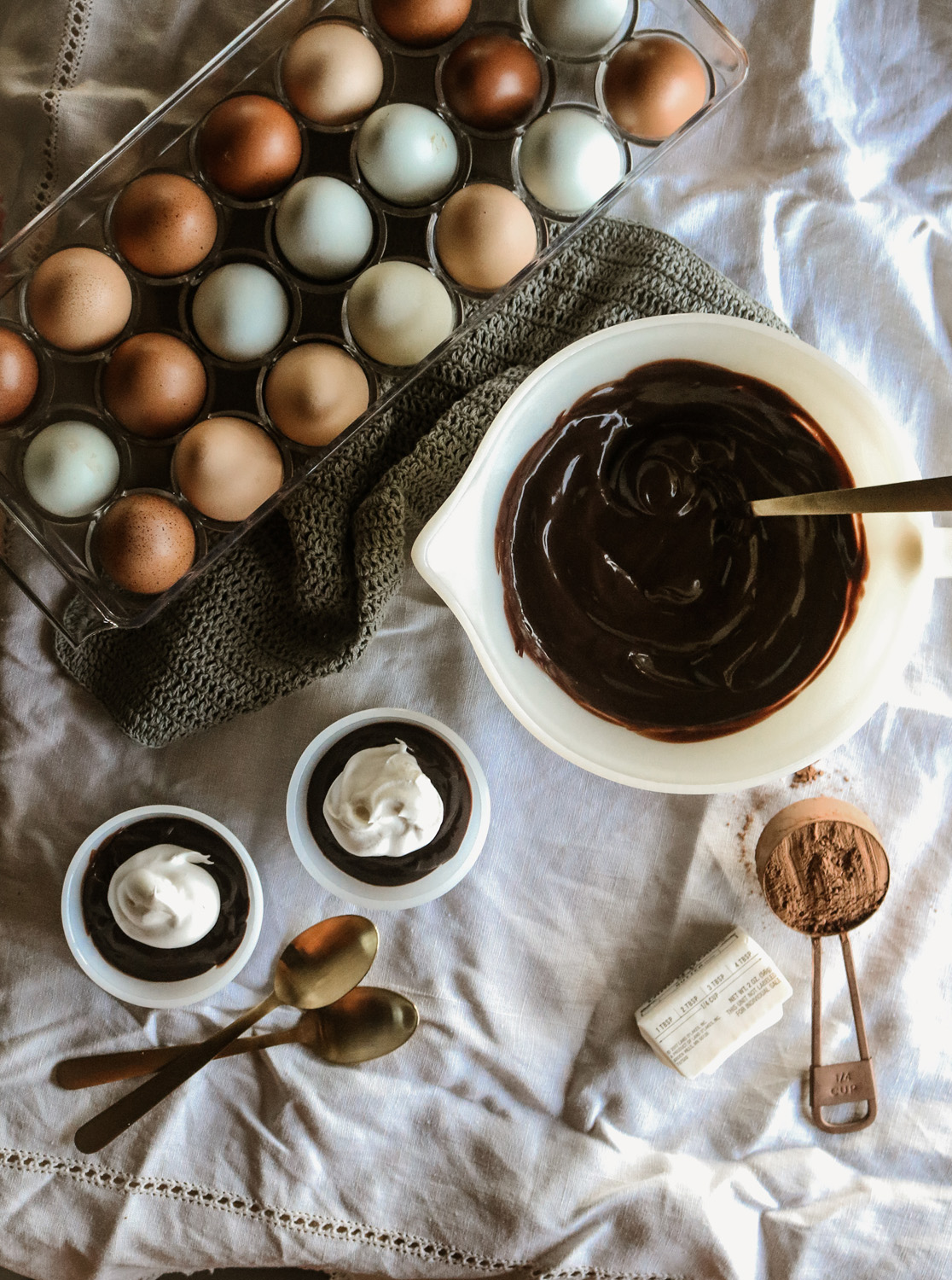 Perfect Chocolate Pudding
Makes: 4 puddings | Time: 10 minutes prep + cooling time
Ingredients:
1/3 cup flour
¾ cup sugar
¼ tsp. salt
1 cup milk
4 egg yolks
¼ cup cocoa powder
1 tsp vanilla
3/4 cup water
1 Tbsp. unsalted butter
instructions:
In a heavy saucepan, combine flour, sugar, salt, and cocoa. Mix well, then place saucepan on cook top. Over medium heat, gradually stir in water and milk until smooth, 1 to 2 minutes.
Whisk egg yolks in a separate bowl, then slowly add yolks to saucepan and bring to a boil, whisking constantly until thickened.
Remove pan from heat and stir in butter and vanilla. Allow pudding to cool about 5 minutes. Divide evenly between custard cups and refrigerate until ready to serve.
Tips & Tricks:
Top chocolate pudding with whipped cream, chocolate sprinkles or a fresh sprig of mint for added taste and texture.
---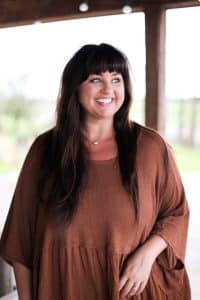 Photos & Food by Melissa tate
To follow her cooking adventures visit MelissaTateTX.com or find her on Instagram at @melissatatetx
All recipes cooked, staged, and shot for Living Magazine by Melissa Tate. Classic vegetable soup recipe as seen on MarthaStewart.com, via Everyday Food. Easy yeast bread recipe as seen on GatherForBread.com, via King Arthur Flour.