Snack on These State Fair Favorites at Home
By Melissa Tate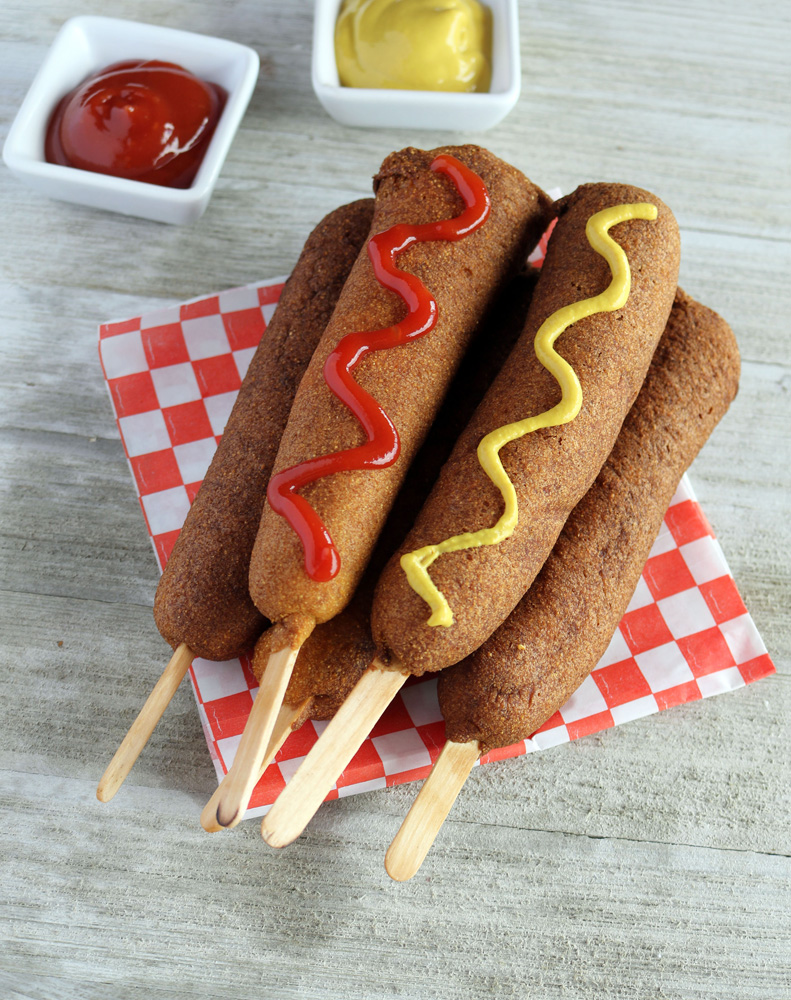 Corny Dogs
Makes: 8 servings | Time: 45 Minutes
Ingredients: 2 quarts vegetable oil for frying | 1 cup yellow cornmeal (not stone-ground) | 1 cup flour | 1 tsp. salt | 4 tsp. baking soda | ¼ cup sugar | 2 eggs | 1 cup milk | 8 beef hot dogs | 8 popsicle sticks
Directions: Heat vegetable oil in deep fryer or deep pot to 365° F. Combine cornmeal, flour, salt, baking soda, and sugar. Add in eggs and milk and combine. Insert popsicle sticks into hot dogs and leave enough stick to hold. When oil is ready, dip one hot dog at a time, completely covering in batter. Place battered dog in hot oil and fry for 4 to 5 minutes, rotating with tongs. Remove from oil and drain on a paper towel. Serve immediately with favorite dipping sauce.
Tips and Tricks
In the words of Skip Fletcher himself, "Corny dogs are simple, but they ain't easy." You really have to watch the temperature of the oil. Adjust as needed to keep the oil around 365° F as to not burn the batter and undercook the hot dog.
---

Hot Cheetos Corn In A Cup
Makes: 4 servings | Time: 20 minutes
Ingredients: 4 (15 oz.) cans of whole kernel corn | ½ cup mayonnaise | ¼ cup sour cream | ¼ cup parmesan cheese | ¼ tsp. Tajin seasoning or chili powder | 1 cup Hot Cheetos | ½ lime | Salt and pepper, to taste
Directions: Warm corn on stovetop for about 5 minutes over medium/high heat. Drain corn and set aside. Combine mayonnaise, sour cream, parmesan cheese, seasoning, juice from the lime, salt, and pepper to taste. Combine corn and mayo mixture. Divide equally among 4 cups. Crush Hot Cheetos and sprinkle on top of corn.
Tips & Tricks: The mayonnaise mixture can be smeared on ears of roasted corn and then sprinkled with crushed Hot Cheetos for a handheld version of this treat.
---

Deep-Fried Oreos
Makes: 48 servings | Time: 45 minutes
Ingredients: 2 quarts vegetable oil for frying | 1 egg | 1 cup milk | 2 tsp. vegetable oil | 2 cups pancake mix | 1 pkg Oreos | Powdered sugar
Directions: Heat vegetable oil in a deep fryer or deep pot to 375° F. Combine egg, milk, 2 tsp. vegetable oil, and pancake mix. Once oil is ready, dip Oreos into batter one at a time and then directly into oil. Fry 3 to 4 Oreos at a time for about 2 minutes or until golden brown. Drain on a paper towel. Sprinkle with powdered sugar and serve warm.
Tips & Tricks: Top Oreos with whipped cream and drizzle with chocolate sauce for an even more decadent dessert.
---
About Our Chef
Melissa is a freelance food writer with a passion for hospitality and home cooked meals. Along with writing, she helps her husband run their working ranch and event venue in Rockwall, Texas. To follow her cooking and ranching adventures visit MelissaTateTX.com or find her on Instagram at
@melissatatetx