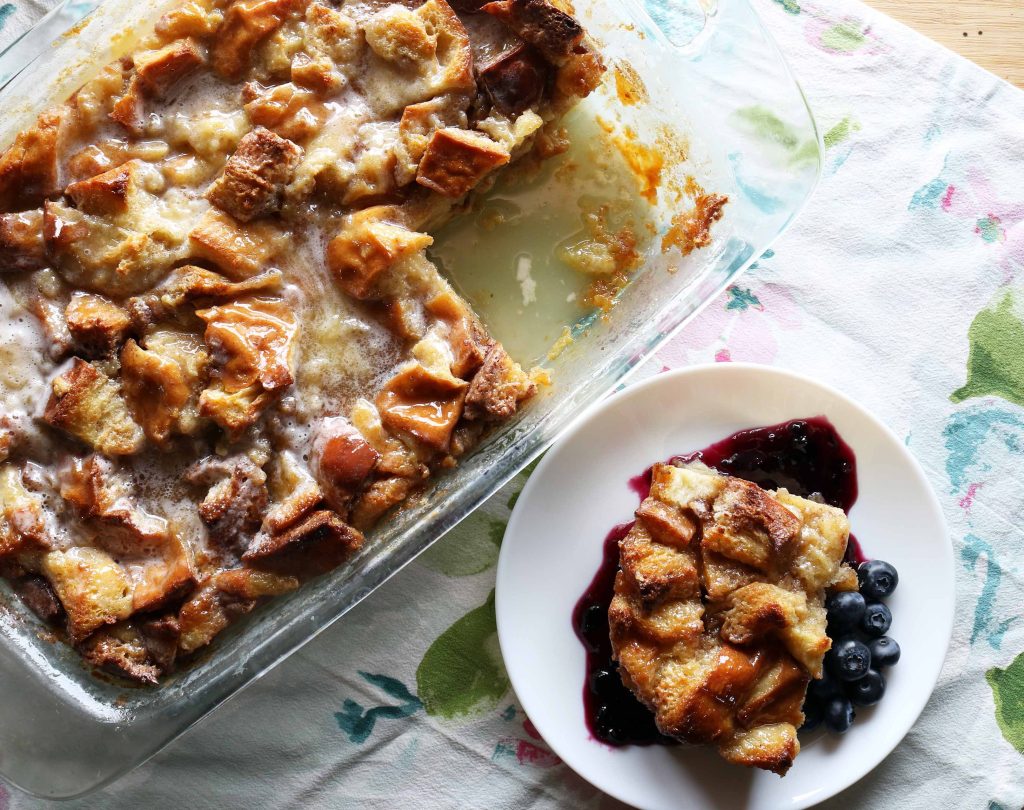 BY MELISSA TATE
Nancy's Bread Pudding
Servings: 16 to 20 | Prep time: 20 min. | Bake time: 1 hr. | Total Time: 1 hr. 20 miN.
Ingredients: Bread Pudding: 1 loaf of brioche style bread, cubed (I used French bread)
| 3 ½ cups milk | 6 eggs | 3 cups sugar | 2 Tbsp. vanilla | 2 Tbsp. cinnamon | 2 sticks butter, sliced Bourbon Sauce: 1 cup heavy cream | 2 cups sugar | 1 stick butter | ¼ cup bourbon
Directions: PREHEAT the oven to 350°. In a casserole dish, combine milk and cubed bread. This mixture should be very wet, and the amount of milk will vary slightly depending on what kind of bread you use. WHISK eggs, sugar, and vanilla together and pour over bread, soaking cubes. Top everything with sliced butter and cinnamon. BAKE at 325° for 30 minutes. After 30 minutes, remove bread pudding from the oven and stir to incorporate all ingredients. RETURN to the oven and bake another 30 minutes. With about 10 minutes left of baking, start to prepare your bourbon sauce. COMBINE heavy cream, sugar, and butter in a saucepan. BRING to a boil, remove from heat, then add the bourbon and stir. Bread pudding is ready when the bread tips are golden brown, and the middle has minimal movement when the pan is moved from side to side. Once done, pour half of the bourbon sauce on top of the entire bread pudding. SERVE with a fruit compote of your choice (I used blueberry) spread onto a plate, then top with warm bread pudding, to finish pour on more bourbon sauce.
Inspired by cafedelites.com, adapted by Melissa Tate.
Tips & Tricks: Top with vanilla ice cream for a real treat.
Garlic Butter Prosciutto Wrapped Asparagus
Servings: 4 (3 spears each) | Prep time: 10 mins. | Cook time: 5 mins. | Total time: 15 min.
Ingredients: 2 Tbsp. salted butter, melted | 2 tsp. garlic, minced | ½ tsp. salt
| ½ tsp. pepper | ¼ tsp. onion powder | 12 asparagus spears, woody ends cut off and discarded | 6 pieces prosciutto, cut with kitchen shears, down the
middle lengthways
Directions: PREHEAT broiler to high. Lightly grease a baking sheet and set it aside. ADD melted butter and garlic to a small bowl. STIR in dry spices and brush mixture onto all asparagus spears. WRAP each spear starting on a diagonal from top to bottom. ARRANGE wrapped spears on a baking sheet and cook for 4 to 5 minutes. WATCH the asparagus closely to prevent burning. All broilers cook differently. Asparagus is ready when prosciutto begins to crisp, and asparagus is a brighter green. SERVE warm.
Inspired by cafedelites.com, adapted by Melissa Tate.
Tips & Tricks: Serve as an appetizer or a side with a main dish
Lemon Chicken Soup
Servings: 6 | Prep Time: 5 min. | Cook Time: 25 min. | Total Time: 30 min.
Ingredients: 1 tsp. olive oil | ½ cup celery, finely chopped | ½ cup onion, finely chopped | ½ cup carrot, sliced in small circles | 1 Tbsp. garlic, minced | ½ tsp. dried oregano | ½ tsp. dried parsley | 2 quarts low sodium chicken broth | ¾ cup
long-grain white rice | 2 large eggs, beaten | 2 Tbsp. fresh lemon juice | 2 tsp. salt | 1 tsp. pepper | 1 ½ cups shredded rotisserie chicken
Directions: HEAT olive oil in a large pot over medium heat. ADD celery, onion, carrots, and garlic. SAUTÉ for 5 to 10 minutes until fragrant and softened. STIR in oregano, parsley, and chicken broth. COVER and bring to a boil. Once boiling, stir in rice. Cover and reduce heat to medium-high. COOK rice for 20 minutes, stirring once or twice. BEAT the eggs with lemon juice in a small bowl while rice is cooking. When the rice is cooked, remove the lid, and gather some of the broth into a ladle. While whisking, slowly pour the hot broth into the egg mixture to temper. POUR the tempered egg/broth mixture into the soup and stir. Add the shredded chicken, salt, and pepper. SERVE immediately.
Inspired by simplyscratch.com, adapted by Melissa Tate.
Tips & Tricks: Tempering the egg mixture with hot broth prevents the egg from cooking when placed directly into the hot soup. This is the opposite of how you would make egg drop soup!
About Our Chef
Melissa is a freelance food writer with a passion for hospitality and home cooked meals. Along with writing, she helps her husband run their working ranch and event venue in Rockwall, Texas. To follow her cooking and ranching adventures visit MelissaTateTX.com or find her on Instagram at @melissatatetx.