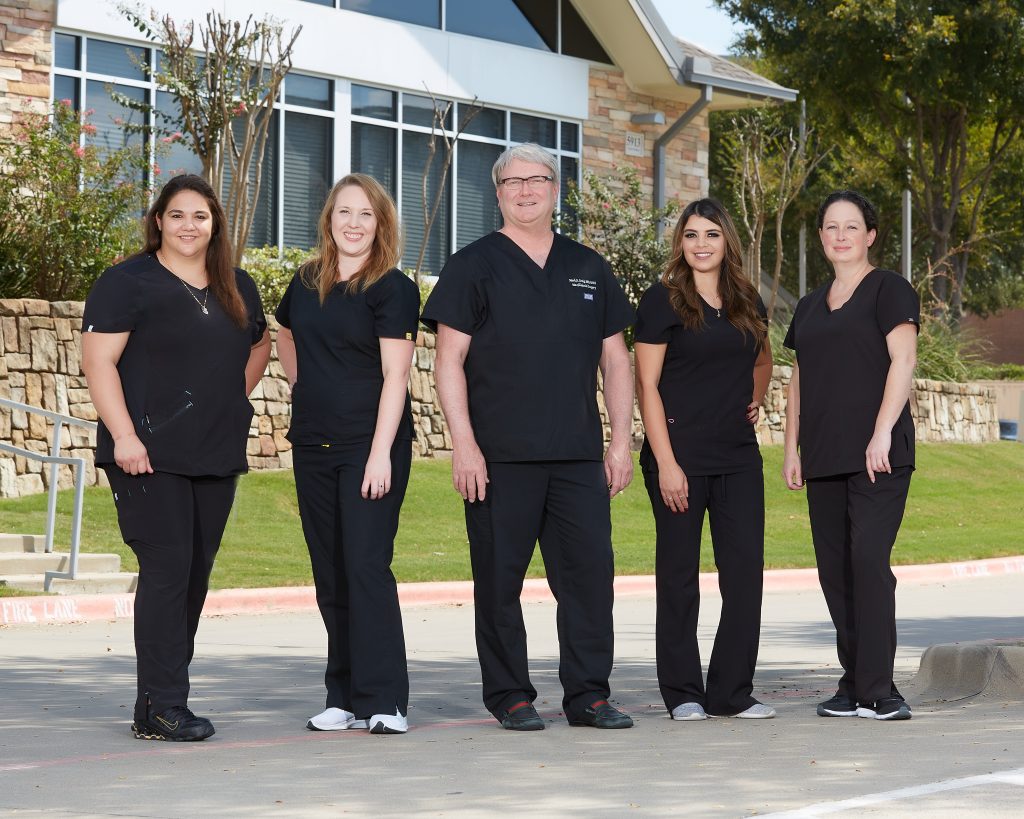 BY MEREDITH KNIGHT PHOTO BY SCOTT PEEK PHOTOGRAPHY
Dr. Mark Craig is never one to toot his own horn. He'd rather let his good work and continuity of care speak for itself. But had he bothered to invest in a trophy case when he started his oral surgery practice 18 years ago, his loyal customers in the McKinney and Allen area would have made sure he ran out of room a long time ago.
Eight straight years of being voted by Living readers as the Best Oral Surgeon, among countless other local and statewide accolades and word-of-mouth referrals, will do that for you.
"The word of mouth is incredible, to the point where we haven't slowed down one bit," Dr. Craig said recently. "I don't know why they come, but I'm glad they do. Continuity of care is important to us, and people in this area take notice."
Dr. Craig's practice has grown so much that it's a rarity for anyone to choose another doctor. And if they do, they often return to see Dr. Craig for a second opinion. Dr. Craig has been board-certified as an oral and maxillofacial surgeon since 1999, a distinction that sets him apart from most dental professionals. His individualized care includes dental implants, oral pathology, bone and soft-tissue grafting, cosmetic procedures, anesthesia services, and more.
So, if it's a painful tooth that caused an infection, or a child who needs his or her wisdom teeth removed, Dr. Craig can do it. If it's a severe diagnosis such as a misaligned jaw or another debilitating condition, Dr. Craig has the knowledge and experience necessary to help.
He's also the only full-time oral surgeon in McKinney who owns his practice. That's a big deal in an age where corporately owned oral surgery and dental practices are commonplace.
"I've been approached to sell, and while all of it sounds wonderful, inevitably, you always give something up. You can't spend as much time with people," Dr. Craig said. "You're not going to be available like you used to be. We are not that way. We are here for the long term. When patients go to competitors, their biggest complaints are impersonal service, the length of time they spend in the office, and the lack of attention. It's like no one cares. We spend time with each patient. We want to hold their hand the entire way."
Dr. Craig's undying commitment to providing exceptional care in a safe and pleasant environment means that you and your family will always receive care that exceeds your expectations.
"We are here to take care of their needs with a level of service that goes beyond anything they've received in the past," he said. "I'd like to think we do it in a kinder, gentler fashion where we value face-to-face time, listen to what you have to say, and identify and discuss practical treatment solutions."
Contact
5971 Virginia Parkway, Suite 200
McKinney, Texas 75071
(972) 542-4700
CraigOralSurgery.com