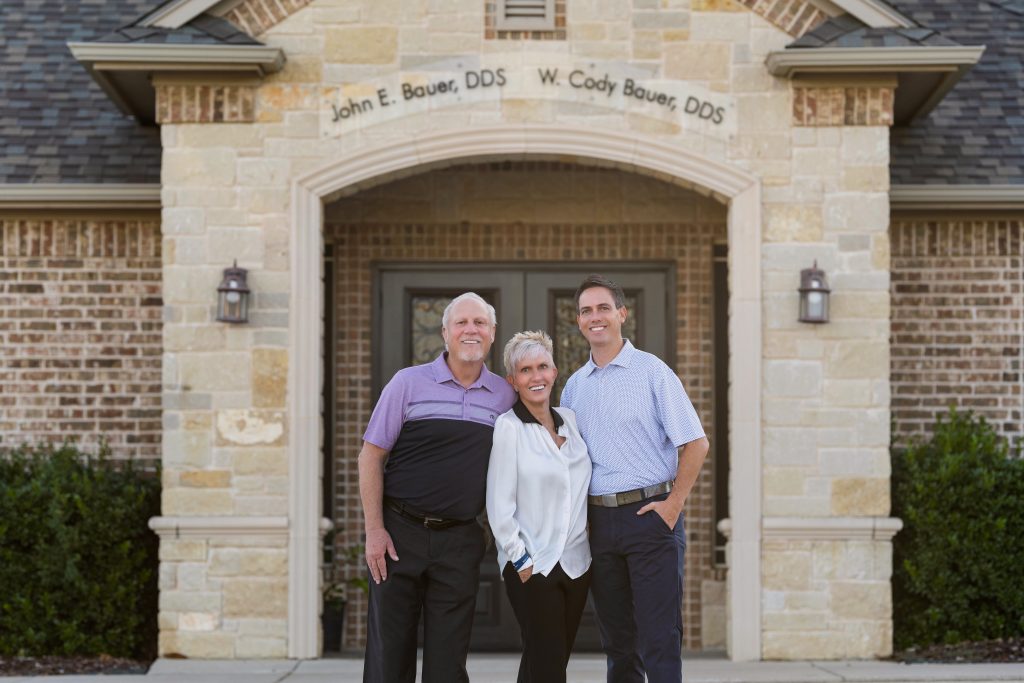 By Meredith Knight
Americans buy 14 million gallons of toothpaste and four million miles of dental floss every year.
---
Forty years is a long time to do anything, but for the Bauer family, that time has flown by. Four decades ago, Dr. John Bauer and his wife, Terri, embarked on a challenging adventure together as they launched their partnership, not only as mother and father of a growing family but as owner/operators of a brand new dental practice in the then sleepy town of Mansfield, Texas. Even before the idea of the "dental home" was being emphasized by the dental and medical community, that's exactly what they set about to create.
The Bauers imagined one location where the families of Mansfield could come to have all their dental needs met—from childhood through old age—from preventative dentistry to restorative and cosmetic. Word quickly got around that at Mansfield Family Dentistry patients come first and their patient base grew. As Terri ran the office, crafting a warm, welcoming environment, Dr. John committed to constantly reeducating himself about emerging dental technologies and cosmetic offerings that could only have been imagined 40 years before.
As the town of Mansfield ballooned in population and dental technology experienced monumental leaps forward, the Bauers welcomed a breath of fresh air into their practice in the person of their son, Dr. Cody Bauer. Dr. Cody brought with him a new perspective, a passion for advancing technology, and a special rapport with the youngest dental patients. And as John and Terri welcomed grandbaby after grandbaby into their family, their young dental patients grew up and returned with their own kids allowing the Bauers to serve three—and even four—generations in some families.
A True Dental Home
Dr. John and Dr. Cody begin seeing patients as soon as they're ready to sit in the chair for routine cleaning. The architype of a dental home, the Bauer family offers young patients and their parents and grandparents everything from simple cleanings or filling to complete cosmetic procedures—including teeth straightening and full-mouth makeovers. That way, once a patient feels comfortable under their care, they don't need to be referred elsewhere for special services. As technology advances, the Bauers investigate each new offering and invest in the very best for Mansfield Family Dentistry helping them offer a true one-stop-shop for all the dental needs of Mansfield families.
All Under One Roof
"When we realize, during a routine check-up, for instance, that a patient needs a root canal, tooth extraction, or dental implant or when they inquire about a cosmetic procedure, the last thing they want is for us to refer them out to another dental practice," Dr. John said. "That's why we've undertaken hundreds of hours of continuing education and investing in the latest, cutting-edge dental technology, so we can provide cosmetic procedures such as tooth whitening, porcelain veneers, inlays, onlays, Invisalign clear braces, and permanent dental implants, right here in their dental home."
Mansfield Family Dentistry and the Bauer family are happy to offer these preventative, restorative, and cosmetic dentistry services to their family of patients:
Dental Implants

Root Canals

Sedation Dentistry

Tooth Extractions

Porcelain Veneers

Dental Crowns

Dentures

Dental Bridges
Patient Education Advocates
The Drs. Bauer place an emphasis on patient education and empowerment. "We want you to be your own best oral health advocate," Dr. Cody said. "It's not just about the health of your teeth but your overall health, as more is being discovered about the affect your oral health has on the rest of your body and on your chances of developing conditions such as heart disease, osteoporosis, Alzheimer's, diabetes, and other serious illnesses. We take seriously our job to provide each patient with the tools they need for a lifetime of vibrant oral health. We want to be your partners in that journey."
Your Family Dental Team
"Cody, Terri, and I along with our dynamic team want every patient who comes through our door to feel like a member of our family because that's what they are," Dr. John said. "There's nothing more rewarding to us than building relationships with our patients and being able to watch them grow, from before they lose their baby teeth to the day they bring their own kids to see us."
For children as young as three, the Mansfield Family Dentistry team takes it slow, talking to kids, explaining each thing they do before they do it, and taking extra time to educate parent and child about caring for their teeth for a lifetime of optimum oral health. "We follow the child's lead, never proceeding with treatment until they're ready," Dr. Cody said. "When they know what to expect, it takes the scary out of dentistry. Parents are invited to accompany young child into the operatory, but for older kids, we let them decide if they want Mom and Dad there or would rather have them wait in the waiting room."
Welcome Home
For more than four decades, the Mansfield community has counted on the Bauer family for know-you-by-name dentistry that's also at the leading edge of dental technology. "I'm a bit of a techno nerd, so I love learning about the latest dental breakthroughs and incorporating the ones with a proven track record into the practice," Dr. Cody said. Both of the Drs. Bauer go over and above in continuing education, so they've got your family covered with everything from routine maintenance to conservative restorative dentistry—all the way to dramatic smile makeovers.
If you're searching for a true dental home for your family, find out more about Mansfield's one-stop dental shop at MansfieldDentistry.com.