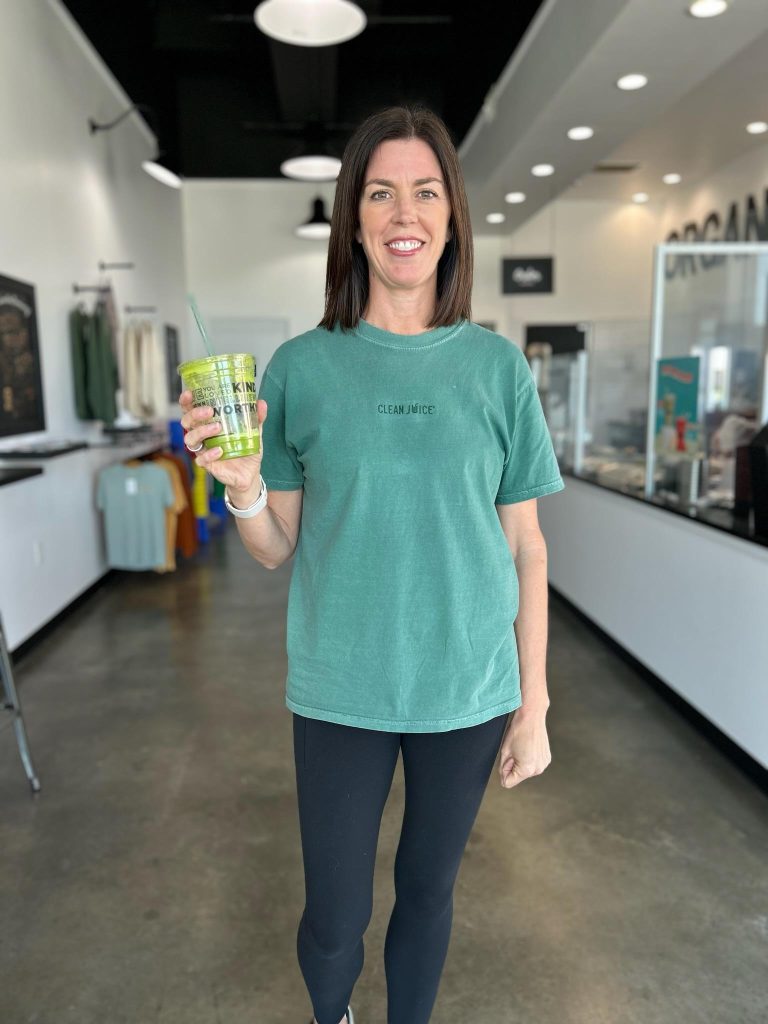 By
Melissa Gautier |
Photo by
Karen McConaughey
---
Melissa Bonesteel enjoys a nutritious organic smoothie for breakfast every morning, even when she and her husband, Josh, are out of town. But two years ago, they ran into a snag. Melissa's favorite smoothie store was closed, and the hunt was on to find a location with listed ingredients that met her standards.
Josh found Clean Juice, a USDA-certified organic juice and food bar that checked all the boxes. "I loved the environment," Melissa said. She noticed a jar labeled Prayer Requests, taking note of the store's courageous approach to do things differently. Then she saw biblical scripture printed on their cups – "Healthy in body, strong in spirit, 3 John 1:2." Melissa said, "God immediately had my attention."
Melissa had a successful career but was feeling unsettled in her role. During morning prayer time, she asked God to prepare her if she was supposed to leave her job to do something different. "And please prepare my husband because he won't want me to do it," she added.
Referring to Matthew 5:16, "Let your light shine before others, that they may see your good deeds and glorify your Father in heaven," Melissa knew ownership of a Clean Juice franchise would facilitate opportunities to share a faith-filled, optimistic outlook for encouraging others. To her delight, Josh was positive and encouraging.
Clean Juice Morton Ranch franchise opened December 2021. "Josh and I took a huge leap of faith together." The decision strengthened their marriage and spiritual lives. They now lead a marriage enrichment program together at their church.
Melissa's Search for Wellness
"Ingredients are extremely important to me," Melissa said. She has celiac disease – an autoimmune disorder causing a digestive reaction to the protein gluten. To maintain wellness, Melissa follows a protocol of juices and foods packed with nutrients and certified organic ingredients.
USDA-Certified Organic Ingredients
"We go through an extensive process to be able to say we're USDA-certified organic," Melissa says. "Inspected with the strictest standards, everything must have the certified organic label attached."
"Our cold-pressed juices are literally juiced on the farm where they're grown in California and harvested at the optimal time to produce vibrant blends of farm-to-bottle freshness." Innovative no-heat processing provides increased shelf life and ensures a nutrient-dense product bursting with flavor.
Tasty meals including sandwiches, wraps, acai bowls, salads, and protein smoothies, are examples of their wholesome options. "Everyone can see every ingredient that goes into their food and drinks as we prepare it behind the counter," Melissa said. They offer gluten-free substitutions and kids' meals too.
Melissa, Josh, and their teenage daughters, Kate and Emma, live in Cypress. Drop by to discover why Clean Juice is the rapidly growing organic juice and food bar that's sweeping the nation.
USDA-certified organic

Cold-pressed bottled juices

Gluten-free substitutions

Healthy meals

Kids' meals

Smoothies
---
CONTACT
2811 West Grand Parkway North
Katy, Texas 77449
126 Vintage Park Boulevard
Suite N
Houston, Texas 77070
(832) 761-7132
CleanJuice.com/Locations/Vintage-Park