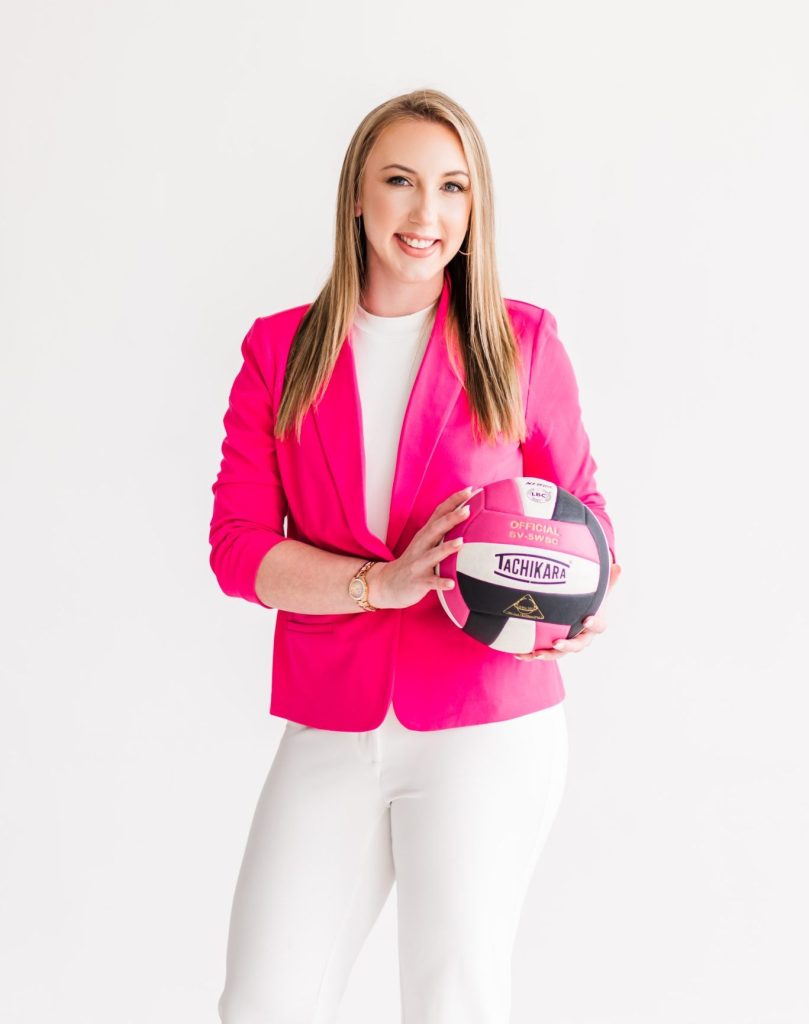 By

Cheryl Alexander

|

P

hoto by

The Teal Album
---
To say that Hollie King is an overcomer is an understatement. And to say that she now uses her personal experiences to help athletes accomplish their goals succinctly sums up the mission of her business, A+ Athletics: advising families who are navigating the college athletics training and recruiting process by understanding the individual needs of each athlete and family they serve.
Hollie grew up in Mesquite and began playing sports at age seven with dance, karate, basketball, softball, and cheerleading. Encouraged by her PE teacher, she made the middle school volleyball team. Because she suffered from epilepsy, she was told that she would never be able to play higher level sports. However, she belied the odds and played all through high school.
"I knew I wanted to continue playing at the collegiate level," said Hollie, "but I felt like it wasn't possible. I didn't play club volleyball; I didn't have the best grades; there were no colleges looking at me; my parents were not educated enough to help me get recruited; I didn't see herself as college material due to epilepsy; and plus, I had been diagnosed as 'learning disabled.'"
However, during her senior year, she was signed by Eastfield College as their starting libero, a back-row defensive specialist with impeccable ball-control skills. She had an amazing first year with 195 digs per set, yet her season ended devastatingly with a torn ACL and surgery.
Recovery did not deliver the comeback she expected. With no moral support from family and no one to really push her, she began failing classes and ended up quitting college altogether.
It was then that the challenges got real. Hollie began working as a cashier at a local grocery store, had two children, and eventually married and divorced their father, who for nine years never supported the family and mentally and emotionally abused them.
In 2021, while continuing to work, she enrolled at Remington College and graduated a year later as a certified medical assistant. Eager for more, she applied and was accepted to Baylor University and within six months she received TEFL certification, enabling her to teach K-12 English classes anywhere in the U.S. That same year, Hollie accepted a job as head volleyball coach at Alcuin School, one of the top-rated private schools in Dallas, and head volleyball coach at Slam Volleyball Club. Currently, she is pursuing a Bachelor of Science degree in physical education from Baylor.
"Volleyball is my true passion," said Hollie, "and returning to it has enabled me to move to Rockwall, where my kids are thriving in a great school district. Through those difficult years, I just needed support and motivation. While I made decisions I was not proud of, I now see them as a learning experience I can use to inspire my athletes that none of their dreams are off limits."
Hollie is the founder and owner of A+ Athletics, where she helps volleyball athletes get to the next level and play college volleyball.
---
CONTACT
(469) 769-6576
aathletic.wixsite.com/a–athletics
[email protected]