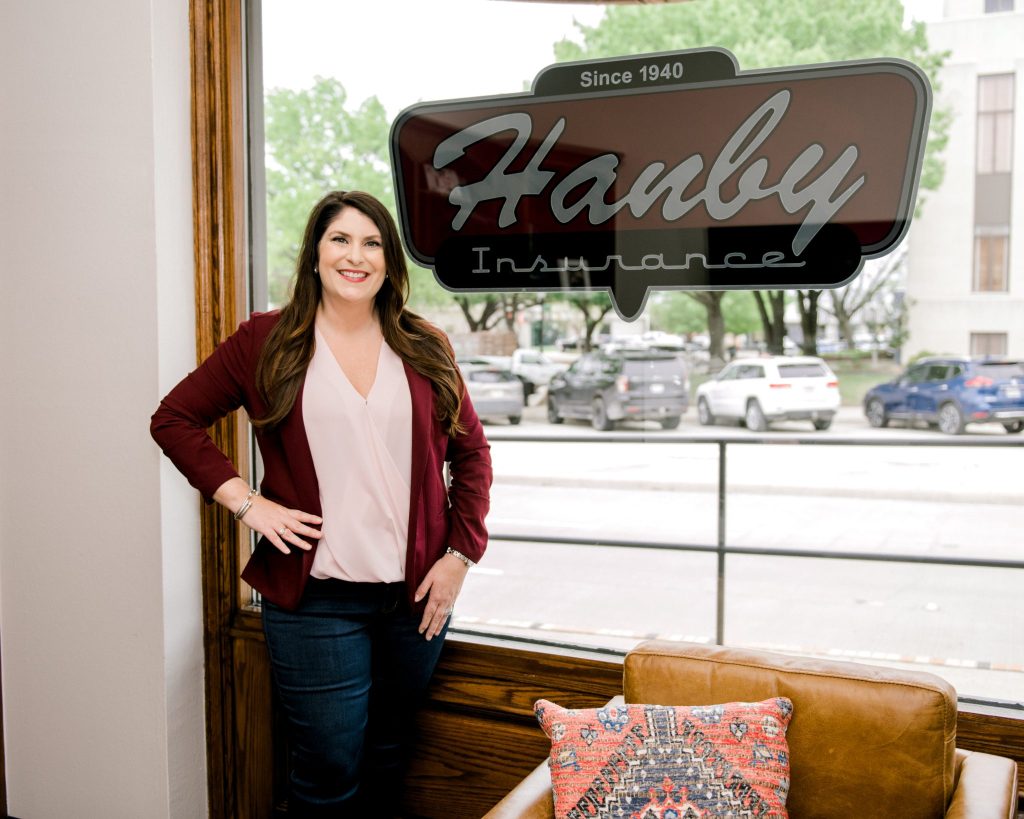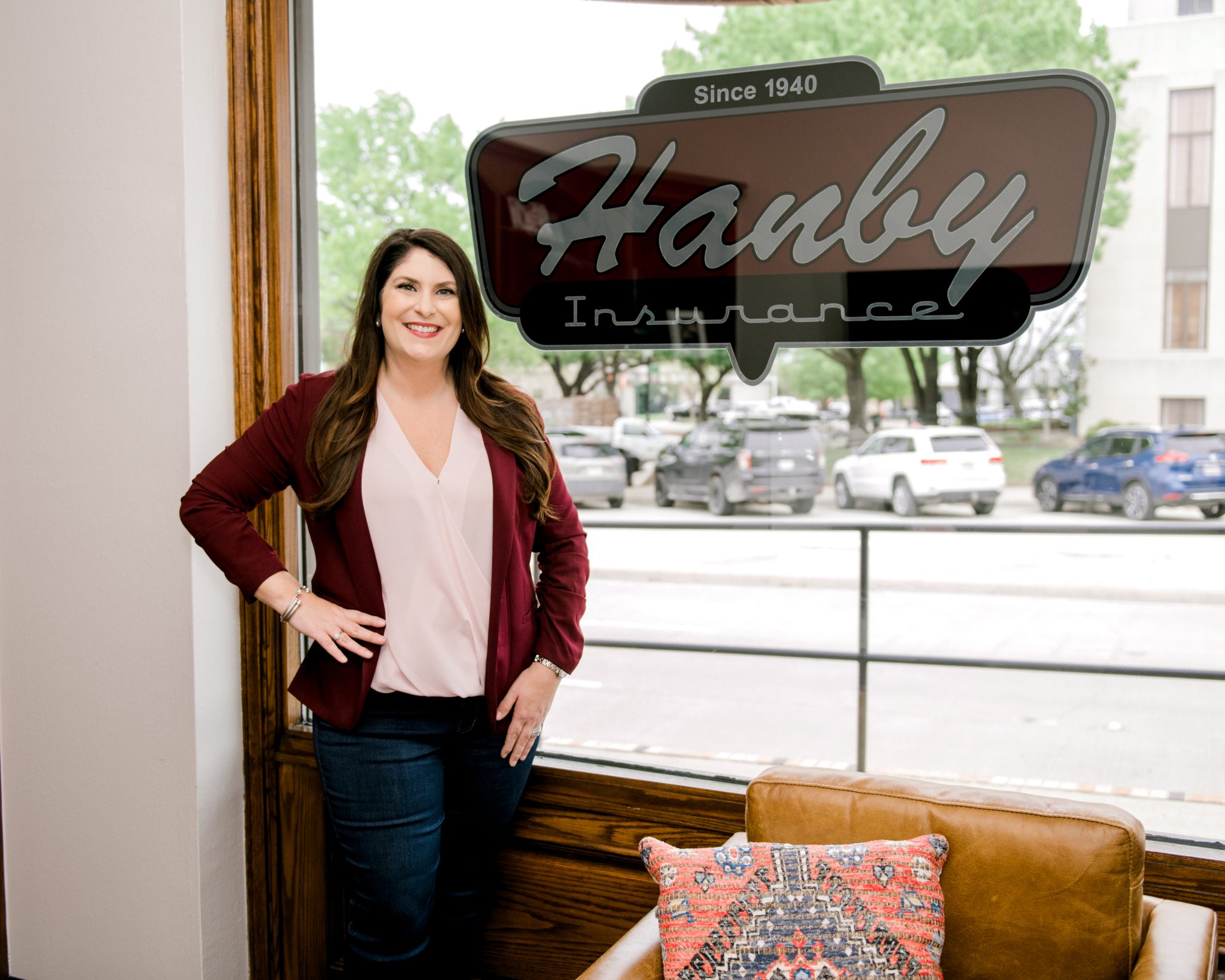 By
Meredith Knight
|
Photos by
Dallas McNeal Photography
---
"How did you hear about Hanby Insurance?"
It's a simple question Erin Atkins-Neill and her employees at Hanby Insurance love to ask new clients. It helps them track how people find their way to their door. After one such recent inquiry, they realized the client in question had been referred by another client who'd been referred by another client who'd been referred by another client who'd been referred by yet another client. It was a chain that stretched back through five clients, each one happy enough with the service they were receiving that they recommended Hanby Insurance to their family member, friend, or coworker.
What does it take to garner such robust word-of-mouth advertising? For Erin, the answer is simple — relationship. "This is a relationship-based business," she said. "People want to buy from those they know, like, and trust. We're one of the oldest independent agencies in this area, established in 1940, and we have a reputation for treating our clients well. We know our clients, they know us, and we care about what happens to them."
Erin began her insurance career while she was still in college in 1999, accepting an entry-level position at a nationwide insurance agency. She soon realized she deeply believed in what they were doing, helping clients who'd experienced loss and bringing them back to the financial position they were in before the loss occurred. She treasured the relationships she was
developing and loved being that person families could turn to in a time of need. She had found her life's work. In 2009, Erin started her own independent agency and has since purchased three others including, Hanby Insurance.
"We are independent agents," Erin said. "That means we work with multiple A-rated insurance carriers and can work with each unique client to find the best rate and best coverage for their unique situation. It's not all about price. It's about the best coverage that's there when you need it."
One of the things Erin loves about her chosen career is that insurance is always changing, requiring her to commit to being a lifelong learner. That suits Erin fine. She and her team of licensed insurance professionals are committed to staying up to date in the ever-changing insurance industry, constantly re-educating themselves with seminars and in-services and keeping clients informed about changes in the industry that affect them.
Hanby Insurance specializes in auto, home, and business insurance for their family of clients, and they do so within these core principles.
Thorough
They ask a lot of questions to ensure you're getting the appropriate coverage and an accurate quote. That way, when you're ready to buy a policy from them, there aren't any surprises. "As an independent insurance agency, we have access to multiple companies," Erin said. "We start with at least 10 different insurance carriers and then narrow them down to find the best company to fit your needs."
Caring
The Hanby Insurance team genuinely cares about their hometown customers. They understand it's their customers who provide them with a place to work every day. They're grateful that you choose them to be your insurance agency. They're committed to working hard to stay on top of things and let you know when there are any changes to your insurance.
Innovative
They're committed to offering the latest technology. In a world where things can change daily, they understand that technology makes life easier, and they do their best to make sure they provide their clients with convenient, cutting-edge ways to do business with them — on their mobile app, via text, or on their social media channels.
Knowledgeable
The Hanby Insurance team is continuously learning so they can be better agents. Their team members take classes annually from the National Alliance. "We love what we do," Erin said. "Helping people buy the right insurance is our job. Whether you're looking to lower your premiums on your home and car insurance or business insurance, increase your coverage, or just looking for an agency to provide you great customer service, we'd love to be that company."
Meet Erin-Atkins-Neill
One of the mottos that motivates the Hanby Insurance team every day is "Hanby Helps." They're committed to doing whatever they can to help their community and their clients. Erin herself is a firm believer in paying it forward. She and her husband, Jeremy, stay active volunteering around the community and donating their time and resources to many local causes.
Erin serves on the board of directors for Meals on Wheels of Rockwall County and volunteers with Soroptimist International of the Americas, Inc., an organization that encourages women's empowerment through education. She and Jeremy are enthusiastic supporters of Boys & Girls Club of Northeast Texas and the Children's Advocacy Center of Rockwall County. Jeremy serves on the board of Helping Hands Rockwall. And they both stay active at Lakepointe Church.
They also stay busy being Mom and Dad to two precious girls and enjoy traveling to Disney as a family and to romantic destinations for their anniversaries. COVID offered the perfect time for Erin to join Jeremy on the golf course. "I'm terrible but it's fun to have that time together," she said. As if the busy business owner and mother of two didn't have enough on her plate, Erin is also an avid genealogy buff and has managed to trace her Texas roots back to 1853. She was one of the first people to receive a pioneer certificate from the Rockwall Genealogical Society for being a direct descendant of a Rockwall pioneer. And she's a certified member of the Daughters of the American Revolution.
Pop into the Hanby Insurance office in the downtown square to meet this friendly team of insurance professionals and see what they can do for you.
Find out more at HanbyInsurance.com.
---
CONTACT