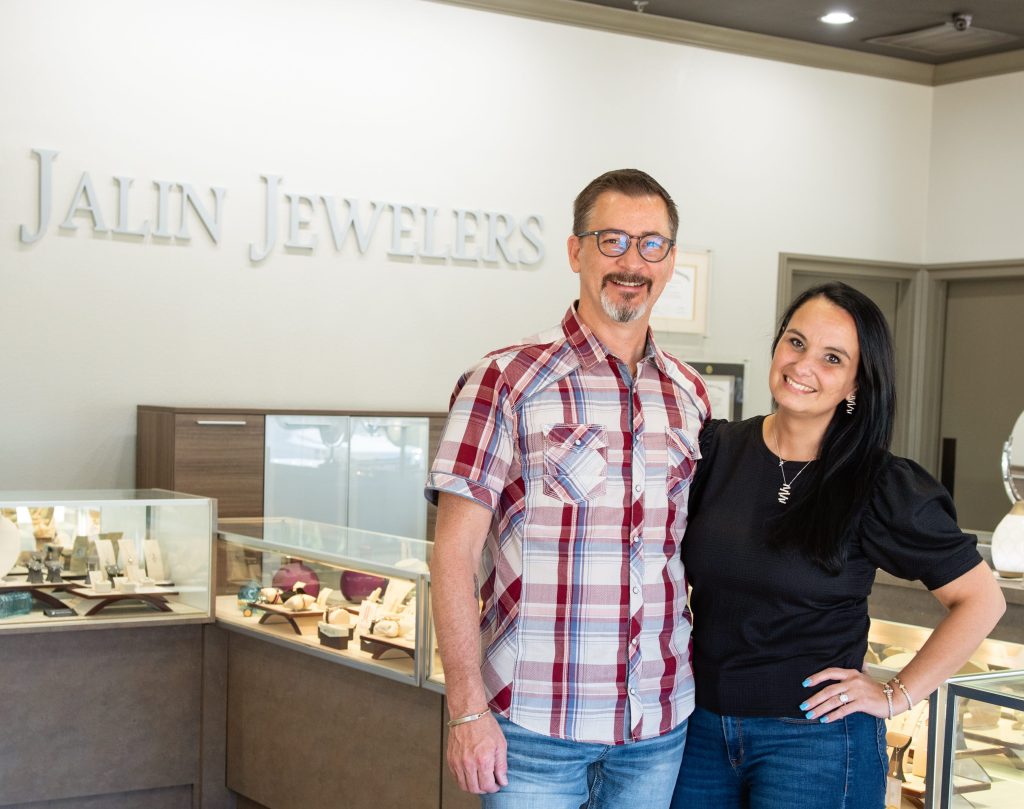 BY MEREDITH KNIGHT PHOTO BY AMBER BOYKIN PHOTOGRAPHY
At Jalin Jewelers, they're all about relationship. It has been that way for 30 years. "The customer who's here to spend $15 on a watch battery gets the same attention as the one who's here to spend $50,000 on a diamond," said Tara Romberger, who co-owns the store with her husband, Todd.
"Our in-house jeweler, Pablo, and store manager, Donna, have been with us for years. The customers know and trust them, and they're like part of our family. We have customers who've shopped with us for three generations, and those relationships mean more to us than making money."
When asked by Living to name the best jewelry store in the Greater Plano area, those same loyal customers were quick to choose this family-owned, family-run business — again this year.
Loyal customers know, when they visit Jalin Jewelers, they'll find the perfect piece every time. Whether it's jewelry from established lines such as Vahan, Uneek, Royal, or William Henry, something new from emerging brands such as D.M. Kordansky or locally owned Margaret Palmer, something from the exclusive Jalin Collection, or a one-of-a-kind piece created and crafted just for them, they can feel good about the purchase they make from the family they know.
Hundreds of local marriages have begun with an engagement ring from Jalin Jewelers. Those same couples return for anniversaries and to celebrate milestones, such as the birth of a child or grandchild, with just the right piece to express what they want to say. Many have also brought in heirloom pieces and been thrilled with the new pieces that are created from those old treasures. It's how the Romberger family has become an unofficial part of so many family stories over the past three decades — throughout Plano and beyond.
"No one in the store works on commission, so there's never a hard sell," Todd said. "Customers are welcome to come in and just look around, even if they're not ready to buy that day. We're not looking for a one-time sale but a long-term relationship. We know our customers, and they know us. We've been part of this community for years, and we're all about treating each person fairly, so they become a Jalin customer for life."
Todd's parents, Jim and Linda Romberger, first opened Jalin Jewelers 30 years ago.
"Todd and his brother, Jason, were attending Abilene Christian University and their parents moved here to open the store and be near them," Tara said. "That was in 1991. They wanted to establish a family legacy that would last. Now, they're living their dream, retired, and playing all the golf they want, and Todd and I have been blessed with carrying on the family tradition. People have trusted Jalin Jewelers for 30 years. We want to continue to earn that trust for the next 30." Be sure to visit and browse the brand-new Jalin website at JalinJewelers.com to see what new family heirloom awaits.
Contact
4021 Preston Road, Suite 625
Plano, Texas 75093
(972) 985-1400
JalinJewelers.com